It is a truth universally acknowledged, that a single woman in possession of a Parisian apartment must be in want of visitors.  Indeed I was misguided to ever think that I would be lonely living 10,000 miles from home.  It has been a taxing year (for the waistline as much as the bank account) spent baking brioches, indulging in aligot, munching down mille feuilles and piping pâte à choux, but I have certainly never been short of friendly faces to accompany me on my moveable feast.
My older brother, lets call him Thyme Burton, and his fiancée, the gorgeous Helena Bonham-Tartare were the latest antipodes to brace the guerre of Gare du Nord and arrive on my doorstep in search of culinary adventures.  And, knowing Thyme's weakness for degustations (which he affectionately terms 'degos'), I booked us into Restaurant Akrame, the Michelin star venture by chef Akrame Benallal, where tasting menus are the rule rather than the exception.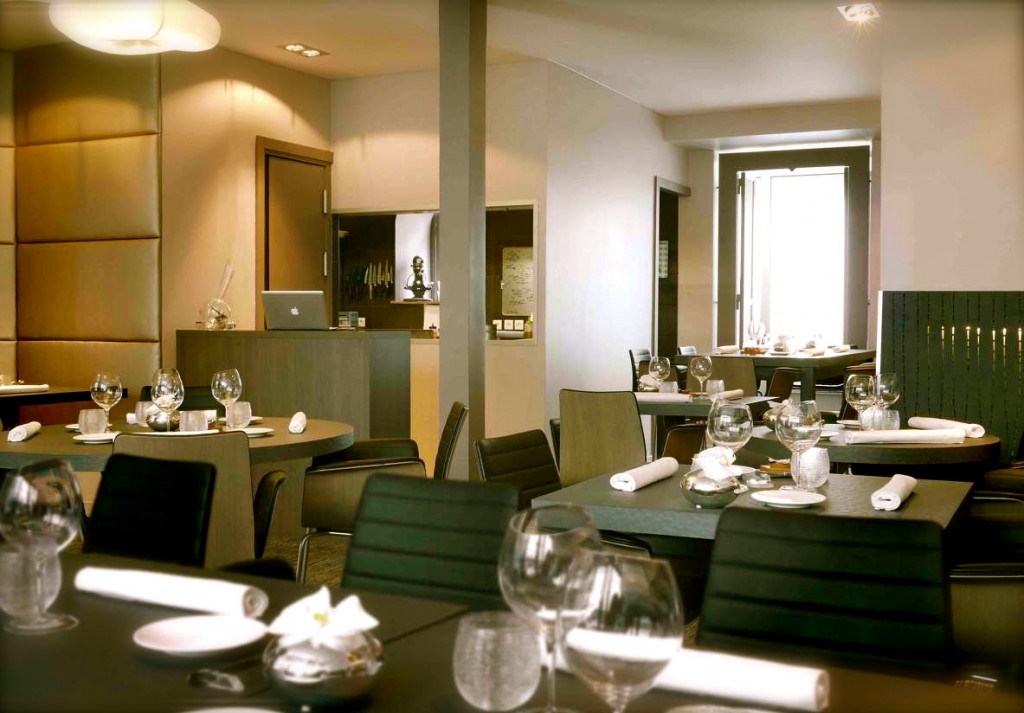 I had high hopes for this slick little restaurant nestled in a side street a stone's throw from the bustling Arc de Triomphe, with Benallal having previously worked under the likes of Pierre Gagnaire, Alain Soliveres and Ferran Adria, and despite a few metaphorical hiccups I left impressed.
After being warmly welcomed into the cosy, albeit very modern dining room, with its muted colour scheme, black leather chairs and perfectly aligned pink orchids, we were given a delicious selection of amuse bouches to munch on while we sipped our champagne, and asked which sized menu we would prefer – the larger menu with matching wines obviously.
The first course, a perfectly gooey soft boiled egg which arrived all dolled up in a decadently creamy tonka bean butter and topped off with a little pile of finely desiccated cashew nuts on the side, had a sort of high class nasi goreng-esque taste about it.  A good egg. A very good egg indeed.
Next up was a homage to the humble tomato – the fruit that should have been a vegetable.  A simple mixed tomato salad with an unnecessary but acceptable touch of raspberry came accompanied with an exceptionally clear and rather strange, but nonetheless impressively tasty, cold fizzy tomato consommé. It had pizazz, I liked it.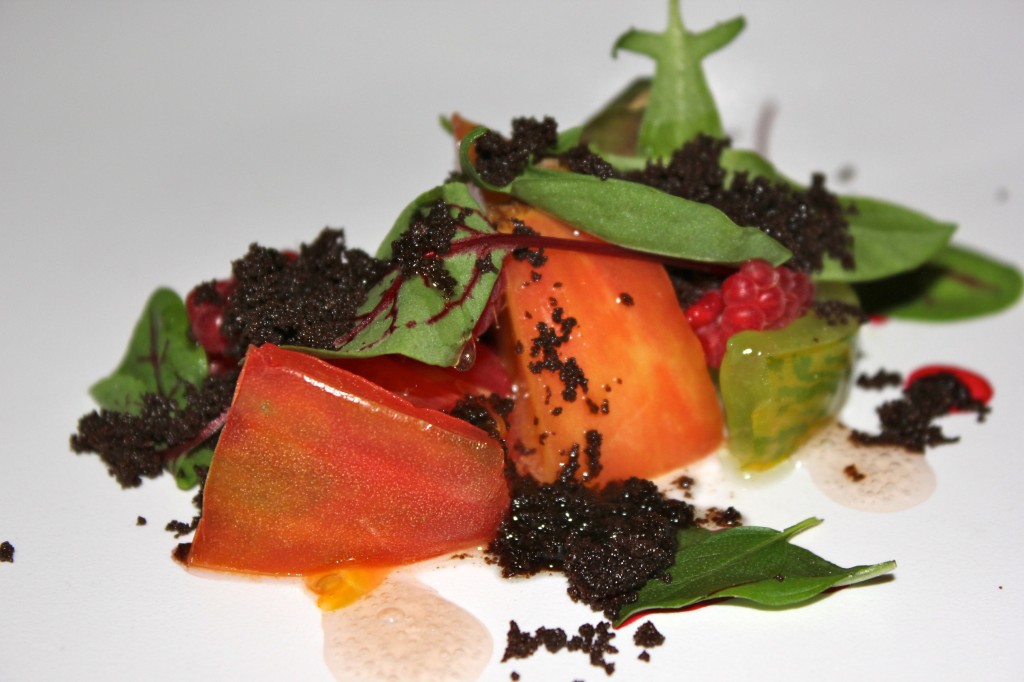 And then came the cockle course.  I am a big fan of the clam family, and the idea of cockles basking in a fleur d'oranger foam sounded brilliant. And they were tasty, very, very tasty…but for the mouthful of sand we all encountered as we took our first bite.  Sand is only acceptable when it is at the Fat Duck and it is actually crispy fried panko crumbs posing as sand. Real sand is not okay, ever.
Nope, this dish didn't exactly warm the cockles of my heart.
On the upside, the matching 'wine', a clean, crisp strangely orange coloured white ("oh yeah I've seen this before, a white done like a red" I said, pretending to sound learned) with hints of marzipan, was fabulous. Even more so when the very friendly sommelier revealed it was actually sake.
Up next was a delicious morsel of lobster hidden under a wafer thin slither of spice encrusted radish. "Ah I get it now" proclaimed Thyme Burton, with no hint of sarcasm, as he crunched his little gritty radish between his teeth, "the grit's intentional…it's like a grit degustation." Indeed the use of texture is a very important sensory pleasure in cuisine, but I am not sure a grit degustation is the effect Benallal was going for.  In any event, the lobster was very good.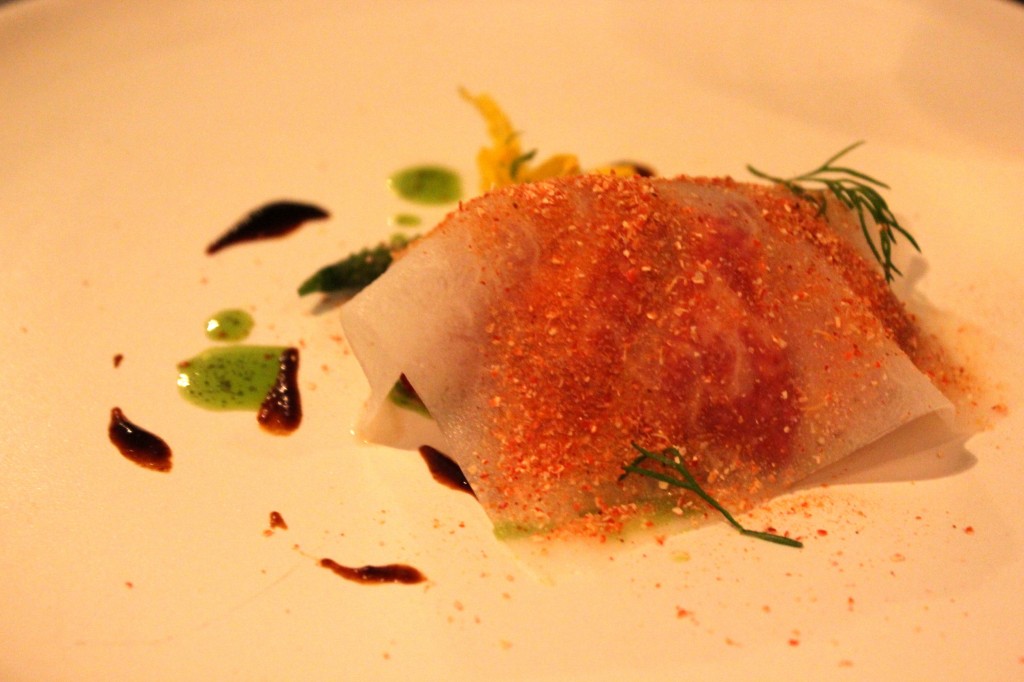 Still on the marine theme, next came a beautiful little steak of coal encrusted swordfish with its sumptuous side of creamy risotto.  This is one lump of coal I would happily find under the christmas tree – it was cooked to perfection; fresh, succulent and so divinely flavoursome, the plate was mopped clean with the ever-replenished stock of deliciously warm crusty bread in 5 seconds flat.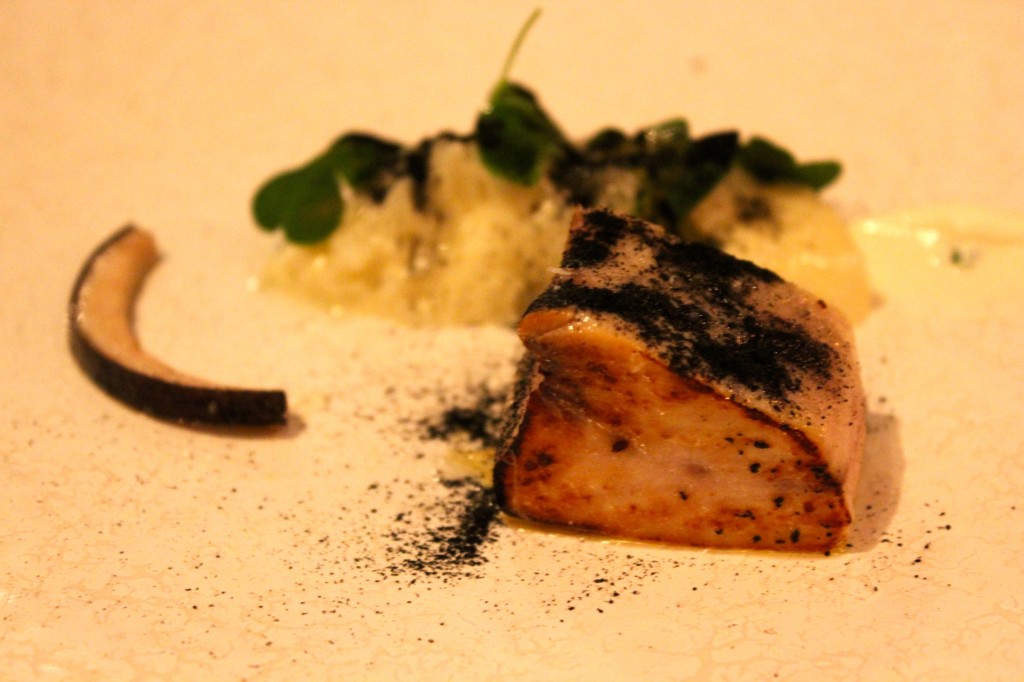 After a beautifully presented, and very moreish little lemon sorbet to cleanse the palate, we moved onto the meat course with a pigeon from Brittany.  The pigeon which arrived with its beetroot smear (oh how I hate that word), beetroot sauce, freshly julienned beetroot, and, last but not least, the side bowl containing a larger portion of beetroot smear which was vaguely reminiscent of the 'freshly slaughtered' venison from L'Autre Pied.  But it was deliciously tender, and the beetroot was a perfect, although I dare say somewhat overbearing, marriage partner. It wasn't so well married with Thyme's beautifully tailored Smalto shirt, which is unfortunately where half of his ended up.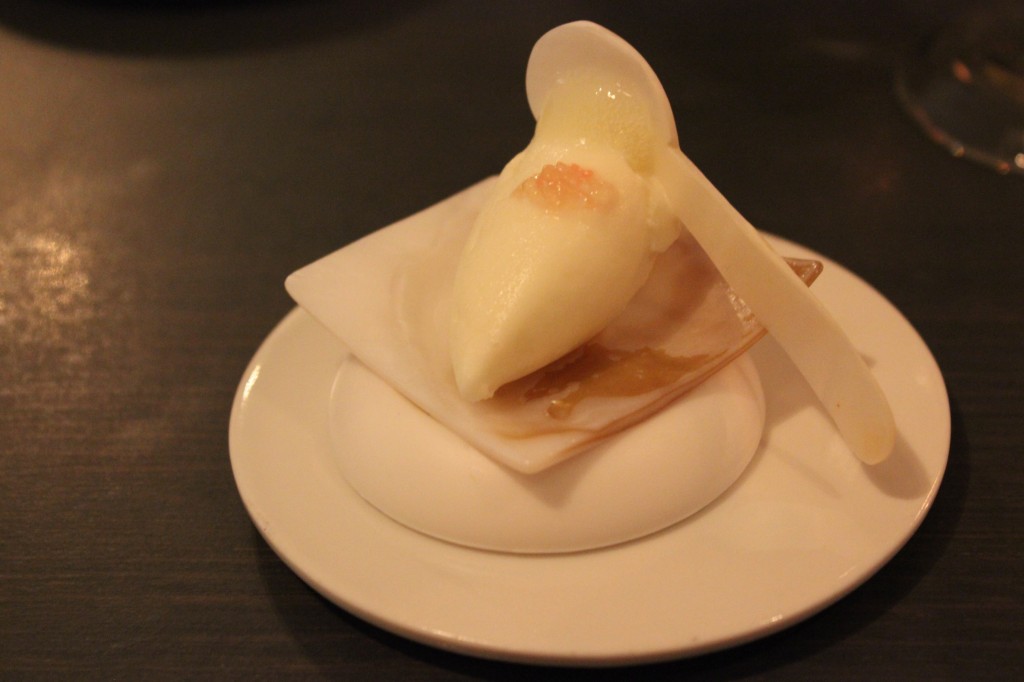 Although well trained in degustations, by this time, Helena Bonham-Tartare, Thyme Burton and I were feeling the effects of the previous 7 courses, and we all agreed that one dessert and we would be done.  But we were far from the finish line.
A beautifully subtle and creamy dollop of goats cheese with tid-bits of fresh and dried fig, toasted brioche and honey was quickly overshadowed by a decadently oozing species of chocolate fondant with its dusty chocolate hat, and a scoop of yuzu ice-cream resting on some sort of crumbled biscuity delight followed suit.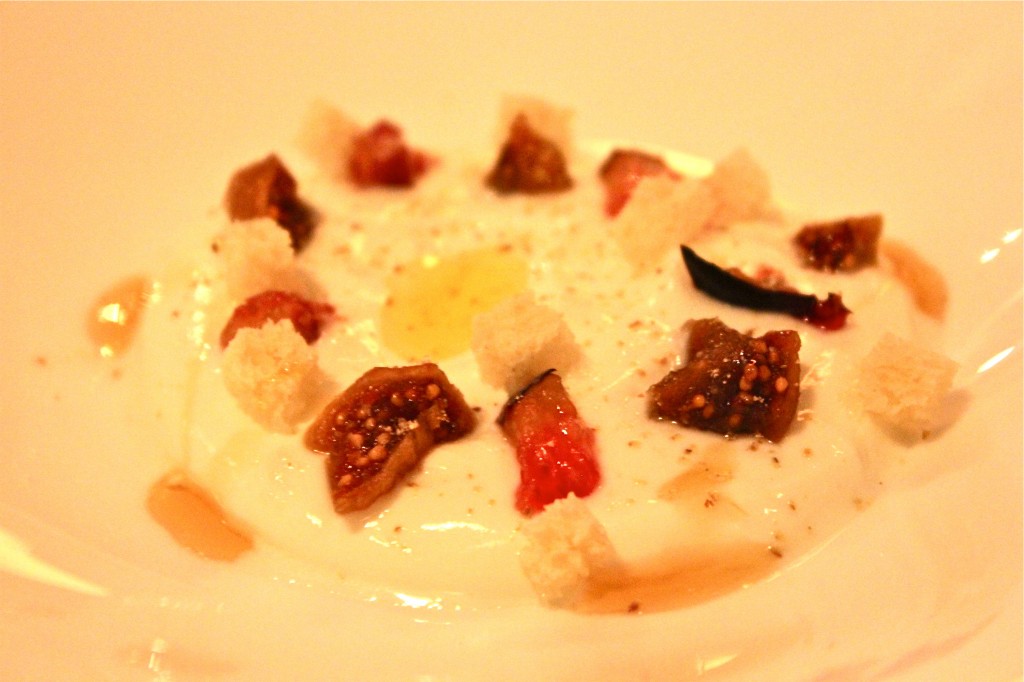 But the pièce de résistance was without a doubt the unbelievably moreish banana halves stuffed with a peanut mixture that was at once salty and sweet and smooth and indescribably amazing, especially when it was dunked into the buttery caramel sauce that accompanied it. Heavenly.  Divine. Please sir can I have some more.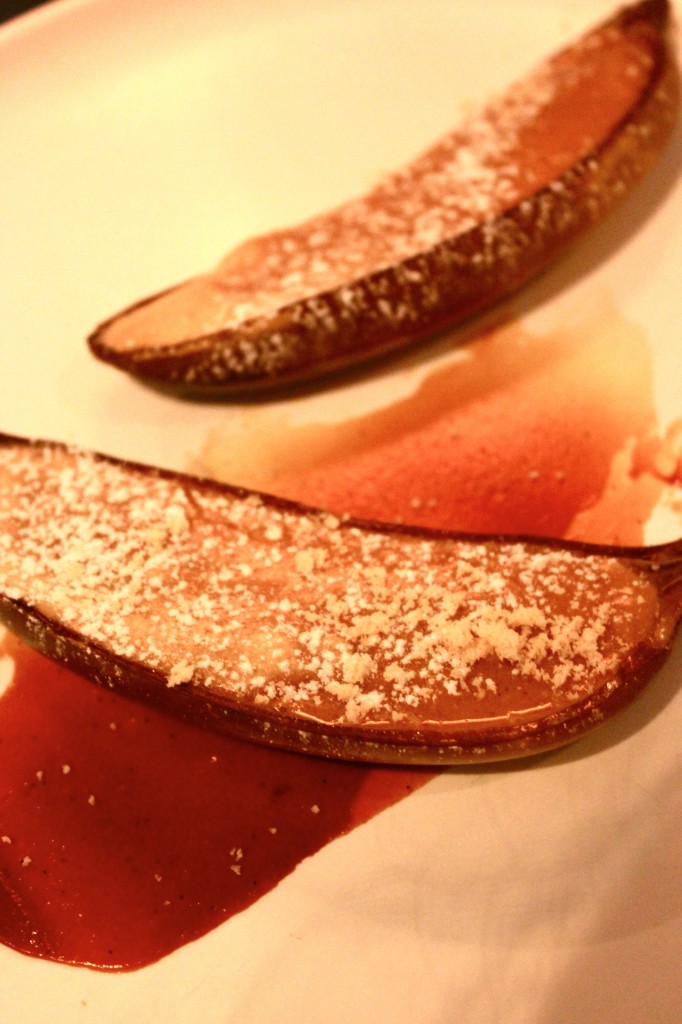 All of us were bursting at the seams 4 dishes prior, but every morsel on every single dessert plate was greedily licked clean – such is the sign of a good restaurant, and a great chef.
There may have been a few misgivings, but I would happily grit my teeth and bare them for another dinner at Akrame.
xoxo
Paris Stilton
Restaurant Akrame 
19 Rue Lauriston   75016 Paris Métro: Kleber
Tel: +331 40 67 11 16  
«
L'AOC – Paris
|
Café au lait, s'il vous plaît – Paris
»