"Believe me Mum, this chicken is worth the wait" I insisted as Yummy Mummy and I hopped on the back of the enormous line for lunch at Yves Camdeborde's brasserie Le Comptoir du Relais (big sister to L'Avant Comptoir). Indeed I have spent endless hours in the line outside this famous St Germain institution sandwiched in between Japanese tourists and local foodies for the deliciously mouthwatering mustard enrobed whole baby roast chicken with its succulent jus and perfectly crispy potatoes. It is definitely worth the wait.
Or at least it used to be…when it was on the menu. After an hour and a half of waiting we were finally squished into a minuscule corner table, and, thinking I was so French, I ordered two coquelets without even looking at the menu.  "Non, eet eez nut the sayson (seasonal chickens, who knew?) – zer are no more mini cheekens" answered the waitress in that nonchalant 'you're-wasting-my-time-why-are-you-at-my-restaurant' manner the French have down to a fine art, "I soogest ze feesh pie".
UTTER DEVASTATION…and a rather enduring glare from Yummy Mummy.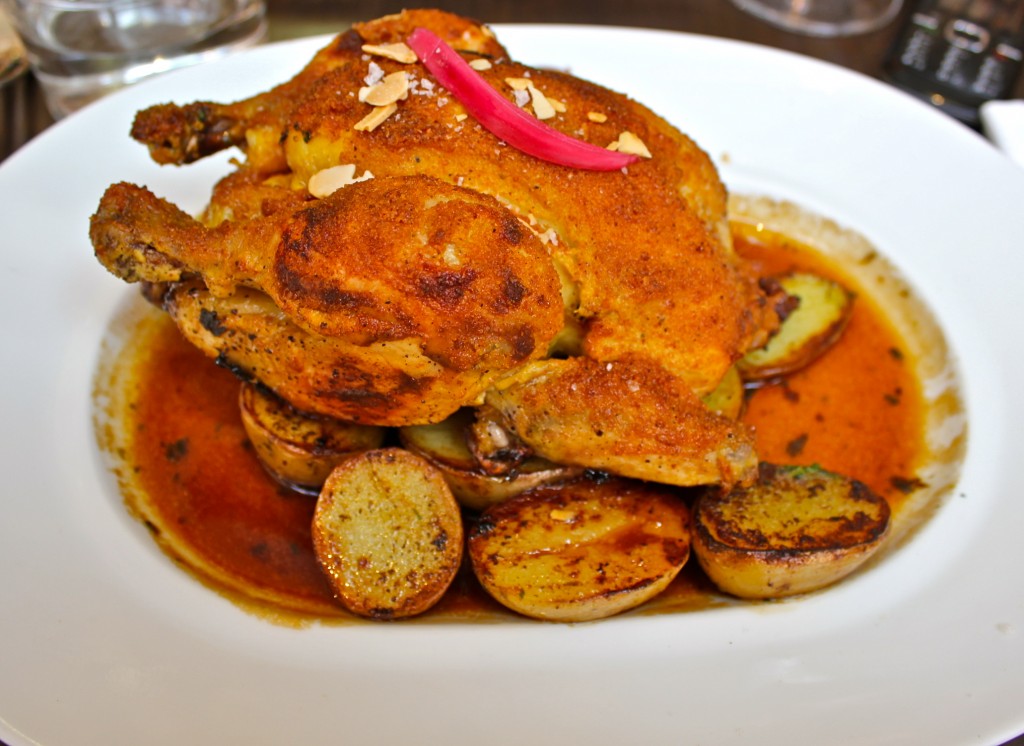 Nevertheless when faced with an obstacle one must step up and find a solution, and I took on the challenge wholeheartedly.  So after relentless hours spent trawling the Paris bistros for a good coq (I couldn't help myself), I think I have finally found one that comes close to in quality to Cambedorbe's coquelet.
I stumbled upon L'AOC (AOC stands for Appellation d'Origine Contrôlée and denotes a food product that is produced within strict geographical limits and abides to strict regulations), a warm and inviting family bistro in the Latin Quarter, one hungover Saturday when my cousin, lets call him Clint Feastwood, was in town. With its red checkered tablecloths, faded yellow wood panelled walls and the deliciously homely smells of buttery onions that permeate the room, L'AOC makes you feel like you are round at Granny's for a Sunday lunch.  And judging by the very adorable google-translated spiel on their website, this is exactly what L'AOC intended: "[t]he success of the establishment is not due to fate.  With such warmth, the restaurant plays with our childhood memories, our grandmother's polished sideboards where starters and desserts of the Sunday meal would lay, along with bric-a-brac objects.."
Yep this is my sort of place.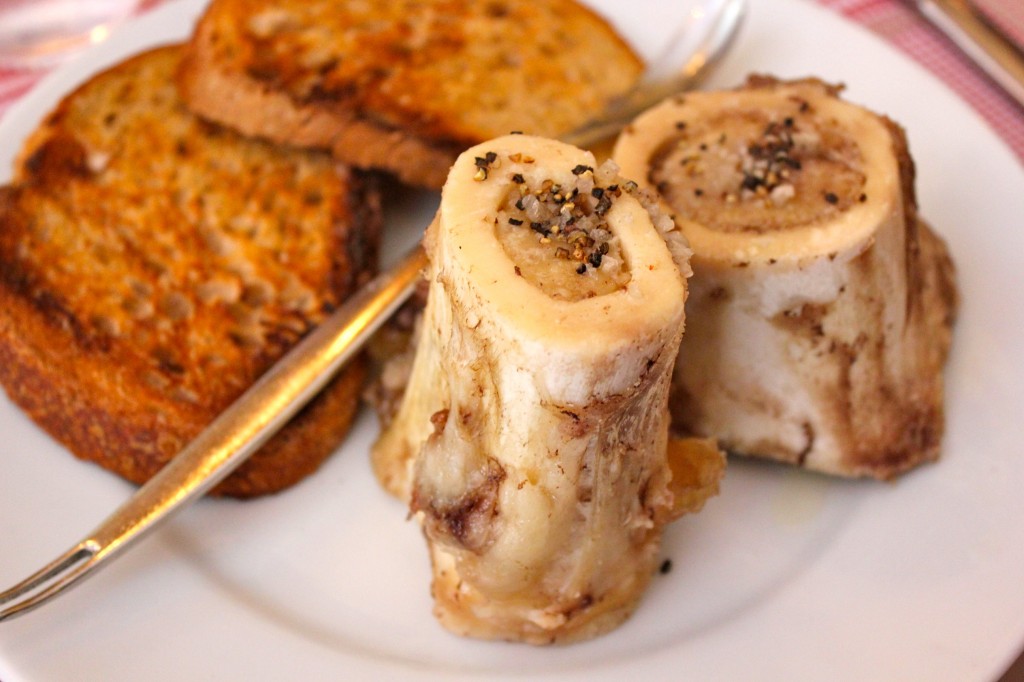 For starters Clint Feastwood tucked into the bone marrow roasted in fleur de sel spread upon little garlic rubbed toasts (os à moelle rôtis à fleur de sel, pain Poujauran frotté à l'ail) which was, apparently, utterly delicious.  So much so that when I told him I was writing my review he became very concerned that I would not do the marrow justice, "make sure you reiterate just how good it was – I'm talking euphoric marrow induced daze amazing".
Couldn't get much better than that.
Not wanting to be outdone in the gourmande stakes, I confidently ordered the pigs feet croquettes (croquette de pied de porc panée) served on a little wooden pig cutting board.
"Oh my gawd" squealed my herbivorous health writing sister Sienna Millet when I told her I ate breaded, fried pigs feet for lunch, "what part of the foot? Like the toe? Or the heel? Or the achilles? What has France done to you!!" But us French know very well that tout est bon dans le cochon (everything is good in the pig).  And indeed it was.
These succulent, gelatinous little fried pigs feet croquettes with a delicious herb mayonnaise went down like a treat.
The proof of the pudding…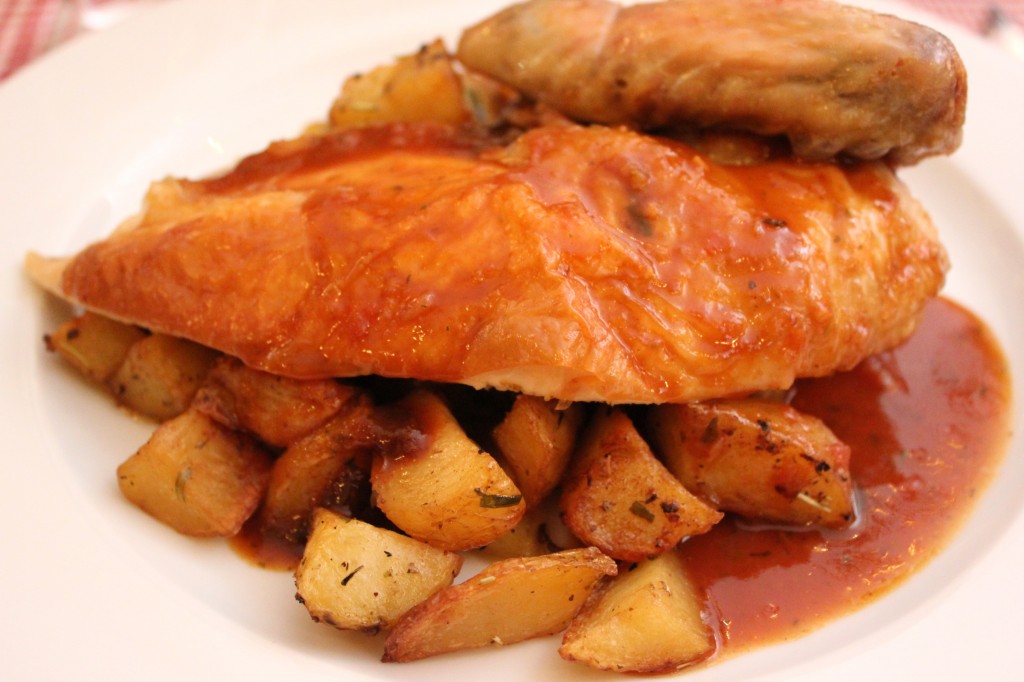 For the mains, I, obviously, ordered the spit roast chicken while Clint Feastwood, true to his name, ordered the plate of spit roast everything – suckling pig, IBAÏONA pork loin and chicken – both with their sides of crispy sauteed potatoes.
There is a certain stigma associated with ordering chicken at a restaurant – one of those unspoken rules that goes along with not ordering fish on Mondays, or spaghetti carbonara…ever.  But on this I disagree.  On a lazy day is there anything better than enjoying a glass of red while someone else cooks you a nicely roasted chicken?  And L'AOC's chicken is exactly that – tender juicy meat doused in a succulent jus with little crunchy parsley spotted potatoes.  It was divine.  And to prove that it is consistently divine, it was still divine when I went back and ordered the same dish two days later.
It may not be quite Le Comptoir's whole baby mustard wrapped coquelet, but this chook is certainly up there in the pecking order.
xoxo
Paris Stilton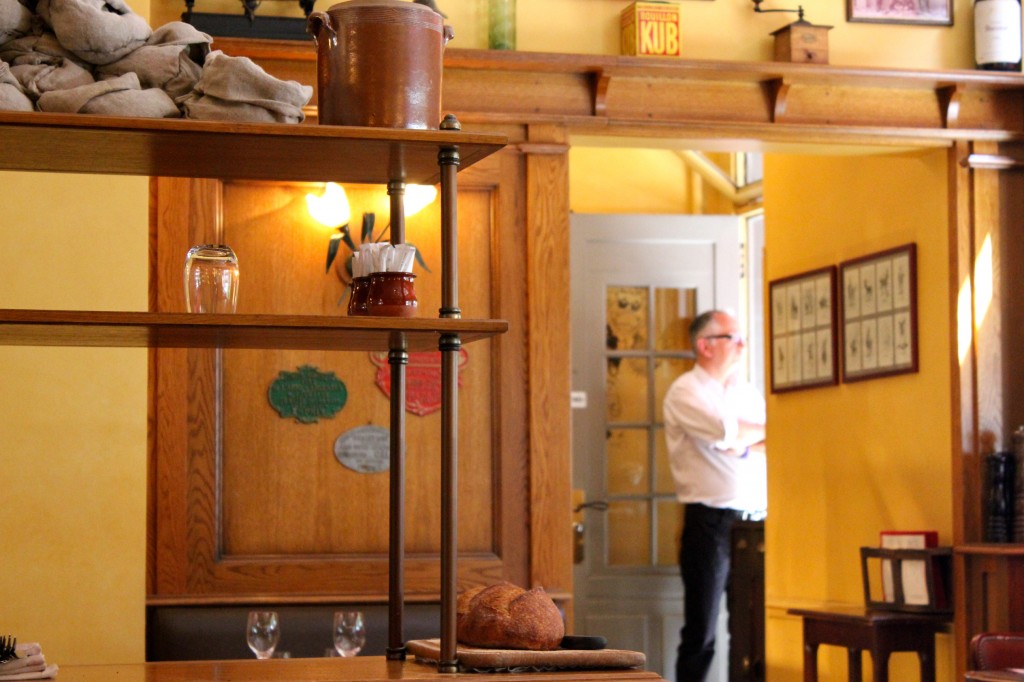 L'AOC
14 Rue des Fossés Saint-Bernard   75005 Paris  Métro: Jussieu  Tel: +33 1 43 54 22 52
«
One Night in Paris – Paris
|
Restaurant Akrame – Paris
»