It started with Cyprus Hill and ended in Celine Dion (and a Sunday full of maudlin self pity), but boy what a night it was.
On the last weekend of my whirlwind Easter trip home, Fontina Turner and I decided to organise a little soiree to catch up with our favourite ex-Paris expats, the sorely-missed Robert Brownie Jnr and Dolly Tatin, and Fontina Turner's darling siblings Eclair Danes and Christian Kale.
I had assumed we would wind up sipping sem savs and knocking back roasted tomato gnocchi with the rest of the western suburbs at Il Lido, which, when I left the city a few years ago, seemed to be the only decent place to eat.  Perth was historically (and I dare say fairly) labelled the dullsville of Australia, and 5 years ago the restaurant and bar scene was rather dire. However, while I wouldn't go so far as to say that "Williamsburg pales besides [it]",  with 50 new small bars, a plethora of recently opened restaurants and a thriving arts and cultural scene, there is most definitely more to this city than flat whites and great whites.
Brika, the newly-opened modern Greek-style meze bar, which Dolly Tatin picked for our rendez-vous, is just the latest in the wave of hip establishments to hit the west coast. The Stirling Street abode, with its white-washed walls, colourful weathered shutters, Grecian inspired decor and rustic 'every-man' fare pays homage to owner Simon Psaros' hellenic roots. And with a small but stellar Greek wine list devised by Lalla Rookh sommelier Jeremy Prus and cocktails concocted by Ian Loh and Candice Knight, formerly of Helvetica, the Brika team has got the mix just right.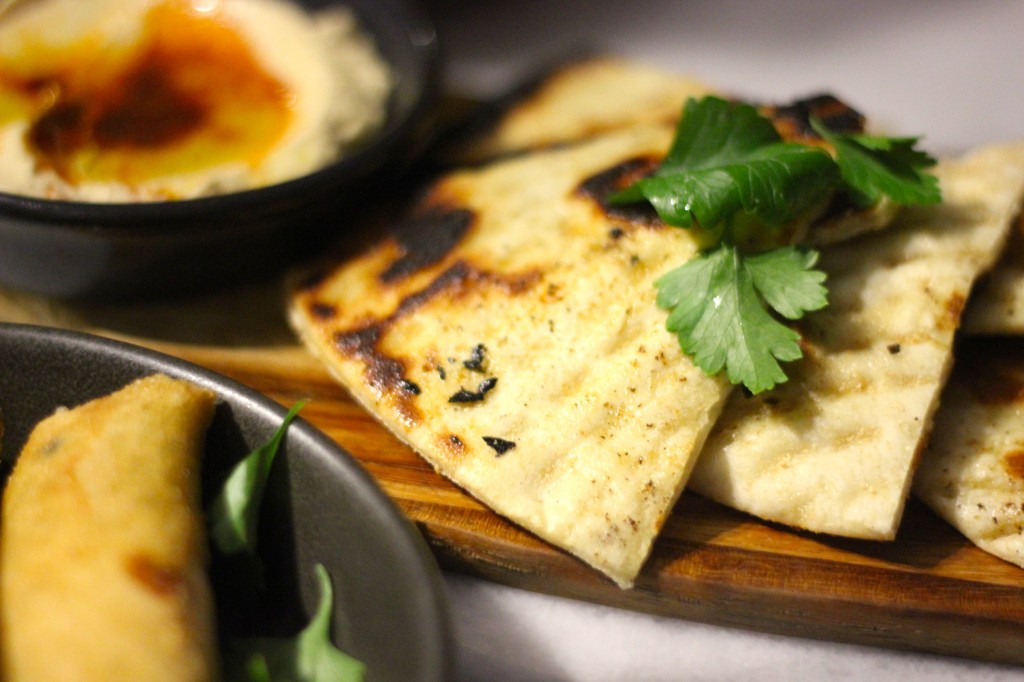 When Dolly Tatin and I arrived, late and lush after a few pre-dinner chardonnays chez-elle, the rest of the crew were happily tucking into the punny Cyprus Hill and Gin-nopolis cocktails at the heaving bar, whilst waiting for a table to free up.  By the time we were seated, 4 Cyprus Hill's later, we were all starving and ended up ordering almost everything on the select, shared-plate menu.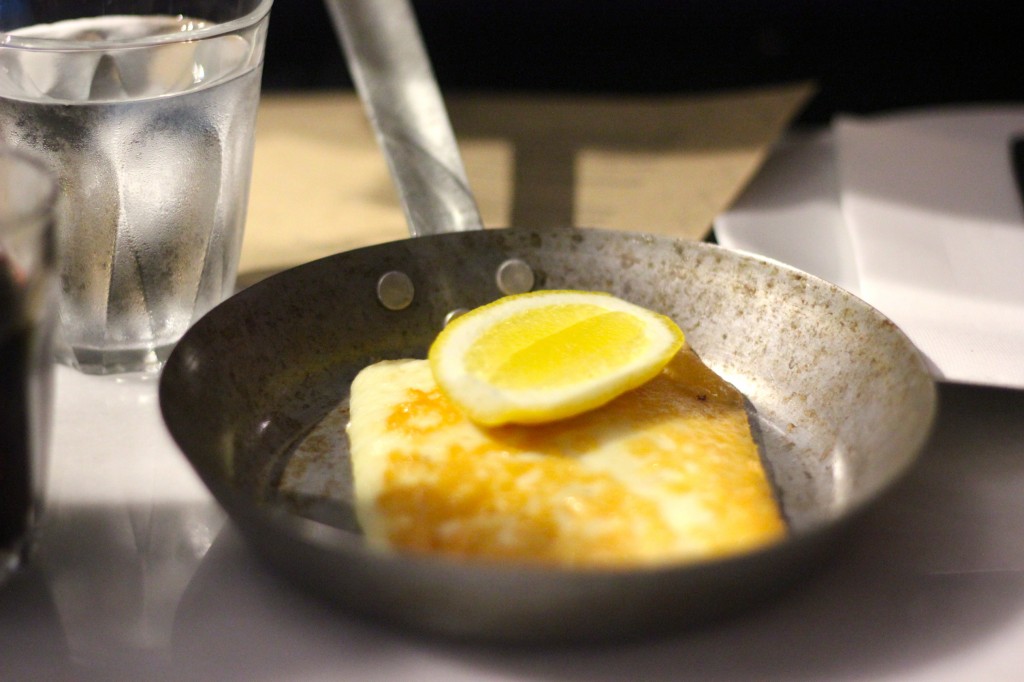 In the starter department, the warm pita bread dipped into an earthy, thick, creamy taramasalata was a dream combination as was the simultaneously crunchy, gooey, garlicky kolokithakia (zucchini fritters) and we demolished the simple yet scrumptious hummus in a matter of minutes (I guess you could call it a hummus-ide?). The pan fried kefalograviera with a squeeze of grilled lemon was nice enough, although it had nothing on the unforgettably mouthwatering honey, oregano infused saganaki from The Apollo in Sydney, that will forever be etched into my memory.
I personally found the deep-fried three cheese, spinach and leek spanakopita disappointingly, and rather surprisingly, heavy; not the light phyllo fix I was hoping for, but the tender grilled oregano lemon octopus and the calamari with lemon zest and herbs most definitely made up for it – a squid pro quo of sorts.
But where Brika really shines is in its mastery of the art of the wood-fired grill. The lamb shoulder was almost finished by the time we sat down (the waitress literally sprinted to get us the last one, before coming back to take the rest of our order) and I can see why – the marinated, slow cooked specimen with its crisped skin and fork-melting flesh, was utterly divine, as was the preposterously juicy ¼ maryland souvla rotissierie chicken and the moreish oregano, garlic cretan oil infused lamb chops.
Brika is a restaurant where, according to itself, "the place is leisurely, the plate communal and the conversation spirited" and after Christian Kale had taken it upon himself to order a round of ouzo shots for the table, we were most definitely a 'spirited' bunch – Dolly Tatin started lecturing the owner about his trending hair-do, Fontina Turner took to the lamb chops with her hands, and Eclair Danes drunk dialled her ex-boyfriend at least 7 times.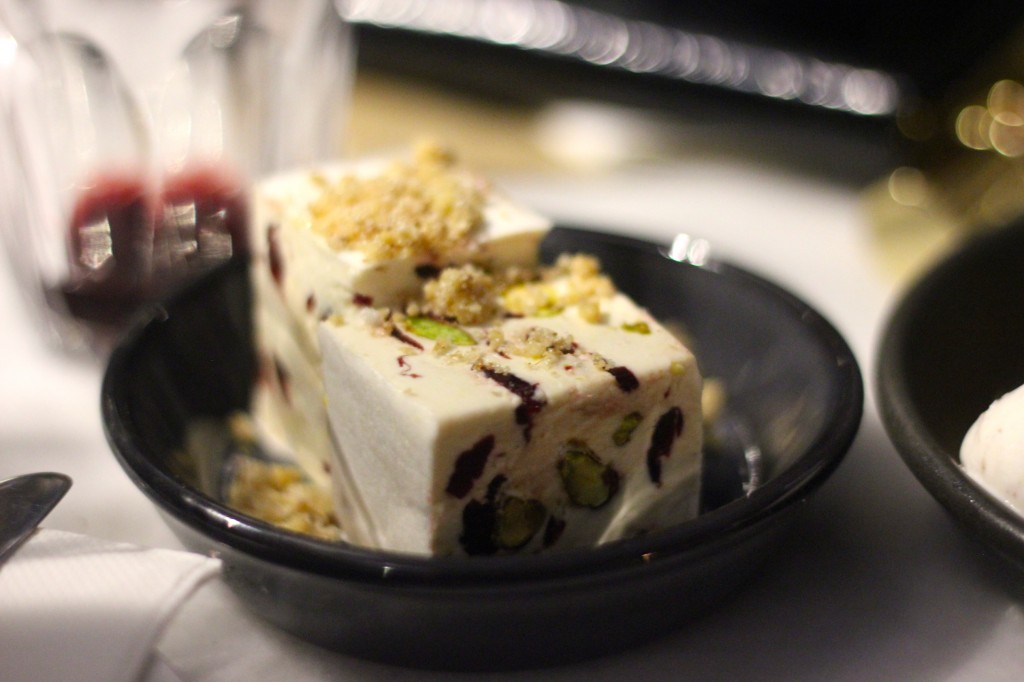 With bellies full of ouzo and wood-fired beasts, we probably didn't need dessert, but ordered three anyway. The pistachio, cherry, cranberry nougat was as unmemorable as the loukoumades (greek doughnuts in rosewater syrup) were mouthwatering, but bizarrely enough my favourite 'dessert' was the ksinotiro, a sour local greek cheese served with that delicious warmed signature pita bread, apricots and figs (the baklava was not available that night).
They say beware of Greeks bearing gifts, and I should have known better when I saw Psaros, that man-bunned deity, carrying a second round of ouzo shots to our table.  But alas, by that point I was in no state to decline. And so it was that four bottles of wine, 10 cocktails and two rounds of ouzo later, we found ourselves barefoot, cramped into a tiny karaoke booth at 5am, knocking back guava flavoured Vodka Cruisers and belting out Celine Dion like it was 1999.
Needless to say, that was one hellenic hangover.
Brika: a very meze night indeed.
xoxo
Paris Stilton
Brika
3/177 Stirling Street 
Perth, Western Australia 6000
Tel: +61 (08) 9328 6665
Website: www.brika.com.au 
Open: 12:00-3:00pm, 4:00-10:00pm, Wednesday to Sunday 
«
Clamato – Paris
|
Miznon – Paris
»