It has been a very long time between posts (although admittedly not between drinks). The last 6 months have been replete with plentiful lols, copious Côtes du Rhône and many a late night filled with truffled ham, calvados camembert and karaoke; I have swiped left and swiped right and encountered my fair share of Tinder surprises; I started a new job and cut myself a new bob; I have tasted some very aged wines and dated some very young men; I have even been vomited on by a complete stranger in the metro en route to a foie gras degustation. And amongst all of that, I have eaten some fabulous fare.
Trawling through Instagram recently I stumbled across a photo of some exquisite looking morsels of deep fried chicken at the newly opened restaurant Ellsworth, and I liked (emotionally and digitally) what I saw.
And so it was that I found myself chortling over a Chardonnay and scoffing said chicken on a sunny Saturday with the ever-present Fontina Turner, the transiting antipodean Rosamund Pikelet and resident Russian comrade Vladimir Poutine.
This cosy new 1st arrondissement address is the latest lovechild of Braden Perkins and Laura Adrian, the couple who, after the success of their pop-up restaurant Hidden Kitchen, opened excessively popular fine dining degustation restaurant Verjus and its more casual younger frère Verjus Bar à Vins – both just a stone's throw from Ellsworth.
The restaurant, named after Perkins' grandfather (to whom he attributes his love of good food and wine), is based on the ever-trendy concept of American-inspired share plates, featuring fresh, seasonal and locally sourced produce.
We, of course, ordered everything on the menu – some twice.
The sole ceviche, with its coriander, lime, radish, crunchy corn and chili purée was a truly divine combination; as was the umami-ish broccoli with anchovy butter that followed suit.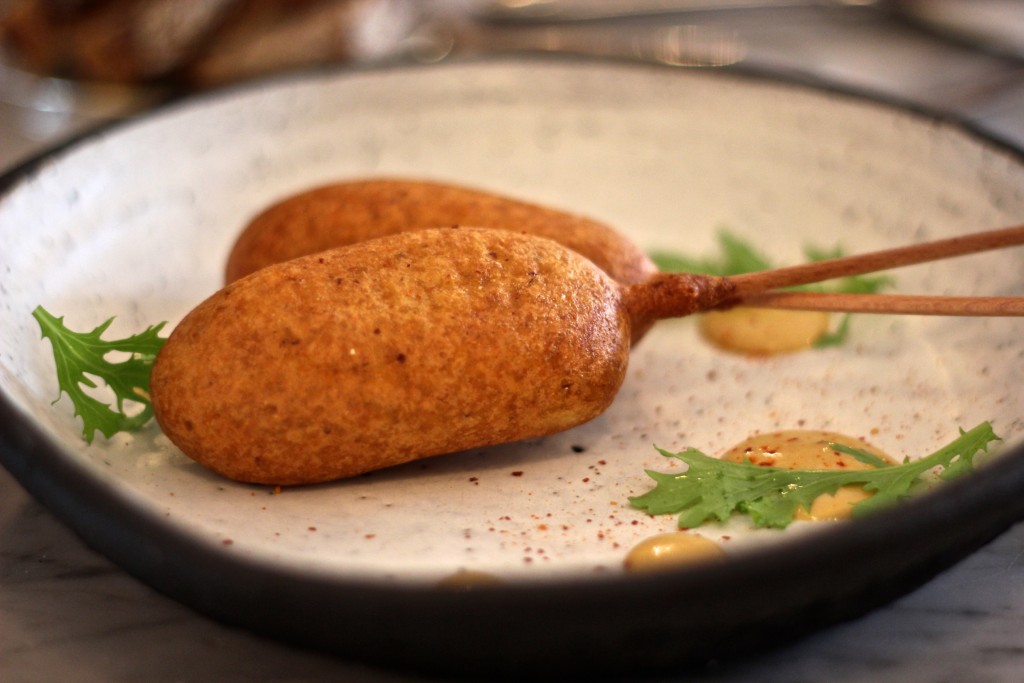 Next up was the rabbit corn dog.  Having never tried a corn dog, I had previously likened it to a Chiko Roll (that miserable pastry-covered pulped celery and barley roll, oft found loitering amongst meat pies in the bain marie at Australian petrol stations) but I was clearly barking up the wrong tree – this homemade rabbit sausage coated in cornmeal batter with a slightly spicy homemade mustard dipping sauce was spot on. Vladimir Poutine was highly impressed.
Indeed if this dish were a song, it would be titled "The Weiner Takes it All."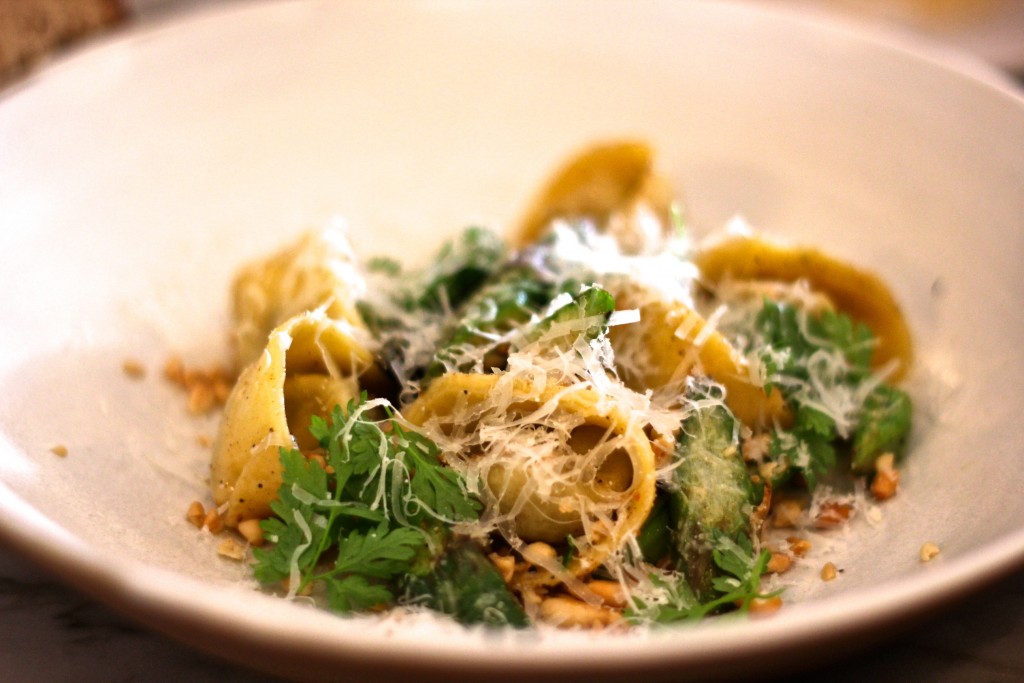 Fontina Turner was decidedly content in the pasta-department: perfectly al dente cappelletti with peas, pine nuts and pecorino; followed by a truly mouthwatering lamb ragout atop spinach orechiette with shaved raw mushroom and finished off with an ambrosial asian inspired beef and sesame ravioli.
Perkins and Adrian have taken the much acclaimed juicy, tender Buttermilk fried chicken (lounging on a bed of mustard-y slaw) off the menu at Verjus Bar à Vins and relocated it at the down the street at Ellsworth. I personally am very glad that this chicken crossed the road, and did not disappear altogether – it was delicious.
The bavette with beetroot chutney, confit garlic and bone marrow was a total taste sensation, as was the tender octopus with fennel, sherry vinegar and potatoes posing as rice.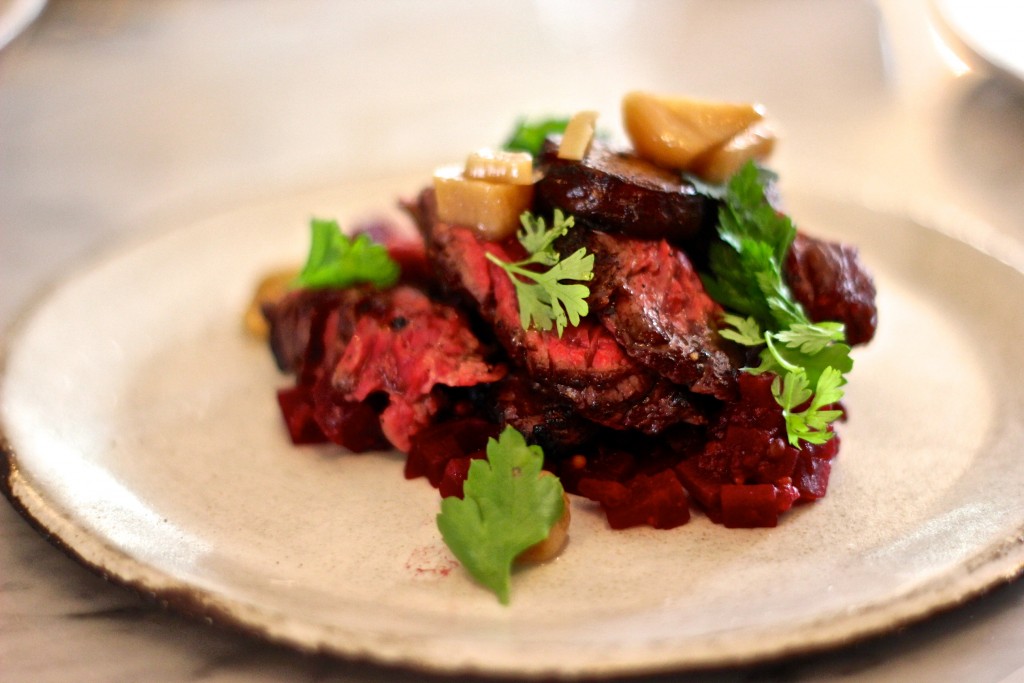 A few hours and numerous bottles of Chardonnay later, our tummies and team had expanded – we were joined by brie-bearing Gwenyth Poultry, straight from her cheese tour; and Vladimir Poutine's delightful English beau Eggs-Benedict Cumberbatch, just in time for the dessert; crunchy little sugar covered donuts dipped in strawberry coulis, and the true showstopper, the deconstructed malteser: chocolate and malt sorbet, mini meringue and crushed milk biscuits topped with coffee foam. 'Twas truly and utterly divine.
The meal, like the service and company, was flawless; I guess you could say it was love at first like.
xoxo
Paris Stilton
Ellsworth
34 rue de Richelieu 75001 
Paris
  Tel: 01 42 60 59 66 Metro: Pyramides, Palais Royal  Website:
http://www.ellsworthparis.com 
«
Il Vino – Paris
|