I've made my fair share of embarrassing linguistic aberrations over the last two and a half years in Paris – I certainly learned the hard way that péter does not mean 'to pat', nor does la bite have any correlation to the word 'bite' (at least all men out there hope). So I feel justified in giving the French a bit of merde for their contortion of the English language; with my favourite phonemic phenomenon being the erroneous, and somewhat perplexing use of the letter H.
While the French seem incapable of pronouncing an H at the beginning of any sentence in which it is necessarily required (help becomes "elp", have morphs into "ave" and happy indubitably comes out as "appy"), they are oft inclined to add a forceful H at the beginning of words where it is not needed, creating their own hilarious conlang of vocab such as hupgrade, helephant and hunderstand (for the first 6 months at her new job, a friend of mine actually thought that her colleague was called Harthur – I kid you not).
And so it was that sister Sienna Millet, Yummy Mummy and I found ourselves squeezed onto a mezzanine table at Restaurant Pirouette, chortling at the very dashing young waiter's statement "I sink you should ave ze hegg". The hegg in question was a perfect coddled egg, served with haddock, cauliflower and croutons. And golly gosh was it good.
Tucked away behind a monstrous car park and a concrete jungle of renovations that is currently Les Halles, Pirouette – with its large, open, steel-clad glass windows, Scandi style wood furnishings and charismatic staff – brings a ray of distinction to an otherwise fairly charmless corner of Paris.  Chef Tomy Gousset (formerly of Daniel in New York and Le Meurice, amongst others, in Paris) whips up consistently fresh, seasonal, and ever evolving dishes on an extremely well priced prix-fixe menu. At lunch the restaurant offers an 18€ 3 course menu, as well as à la carte options and at night there is a 40€ 3 course menu or a 60€ 6 course chef's surprise menu.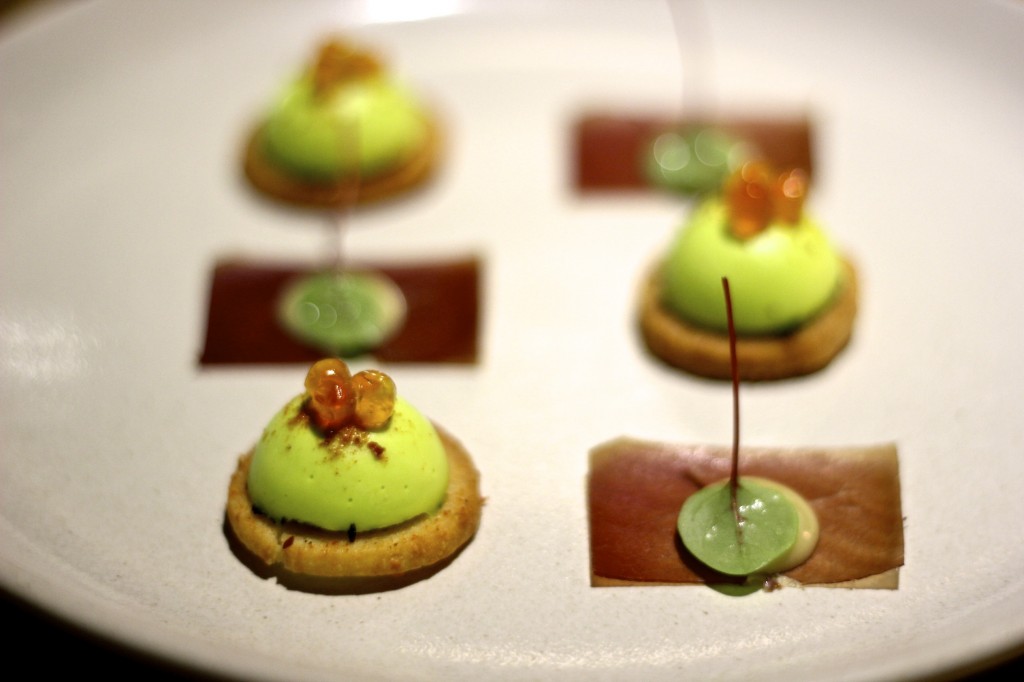 Still giggling at the very endearingly translated 'dolphin potatoes' (pommes dauphinoises) we popped open our bottle of Chateauneuf de Pape to celebrate Sienna Millet's birthday and got started on our little amuse bouche of shortbread biscuits with wasabi paste and herring eggs and coffee cream topped prosciutto slices – which were both as tasty as they were innovative.
For entree, Sienna Millet's cured trout (truite bio, citrons et oignons confite, noisettes) was a bit trite, while Yummy Mummy's perfect egg was slightly less than perfect, but wonderful nonetheless.
However my gnocchi with morels (gnocchi, morilles, sauce vin jaune) was, quite honestly, one of the best pasta dishes I have had since moving to France. I have such a deep fondness for French mushrooms – the succulent chanterelles, the tempting trompettes de mort, the sumptuous cepes, and best of all, those magical, moreish morels. The beautifully fresh (not vaguely floury) gnocchi was snuggled amongst whole morels piped with an intensely flavoursome jus, and finished with young fresh sprouted green leaves, a trace of pureed spinach and a light yellow wine sauce. It was pure, mouthwatering, indulgence.
Everyone had food envy – the best kind of morel dilemma.
For mains Sienna Millet and Yummy Mummy went for the beautifully executed slow cooked lamb shoulder (epaule d'agneau, oignon, darphin, piment) which was topped with incredibly sweet seared baby onions encasing a deeply aromatic jus with a gourmet hashbrown potato cake as accompaniment. Needless to say they both licked their plates clean.
I went for the duck (canard, asperges, kum kwat, porc) – a perfectly pink, jus coated specimen covered in tiny, slightly bitter confit cumquats with a delicious stem of fresh asparagus and tiny peppering of croutons to give it a bit of crunch. I believe there was also some pork in there…somewhere.  A delicately presented dish with subtle, yet interesting flavour and texture combinations – I was one very happy little duckling indeed.
Approaching dessert time, I managed to sneakily get the waiters to cover Sienna Millets (food-envy engendering) rice pudding (topped with salted caramel butter, crushed macarons and honey coated granola) in toppling candles and the whole restaurant erupted in cheerful stanzas of 'joyeux anniversaire' while Sienna Millet, Yummy Mummy and I bathed in a wine induced merriness.
For desserts I went for the melting meringue with mango, passionfruit, peanuts and coconut (meringue fondante, mague/passion, coco, cacahuettes) which was, for all intents and purposes, a fabulous rendition of my least favourite dessert the infamous île flottante.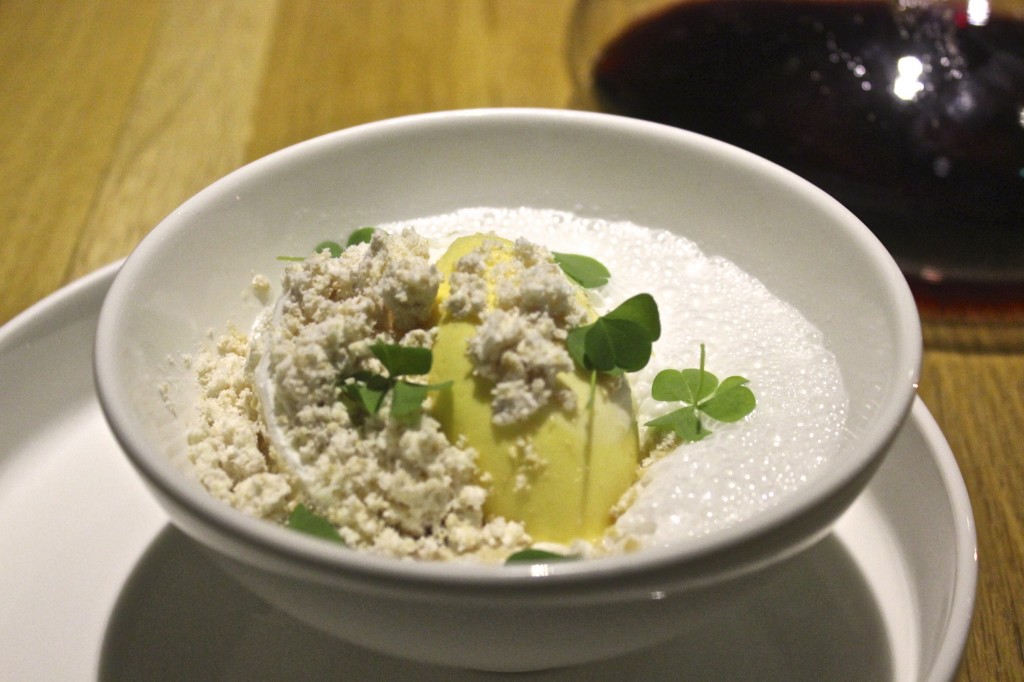 All in all it was a fabulous night, replete with delicious food, beautiful wine and unbeatable company.  The space is light, open, polished, warm and welcoming, and the food unpretentious, seasonal and decidedly (and indeed consistently) moreish.
Pirouette – a good hegg.
xoxo
Paris Stilton
Pirouette
Address: 5 rue Mondetour  Paris 75001 Metro: Etienne Marcel, Les Halles  Phone: +33 (0) 1 40 26 47 81 Hours: Open Monday to Saturday from 12:30pm to 2.30pm and 7.30pm to 10.30pm. Closed Sunday.
«
Miznon – Paris
|
Il Vino – Paris
»