Humans are, at heart, creatures of habit.  Even in a big, bustling city like Paris your day-to-day life quickly becomes fairly predictable (although mine is admittedly more "eat, (drink), pray, love" than "métro, boulot, dodo").
Take the microcosm of my street for example, it's like clockwork – every morning at 6.35am the rubbish trucks rumble down the street and the rubbish men chide each other at the top of their lungs to ensure the whole neighbourhood is fully awake, at 9.30am the motley British bulldog at number 50 grumpily hobbles out for his daily walk, at 10.00am the angry homeless lady who sits outside the supermarket emerges from a cardboard box with her 'I am hungry' sign (I bought her a freshly made ham, cheese and salad baguette once and she threw it at me and yelled 'I am not a bin'), at 11.30am a white terrier with an incredibly strange limp dances down the street to the local cafe, jumps up onto his high chair and watches patiently while his owner sips her espresso, at around 4.00pm as the second daily round of bread is coming out of the oven at the bakery below Monsieur Dupont saunters in, cuts to the front of the line and orders a 'well cooked' baguette, at around 4.01pm Monsieur Julien who works at the bakery tells him to go to the back of the line and stop pushing in, and at 7.00pm every night a bearded man stands below my building, whistles once, then yells something that sounds vaguely like "wally" into the distance, and repeats the process three times before leaving.
I too have become quite set in my routine. At 8am on Mondays and Wednesdays I meet Salmon Hayek for a run in Luxembourg Gardens (coincidentally the same time that a group of 50 Parisian fireman set out for their morning run), at 8.30pm on Thursdays Dolly Tatin, Robert Brownie Jr. and I convene for wine and cult movie night, and every Sunday at around 1.00pm I can be found chowing down a burger in a corner booth at Paris hotspot  La Perle with Edith Pilaf.
It's hard to put your finger on how this unassuming old corner bar (once the scene of the infamous rant that cost John Galliano his job at Dior) came to be a trendy Paris institution.  It certainly isn't the tired 70's decor, the harried staff, nor the bitter coffee that keeps people coming back. And yet I seem to find myself there time and time again. I stand by Elton Scone as he flirts with the tribes of dapper dandies spilling onto the heaving terrace on balmy summer nights,  once a week Grease Witherspoon and I will duck in for a quick aperitif and a gossip (once a week Grease Witherspoon and I will stumble out 2 bottles of rose later) and Sienna Millet drags me in for the 'Bonne Mine' ('the looking good') juice whenever she comes to town. But what I really go back for is the burger – that delicious, sloppy, sauce filled, pickled-up morsel of goodness served with perfectly crispy shoe-string fries.
This burger is seriously something else. It could be the large juicy pickles, it could be the perfectly rare, cheese covered meat patty, it could be the unctuous tangy mayonnaise complete with tid-bits of shallot that is generously smattered on both sides of the bun, or it could be the fact that I am always hungover and 'hangry' when I eat it. Either way, it truly has my heart.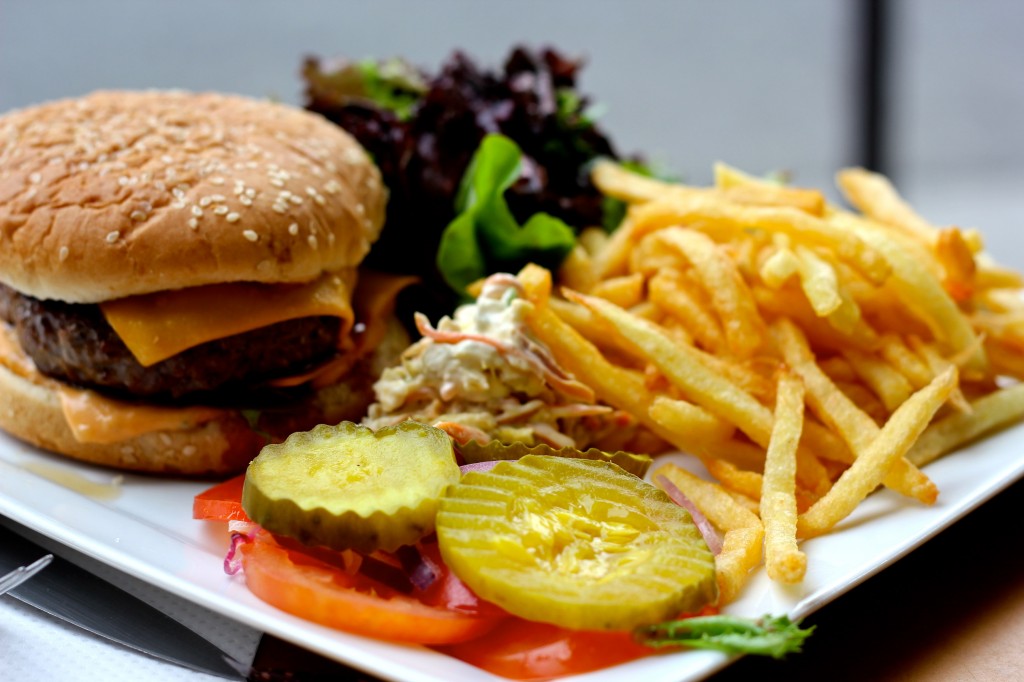 The world may be your oyster, but this burger is definitely the Perle.
xoxo
Paris Stilton
Café La Perle 
78 rue Vieille du Temple 75003 Paris
Métro
: Saint-Paul, Republique, Temple T
éléphone
: +33 1 42 72 69 93 contact@cafelaperle.com
«
Breizh Café – Paris
|
L'Éclair de Génie – Paris
»