We all know that French Women Don't Get Fat (now apparently French Children Don't Throw Food either; when French Husbands Don't Cheat is released, I will admit that the French are in fact perfect). It is true, the French femmes are all thin. Unfortunately just because you are a woman and you live in France, it does not necessarily follow that you also will be thin. At the end of a year which I passed idly in the south of France eating and drinking at the age of 18, my French boyfriend's sister (who was never backward in coming forward) told me I looked like a cute little white Boticelli woman, she said Botticelli and she meant botty-of-jelly. So I bought the book. And this is what I took from it, "The key.  Not guilt or deprivation but learning to get the most from the things you most enjoy." So here I am, seven years later back in France, getting the most from the things I most enjoy.
Here are a few of my favourite sweet treats that you should never feel guilty about.
Hermé is to macarons what Hermès is to silk scarves. The man.
Years ago on a trip to Paris, it was pouring with rain and I ducked into a little boutique in St Germain to ask for directions to the famous macaron store Ladurée.  The female shop-owner leaned over and said to me "Mais non, Mademoiselle if you really want to be like the French you must go to Pierre Hermé." And there they were, hordes of Frenchmen standing in a line in the rain, getting soaked for a bite of an exquisite Infiniment Chocolat, a morsel of a mouthwatering Médélice or, like me, to devour a divine Désiré.
Mogador, a macaron with a tangy passionfruit shell and molten chocolate middle was my absolute favourite…until I came across the supersize me Ispahan; a large rose and raspberry flavoured macaron with fresh raspberries encircling a luscious lychee centre. Despite its size, this is not one to share.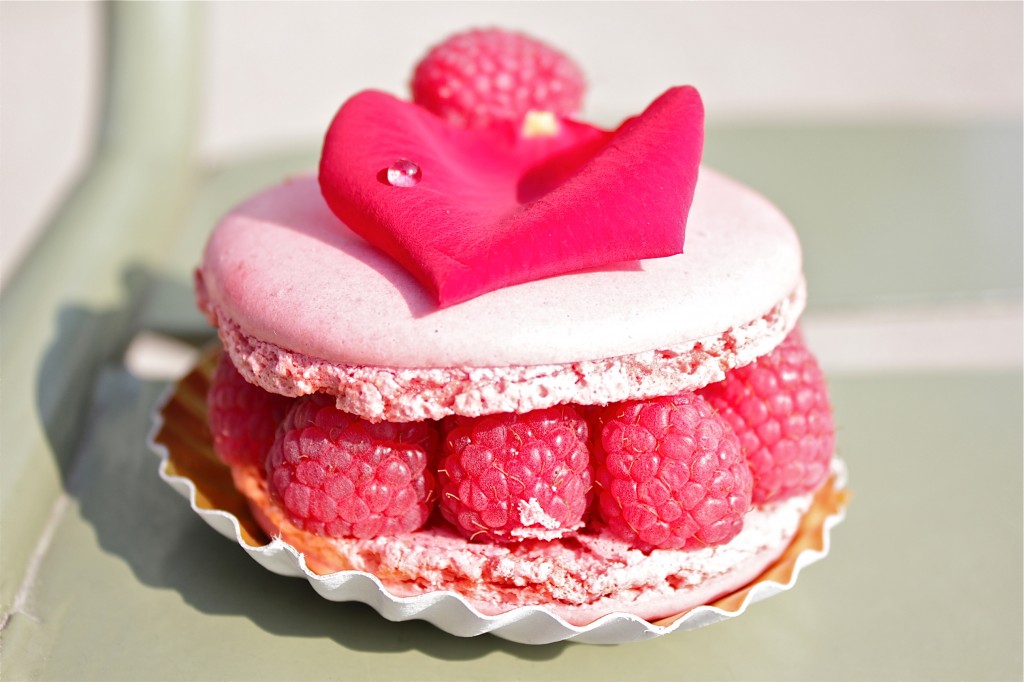 During a weekend of degustations and debauchery, after a 3 course meal at Bistrot Paul Bert, and a little charcuterie and wine at Le Verre Volé , my friend Foodie Dostoyevsky thought we needed to sample something sweet. So we headed off to Jacques Genin for the famous mille-feuille à emporter (unsurprisingly we came out with a mille-feuille, a Paris Brest, a chocolate éclair, some profiteroles, a tarte aux pommes and some little salted caramel butters for the road).
The atmosphere is a tad sterile; the light, clean, cave-like interior looks like it should be showcasing works of art or designer jewellery. But you quickly feel at home when you notice most of the happy clientele have pastry crumbs, icing sugar or chantilly cream all over their face.
If you order the mille-feuille (you must), the cream is piped into the crispy layers of pastry before your eyes.  It is buttery and delicate and scrumptious and incredibly hard to eat gracefully, while the Paris Brest, a praline cream centred choux pastry, tastes like an enormous middle of a Ferrero Rocher.
At €110 a kilo, you would hope the little caramels au beurre salé (salted caramel butters) were out-of-this-world amazing…and they are.
Lets not beat around the bouche here, if you eat these delectable delights in vast quantities, you too may start to look more Boticelli than Giacometti.
But you will enjoy every bite along the way.
xoxo
Paris Stilton
«
Chez L'ami Jean- Paris
|
L'Avant Comptoir – Paris
»