Before I moved to Paris I had imagined being seduced by throngs of charming French men complete with berets and constant three day stubble and double barrel first names beginning with Jean; but alas it seems I have a few more frogs to get through before I find my prince charming. Indeed it is fair to say my life is more '50 Shades of Gay' than 'Last Tango in Paris' (the only butter that's migrated to my thighs is the result of copious croissant consumption).
And so it is that I found myself out to dinner last Saturday at a wonderful new steak restaurant with my favourite queens Elton Scone, Anchovy Hopkins and Quinoa Reeves – as well as the darling Robert Brownie Jnr and fabulous new Australian exports Penne Zellweger and Jus Barrymore.
Set in what was once The London Tavern – an up-market singles club that turned into somewhat of an institution in the 70's – the lavish 3-storey steak and whiskey bar Steaking is the latest hip haunt to grace Saint-Germain-des-Prés with its presence.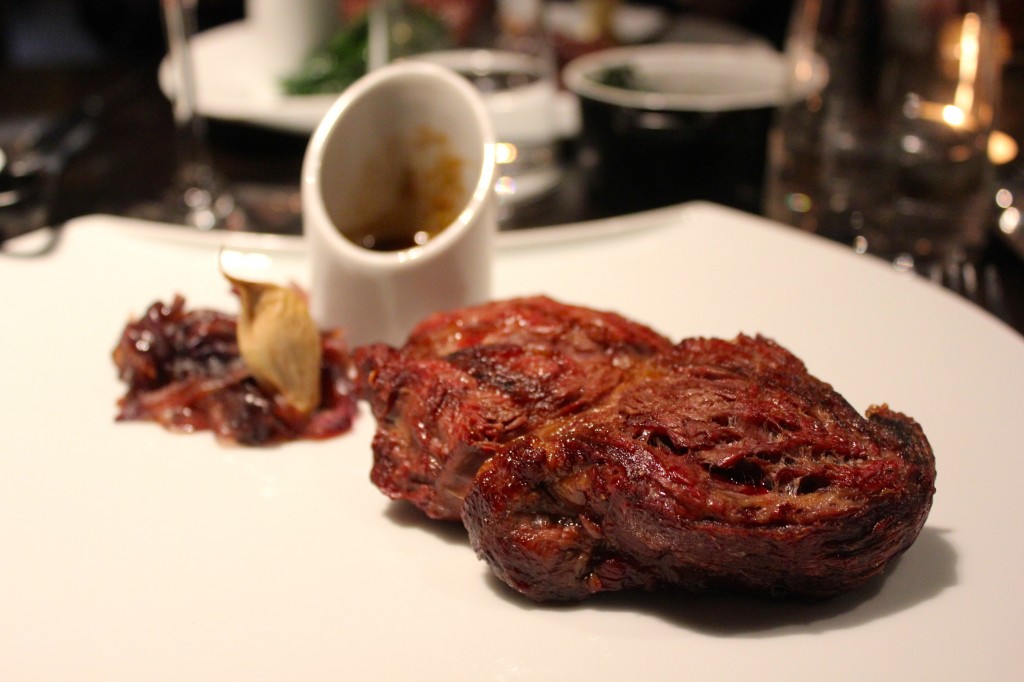 When our merry team arrived for our 8.30pm booking we were the only people in the restaurant, and with the muted grey tones, opulent chandeliers and shadowy serpentine staircases conjuring up scenes from Eyes Wide Shut, I momentarily feared it may have been the preferred purlieu of a more 'swinging' kind of crowd – but the parlour quickly filled up with carnivorous young Kooples and groups of dashing men donning three piece suits and indoor shoulder scarves.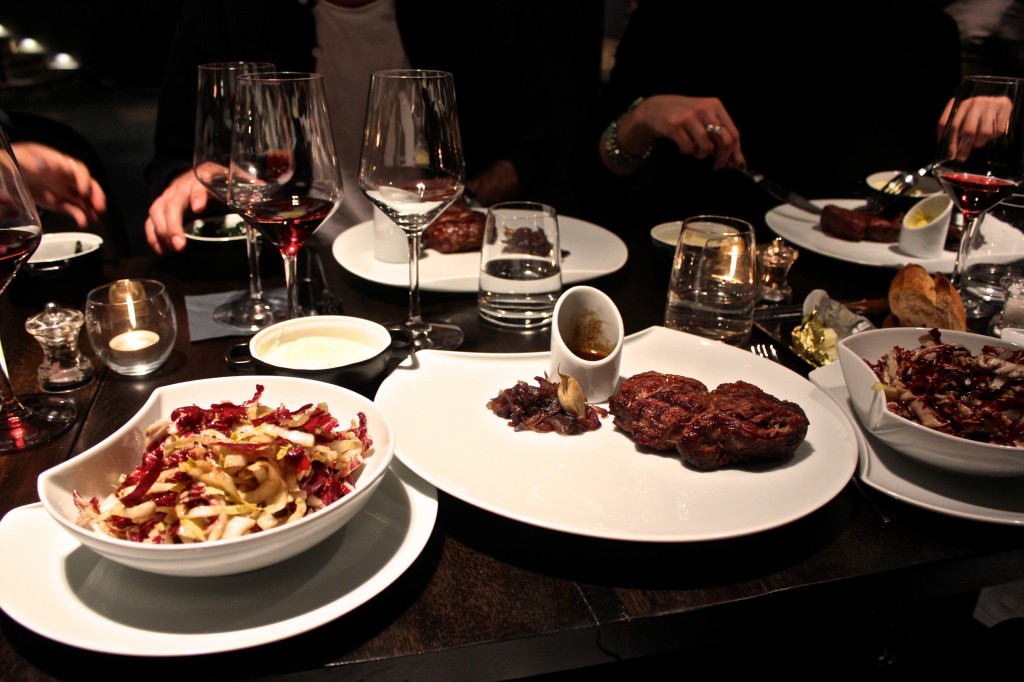 The menu offers a world-wide contiki tour of steak ranging from Australian wagyu, to American black angus, to Austrian Simmental fillet and an array of quality cuts in between. Robert Brownie Jnr, Jus Barrymore, Penne Zellweger and I all went for the ridiculously tender Argentinian entrecôte with a side of deliciously caramelised bitter endive salad and a pot of potato mash to rival that of Robuchon. The meat was beautifully flavoured and cooked to rare perfection.  Anchovy Hopkins chose the unfortunately named, but wonderfully tasty 'chuck flap'  black angus, while Quinoa Reeves happily tucked into his 28 day dry aged prime rib from Galice.
Over a bottle or two of Pinot, the conversation merrily flowed from filet mignons and mignon fillies to the psychology of Grindr and Tinder – Penne Zellweger and Elton Scone both agreed that Paris fashion week was doing wonders for 'online suitor shopping'.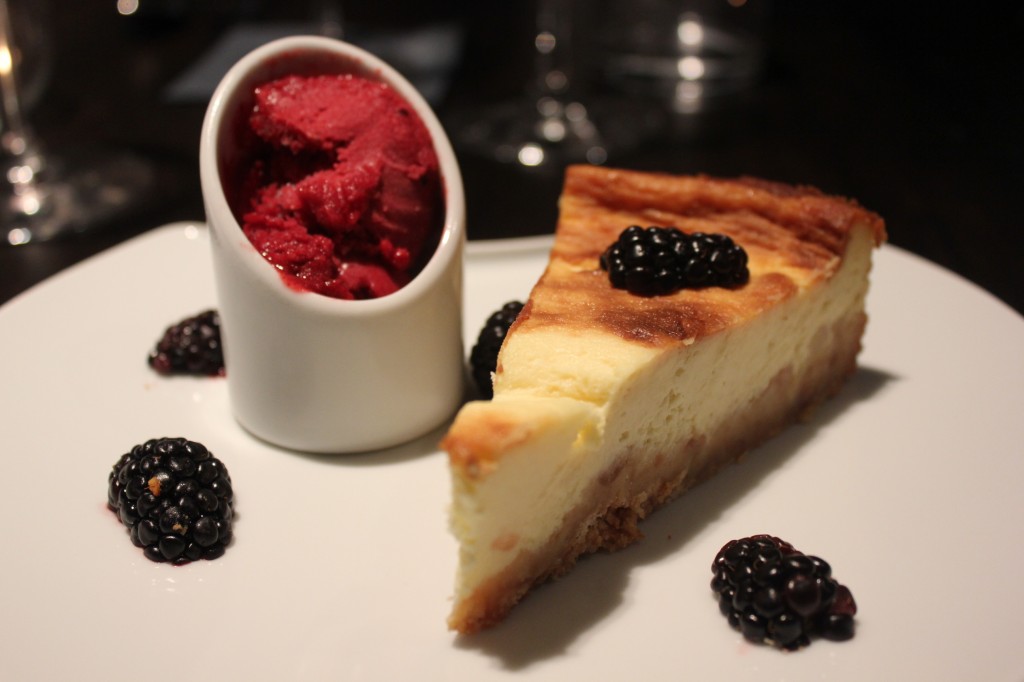 After sharing an unmemorable chocolate fondant and a piece of cheesecake paired with an exceptionally tasty raspberry and basil sorbet, we rolled up the stairs, past the second dining room to the 3rd floor whiskey and cigar bar and entered an otherworldly room of smoke and mirrors and braces and bow ties and taxidermic peacocks, where indoor smoking is entirely au fait and wincing at straight whisky is not.
Our friendly waiter and whiskey-master Joud was a wealth of knowledge about all things single and malty. He whipped the team up some hard hitting old fashioned's, while Quinoa Reeves and I nursed our Nikka Pure Malt Black's straight up (it seemed the appropriate thing to do whilst lounging on a dark leather couch under seductive crepuscular lighting).
Although I generally have a proclivity for more laissez-fare Paris institutions, if you're on the hunt for a good steak you really can't go past this little gem; the service was prompt and friendly, the setting is truly something to see, and the steak was nothing if not sensational.
Alas, if only finding a tender piece of meat in the metaphorical meat market was as simple as this.
Xoxo
Paris Stilton
Steaking Restaurant & Whiskey Bar
3 Rue du Sabot 75006 Metro: Saint-Germain-des-Prés (valet parking available) Tel: 01 42 22 78 82
http://www.steaking.fr
«
Le Pantruche – Paris
|
David Toutain – Paris
»