Recently back in Paris from a speedy summer road trip around Puglia, I have been reflecting on what was a true foodies mecca. From taiedda to tiramisu, from polpette to pasticciotto, and cavatelli to cozze  – we well and truly ate our way around Italy's boot.
Here are some of the highlights…
The pasticciotto
One cannot go to Lecce without trying the pasticciotto – a deliciously buttery, crumbly short crust pastry filled with sweet thick lemon cream – that is a speciality of the region (and it sure beats the fleur d'orange flavoured croissants that I found myself dipping into my long life milk cappuccino in every other town).
Rumour has it that during the US presidential campaign of 2008 an Obama craze swept through Italy's south resulting in the creation of the Obama Pasticciotto – featuring, hgh hmmm, a chocolate flavoured pastry with a chocolate fondant middle (the term PC hasn't quite reached Puglia).
My favourite was from Natale Pasticceria (although they were out of Obama's that day – apparently the little brown treat just isn't as popular as it used to be).
Natale Pasticceria
Via Tevere,10
San Cesario di Lecce
+39 0832 202614 
The nonna's pasta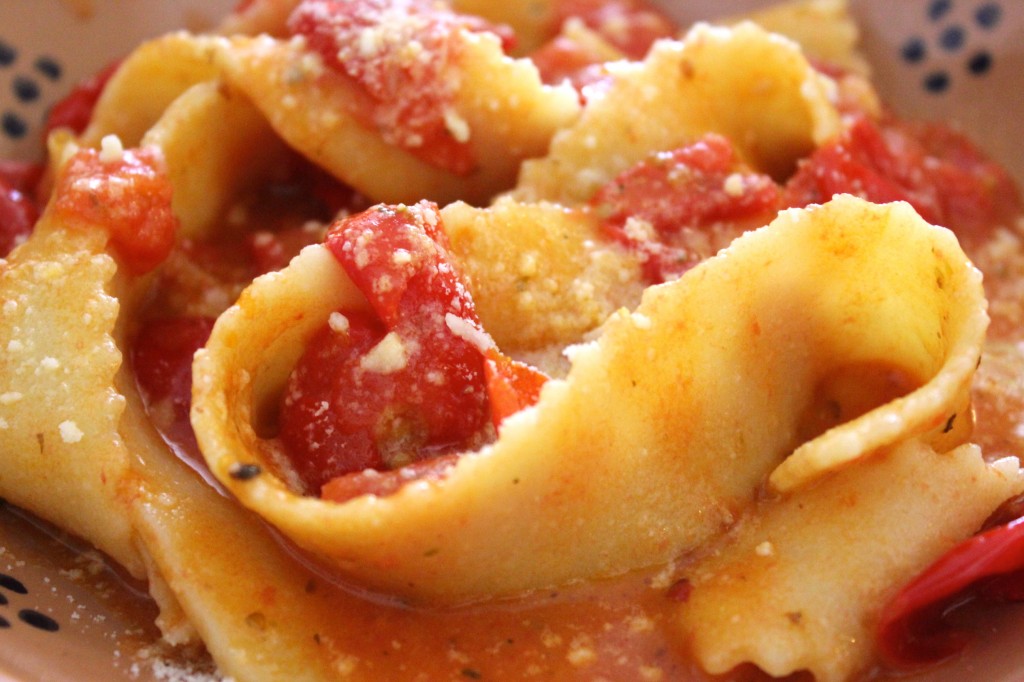 We came across Osteria da Cosimino by accident (although judging by the lonely planet travel guides lounging on a few of the tables, most others did not) one steaming day in Lecce and this small provincial family-run restaurant provided a welcome respite.  The waitress explained to us that her parents started the restaurant forty years ago, and her mother has run the kitchen ever since (even from her now rather sedentary position on a little table in the corner where she bosses her adult children around the restaurant and surveys with a keen eye each dish that comes out of the kitchen). The ricciareddhe cu li pummitori scattariciati (special homemade pasta with small red tomatoes, garlic and pecorino cheese) was a divine rustic pleasure, as were the purpette allu sucu (meatballs in a tomato sugo).  I had my doubts about the traditional taiedhha (rice, sliced potatoes and mussels baked together in the oven) but it was as tasty as the costata di vitellu cu lu pane rattatu (breaded veal chop) was large (very, very).
Osteria da Cosimino Via G. Argento, 14 Lecce
The espressino freddo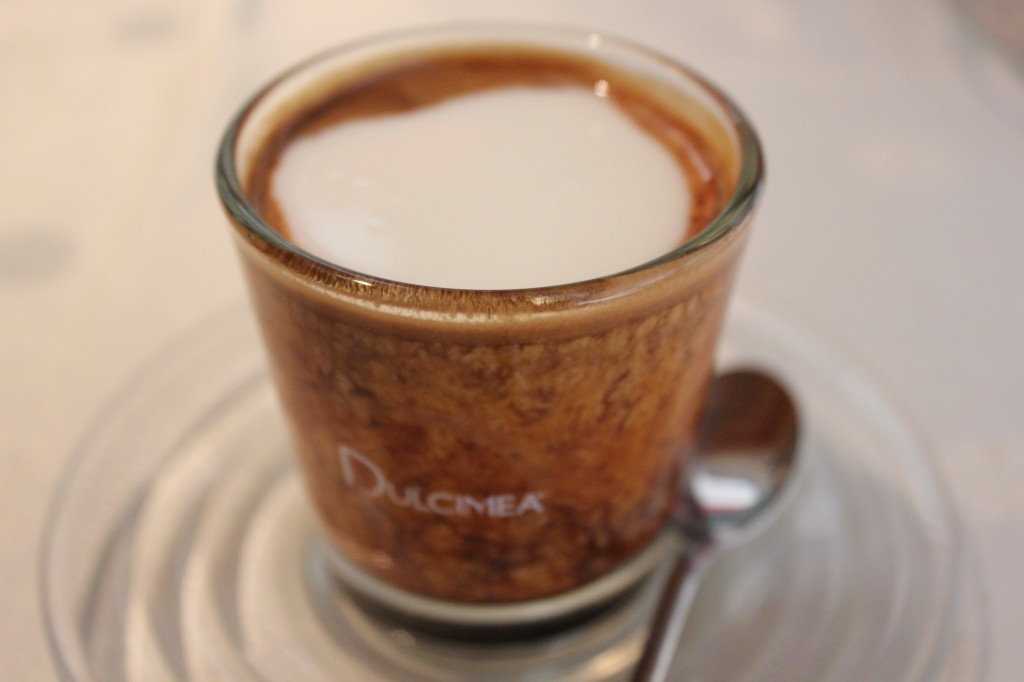 As a general rule milk coffees are frowned upon in Italy after 11am and even more so after a meal (at a cafe in Sicily two years ago, a friend was refused a cappuccino 'for his own good' as, having just finished a lemon granita, the waiter was worried that it might make a ricotta in his stomach).  However, there seems to be one exception to the rule – the ever so enjoyable espressino freddo. If you are pottering around Puglia and get a midday caffeine craving, try one of these chilled little shot glasses filled with a creamy coffee granita, and topped (at the barista's discretion) with a dollop of ice-cream or cream.
On a hot summer's day, there is nothing better.
CinCin Bar 
Piazza S. Oronzo, 4
Lecce
The bar
Tucked away in one of the narrow winding streets that make up the old town of Polignano a Mare is this unexpected little gem of a mojito bar, Le Casa del Mojito.   On balmy summer nights everyone from skinny leg jeaned lads and über cool surfer kids to Gucci man-pouch laden locals, flock here in hordes to sample these very punchy cocktails- you go before dinner, you go back after dinner, you go instead of dinner (pff who am I kidding, that never happened), and you go back every night you're in town.
Le Casa del Mojito 
Via Annunziata n.19, 70044
Polignano a Mare
The spaghetti alle cozze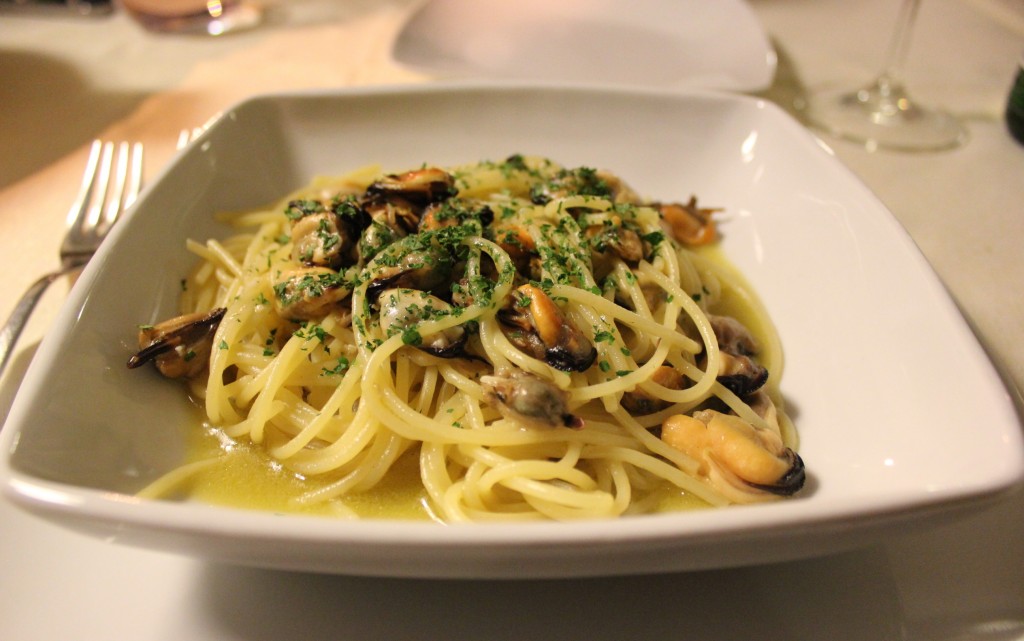 On the (very spot on) advice of Italian food expert Katie Parla from Parla Food, we booked in for dinner at Ristorante da Tuccino, a (fancy-ish) seafood restaurant in Polignano a Mare – for the best spaghetti alle cozze (spaghetti with mussels) in town. In my days as a lawyer I would have viewed this term 'the best' as all a bit of puffery – but puffery it was not.  This was the best spaghetti alle cozze I have ever eaten (and believe me, I have done my research).  Incredibly fresh mussels, perfectly al dente pasta, and the sauce…the simple buttery, winey, oily, sauce…was so damn tasty.  I have been dreaming of this pasta ever since.
The shrimps, oysters and lightly marinated fish of the day weren't bad either.  Don't bother with the dessert….have another plate of the spaghetti alle cozze instead.
Ristorante da Tuccino Via Santa Caterina, 69/F  70044 Polignano A Mare
+39 080 424 1560
The pesce crudo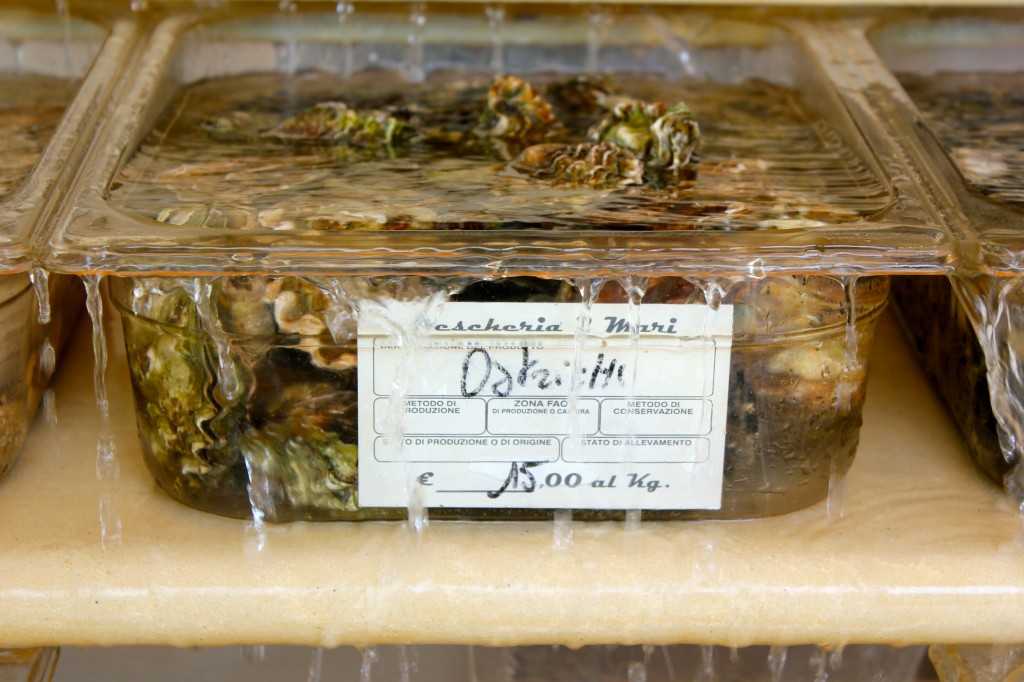 Getting lost one day (one of many) we happened upon the quaint little seaside port of Savelletri di Fasano, lined with its plethora of terraced seafood restaurants overlooking the ocean. Pescheria 2 Mare, our choice for lunch, is essentially a fish shop that sells plates of seafood on the side. There is no kitchen so everything you eat is raw, and all the better for it. Succulent oysters, tender, fleshy prawns and incredibly fresh pesce crudo, washed down with a bottle of bubbly.  Heaven.
Pescheria 2 Mari
Piazza Amati, 8
Savelletri – Brindisi
+39 080 4829161
The sanctuary
Last, but most definitely not least, for a truly magical experience, culinary and otherwise, there is no better place in Puglia than Masseria il Frantoio. The 19th century farmhouse, located just outside of the white city of Ostuni, is a veritable sanctuary. From the thousand year old olive trees surrounding the property, and the picturesque vine lined pathway which guide your way through the Arab garden to the quaint, individually decorated rooms each bearing the name of the owner's favourite flowers – there is not a detail that has been overlooked.
And then there is the food, which probably deserves a post all to itself.  Each night the owner's wife creates a 9 course banquet in the flowery courtyard using all organic produce, the vast majority of which is grown on the property. 'Spaghetti' made from the longest green beans I have ever seen topped with fresh garden tomatoes and ricotta, moreish white aubergine parmiagana, succulent squid salad, traditional sausage meat ragu atop a bed of homemade tagliatielle, tender slow cooked lamb and perfectly crispy potatoes…the list goes on.  Each course, the owner comes out and explains the dish, adding a little witty quip or two, and brandishes a different oil to taste with each plate ("always in a cross, never in a circle"). When you truly feel like you can't eat any more, out comes another dish, and then another instant and the licked-clean plate is being whisked away. It is convivial, familial and truly genial. 
It is possible to do the banquet without staying at the hotel (although it books up well in advance) but after 9 courses, a few bottles of wine and a grappa or two, the beautifully soft, vintage four poster beds are very welcoming. And for the record, the homemade breakfast banquet is equally as enticing!
Once you enter the gates of this idyllic masseria you will never want to leave.
Masseria Il
Frantoio
S.S. 16 Km. 874 72017 Ostuni – Brindisi +39 380 4329301
Grazie mille Puglia, I will be seeing you again.
xoxo
Paris Stilton
«
L'Atelier de Joël Robuchon – Paris
|
One Night in Paris – Paris
»