Little brother Burrata Obama and long time lover Linguine Lohan arrived in Paris last week. Having had a bad experience here two years ago (they ordered pasta at a restaurant, got caught in a grève and hung out on the Champs-Élysées – three things which I personally try to avoid in Paris) they were reluctant to come back, but I managed to convince them that all would be different with big sis Paris Stilton in town. However when I went to pick them up from the métro, they were not a band of happy travellers – Linguine Lohan was in tears over a bomb scare on the Eurostar while Burrata Obama had given 20 euros to a "nice" stranger who offered to help them buy their carnet of 10 train tickets and had left the station with two reduced fare children's tickets and no change.  Luckily, coming from a long line of foodies, I know how to react in times of crisis – a quick phone call and a lunch booking at the two Michelin star L'Atelier de Joël Robuchon later and it was smiles all round.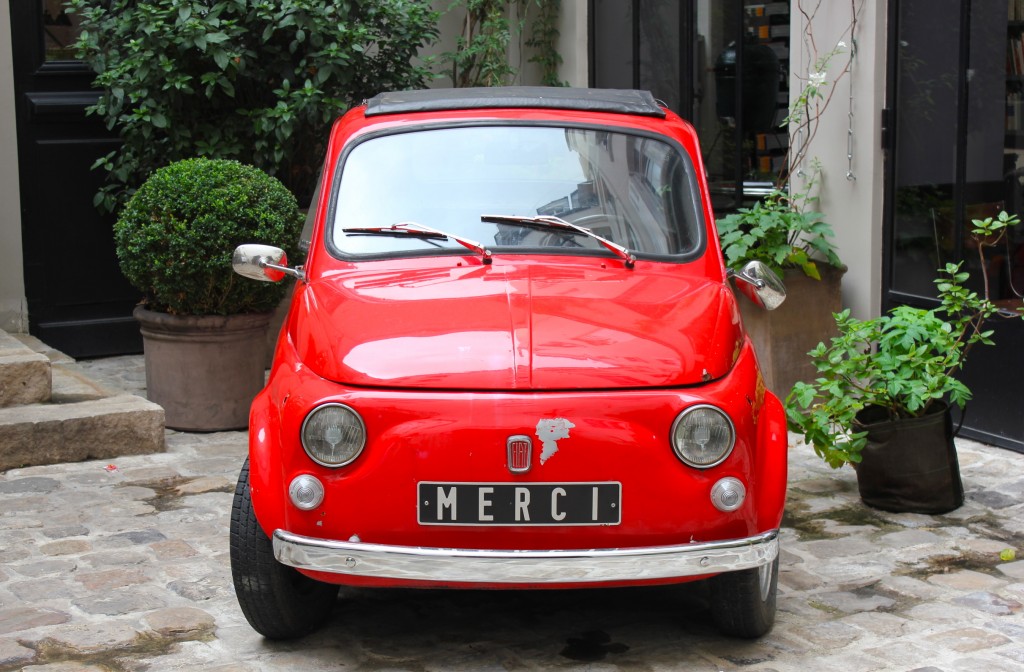 Mulling over a café crème and a sneaky scone at trendy concept store and cafe Merci that morning, little Burrata and I began reminiscing about the amazing restaurants we have been to over the years (counting our lucky Michelin stars you may say).  It was like reciting a list of lovers; Brett Graham was banging, Andoni Aduriz was a tad too quirky, Gordon Ramsay was sensational (and with his 13 course degustation we were at it all night long), while Alain Passard's famous argan oil "sausage" was, well, a bit of a flop. Where would Joël fit in?
On arriving at the dark Saint Germain atelier we were ushered in by the extremely effusive team (happy "bonjour's" being thrown at us from every direction) to our seats at the counter that encircles the avant-gardesque open kitchen, complete with its primary colour schemed installations and futuristic hanging pot plants.  Communal counter service like this often doesn't work in restaurants, and when you are forking out a lot of money (pardon the pun), private tables seem more haute couvert. But at L'Atelier de Joël Robuchon the open seating seems only to add to the experience.  Indeed by the end of the lunch I had even been invited on a culinary tour of Brussels, including an open invitation to stay at the home of the lovely lady sitting next to me (at which point she received a very unsubtle under-the-table kick from her not so hospitable husband).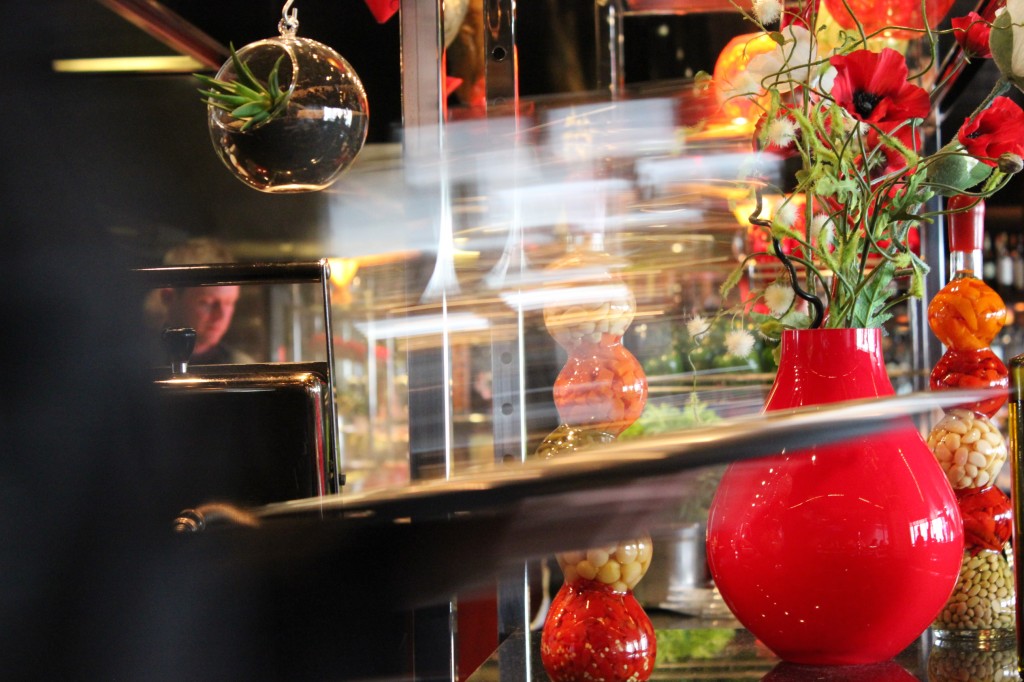 Our main waiter for the meal was a charming, chatty Frenchman named Julian; who managed to get the balance between professional attentiveness and hilariously sarcastic French humour spot on.  Following Julian's advice we picked two of the small (I use this term loosely) degustation plates and a main each.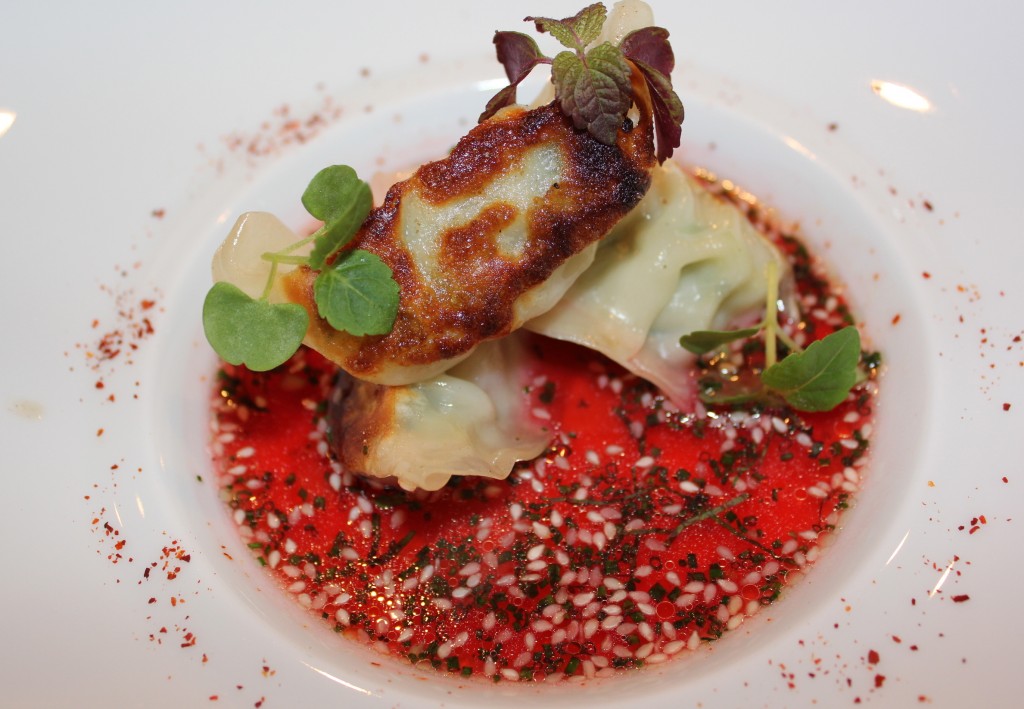 First up (that is, after our complimentary charcuterie board – pulling out an SLR and dropping the Lenôtre line never hurts) was Le Gyoza - à la plancha, farcie de volaille dans son bouillon au parfum d'Asie.  These perfectly seared little poultry stuffed dumplings bathing in a fantastically flavoured exotic Asian broth were as delicious to the mouth as they were to the eye.
Next up for Linguine Lohan and I was La Langoustine – en ravioli truffé à l'étuvée de chou vert (truffled crayfish ravioli with steamed green cabbage).  Could ingredients like that ever be wrong? No probably not, but that said one probably couldn't get it much more right either. The delicate ravioli, subtle sauce and buttery sweet cabbage were perfectly balanced to allow the beautiful freshness of the langoustine to take centre stage.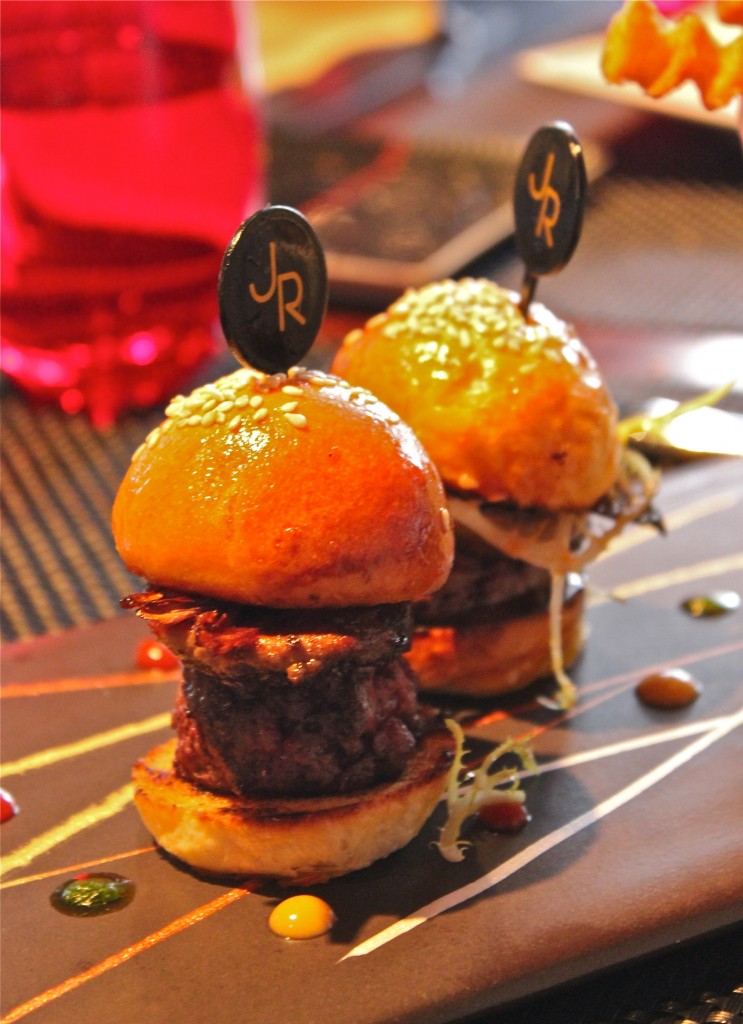 However nothing could have prepared us for the taste sensation that was Burrata Obama's Le Burger – au foie gras et sa sauce aux aromates.  One bite of these scrumptiously sinful sliders and Burrata's cheshire cat grin told us everything.  The tender, juicy meat, the sweet, potent foie gras, the home-made tomato chutney, the crunchy hand-cut chips…FOOD ENVY.
For mains I chose the special of the day, a beautifully fresh, lightly grilled fillet of sole which was delicately and niftily filleted before my eyes.  Judging by the two very French ladies next door, this was apparently a dish that was meant to be shared, but that must have been lost in translation (selective hearing?).  In any event I made sure it didn't go to waste.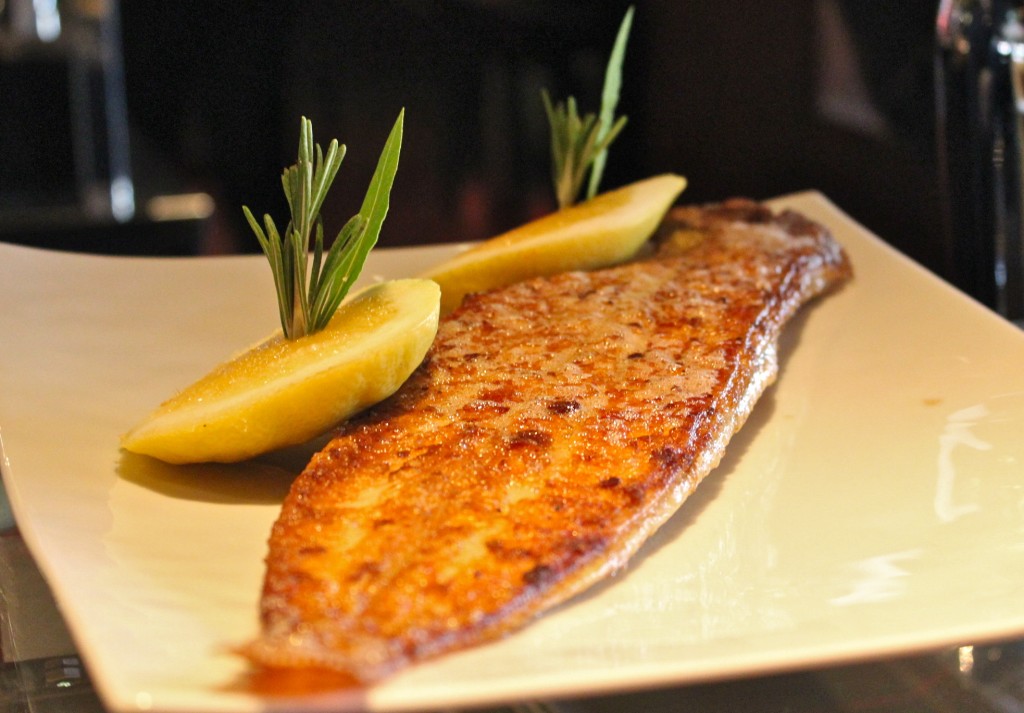 Burrata Obama went for Le Black Angus – coeur d'onglet fondant, aux échalotes confites. As I have previously mentioned, onglet,  the former underdog of meat cuts, has been getting quite a lot of air time of late – and I think this is a very good thing.  Incredibly tender slices of angus steak that cut like butter with a sweet shallot confit was a marriage made in heaven.
However Linguine Lohan took out the prize for the best main, with her La Caille – farcie de foie gras et caramelisée avec une pomme purée trufée (caramelised foie gras stuffed quail with truffled potato purée). Crispy, sweet caramelised quail on the outside, soft melting morsels of foie gras on the inside and accompanied by a side of creamy potato puree that was flattened under the weight of generous slithers of truffle. Pure contentment.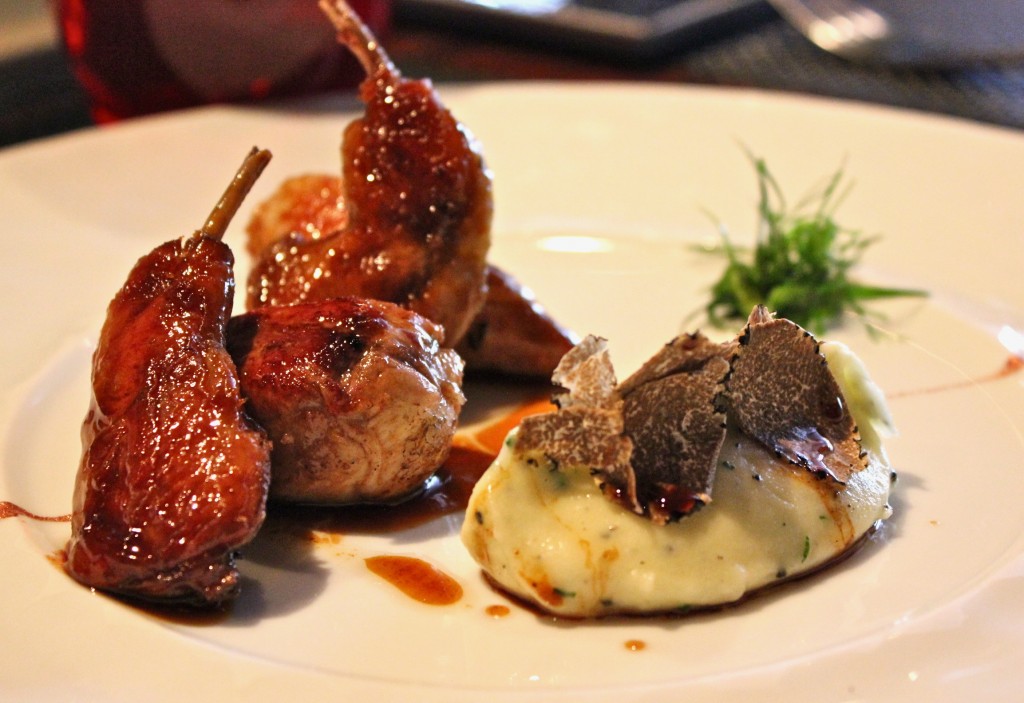 However perhaps one of the most memorable points of the meal was the never-ending supply of Joël's famous mash.  Each of our mains came complete with a not-so-little ramekin of unfairly creamy, utterly orgasmic potato mash, which was, despite (weak) protestations, refilled as soon as it was emptied.  It was like the up-market gourmande's version of the refillable McDonald's coca cola.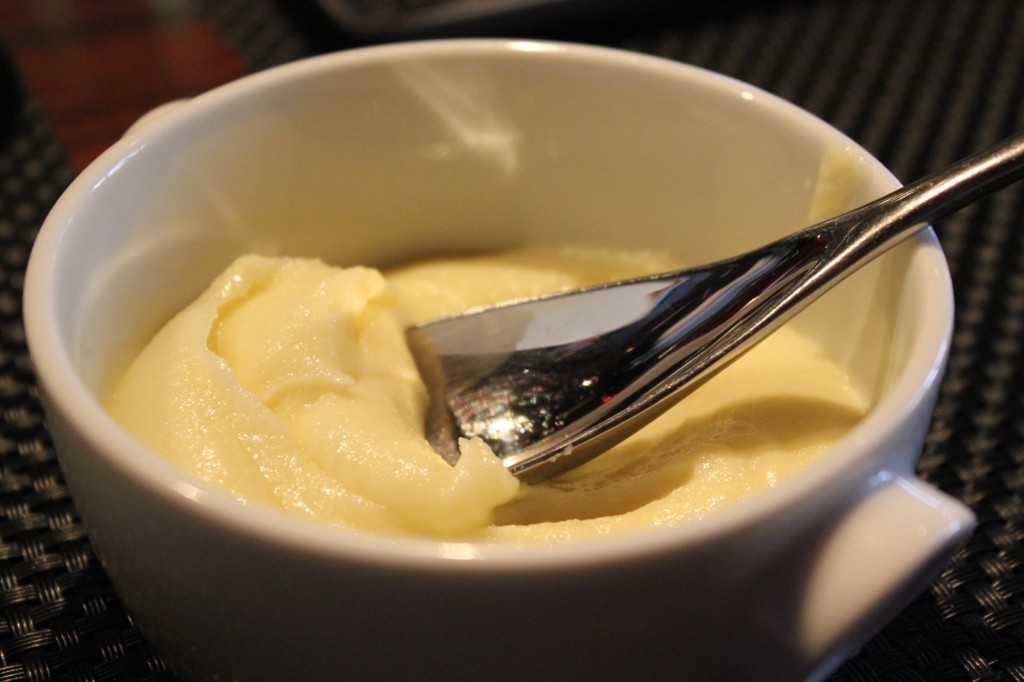 The first time it was funny, the second time borderline OTT, but by the third time, it was just plain unnecessary.  On the (very generously offered) private tour of the kitchen that I was taken on half way through the meal, Julian even forced one of the poor chefs to make up the mash from scratch in front of me (to prove to me that the unbelievably creamy texture was the product of an old fashioned hand held whisk).
For desserts, too full off mash to think about consulting a menu (though obviously not enough to skip desserts), we left it to Julian to decide.  "Any requests or allergies?" he asked.  "Oh, um, Linguine Lohan, doesn't like fruit…when it touches other fruit." Julian didn't even roll his eyes. He simply noted the bizarre request as if I had said she was allergic to lactose and off he went.
Fifteen minutes later he came back back with two waiters and three plates containing every dessert off the menu in miniature form.  There was an unctuous layered choclate ganache, a perfectly puffed passion fruit soufflé, a sweet exotically spiced sorbet, an apple cider jelly and its foamed friend, a lychee sponge with fresh raspberries, and a millefeuille of mango fruit jelly with marmalade discs and mini merignues – to name a few.
The cherry on the cake (one of the many) of this ooh la la amazing dessert was the complimentary subtly peach flavoured crispy cold, bubbly glass of Moscato D'Asti.
As we contemplated our espressos (served with very unnecessary mini madeleines and cellophane wrapped salted caramel butters – along with an extra little goody bag supply to go) Julian looked over at our tired faces and bursting buttons and nodded with a knowing smile "ah, I see you have encountered 'the Joël effect'" .
In my long list of epicurean escapades, Joël easily ranks among the best.
xoxo
Paris Stilton
L'Atelier de Joël Robuchon
5 Rue Montalembert 75007 Paris Metro: Rue du Bac Tel: +331 42 22 56 56
«
Tutto Wines Summer Dinner – London
|
A Taste of Puglia – Italy
»