When I first arrived in Paris, during a debaucherous weekend of eating and drinking (which was to set the tone for the next 12 months) I found myself sitting grumpily in an uncomfortable wooden chair, very full and very disappointed after a particularly average meal at the much hyped Parisian establishment, Bistrot Paul Bert.  But surely it was just me who was having an off day?
So, six months later, I returned with fellow foodies and cooking school companions Katy Peri Peri, Salmon Hayek and Matt Jamón. We'd all read the rave reviews, seen the 'best bistro ever' claims amongst the TripAdvisor palaver, and we all felt confident Bistrot Paul Bert would deliver the goods this time.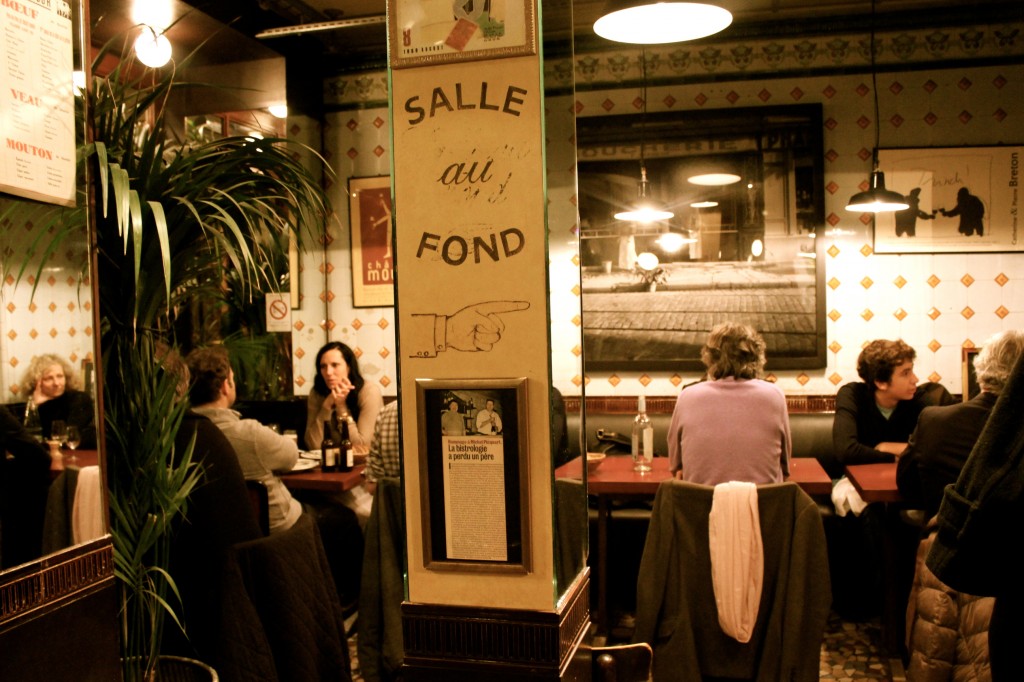 With its tiled walls, unsteady wooden tables, churlish waiters and a warning scrawled on the quaint portable menu which reads "Les viandes rouges sont servies bleues, saignantes, ou mal cuites" (red meats will be served blue, bloody or badly cooked) – Bistrot Paul Bert screams quintessential French institution.  Upon entering you can almost guarantee that a harried waiter will serve you a perfectly undercooked steak and perfectly overcooked frites washed down with a perfectly light non-descript glass of Bordeaux rouge and you will leave perfectly content.  Or can you?
For entrée, Katy Peri Peri and Matt Jamón chose the rather delicious albeit very rich slow cooked truffled egg, Salmon Hayek tackled the incredibly bland squid, while I (why oh why?) pushed my over-crumbed, under-seasoned pigs feet croquettes around my plate.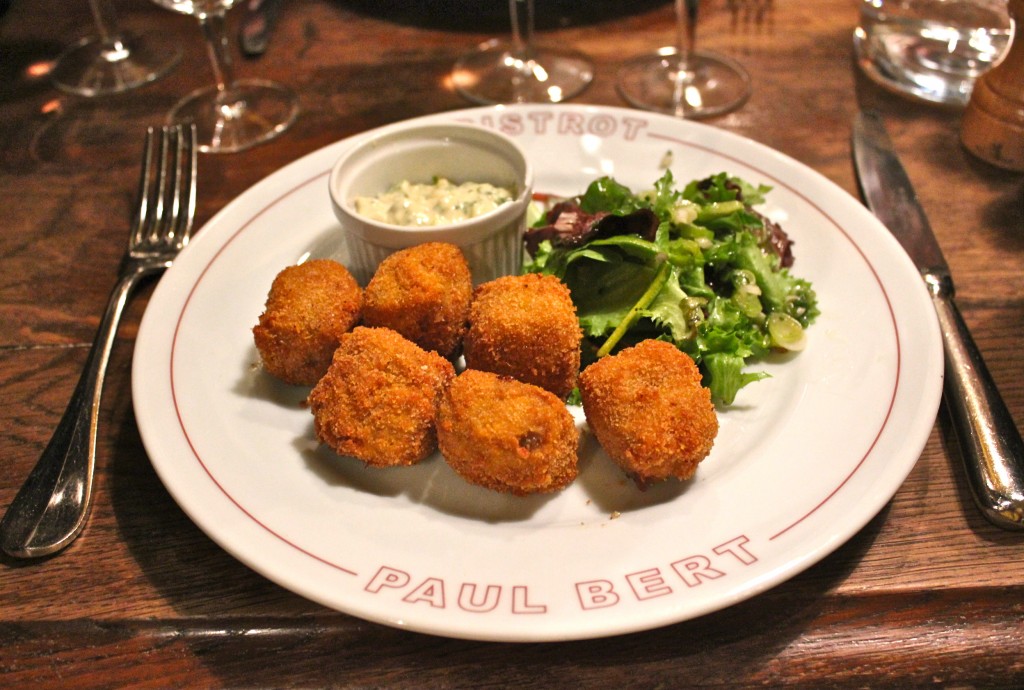 A little defeeted by my poor choice of entrée, for mains I decided to go safe and share so-very-French-can't-go-wrong blanquette de veau (veal stew) with Matt Jamón, while Katy Peri Peri and Salmon Hayek ordered the pigeon with mushroom sauce.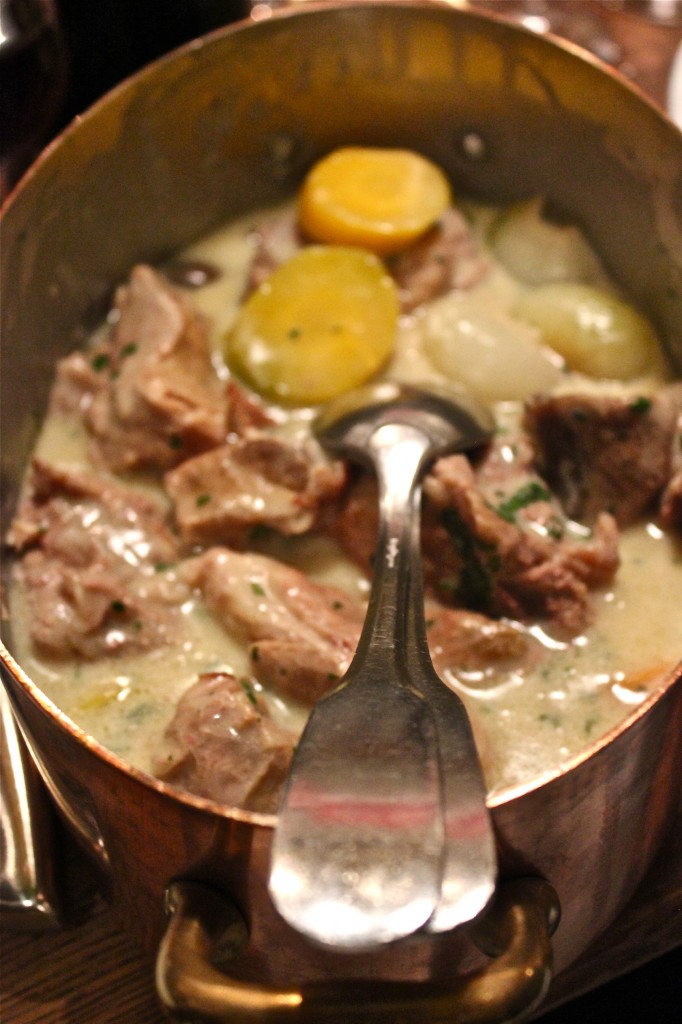 First to the blanquette; the veal was tough and grisly, the usually thick creamy sauce was runny and tasted decidedly of that fake lemon flavouring that appears in store-bought pesto, and the large chunks of undercooked onion were just simply unacceptable.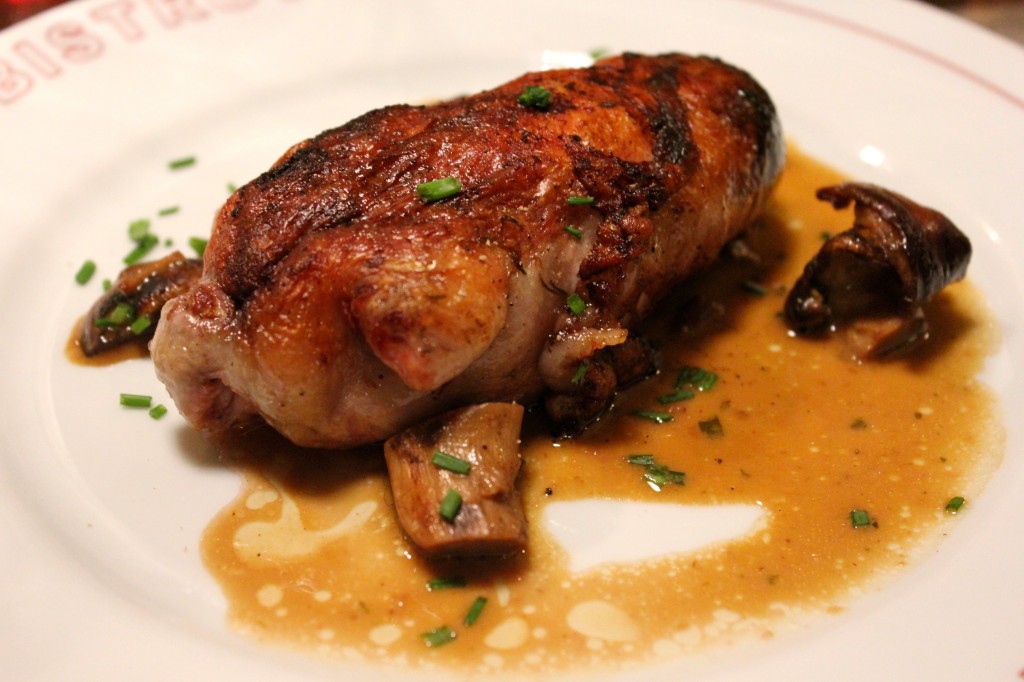 As for the 'pigeon with mushroom sauce' – it actually turned out to be a thin pigeon blanket covering an enormous serving of liver pate with one mushroom cut in three on the side. Not everyone is partial to the old liver, and in my opinion, along with sweetbreads and chilled soup, it is something that needs to be specifically mentioned in the menu before it appears unwittingly on your plate. Needless to say Katy Peri Peri was liver-d.
We should have stopped there, but just to give Bistrot Paul Bert one last chance, we ordered an oversized Paris Brest to share. Perhaps after spending six months tackling choux pastry and piping Paris Brests you become hypercritical – I will admit we had high expectations, big chouxs to fill you may say, but the pastry was almost stale and the praline cream was dull, and by that stage we all just wanted to go home.
I'm going to put it out there; Bistrot Paul Bert is totally meh. Just because everyone else says it's good, it doesn't mean it is. 400 people on TripAdvisor can most definitely be wrong. In my books, Bistrot Paul Bert is being relegated to the 'don't go there' category, along with fake Isabel Marant wedge sneakers and Bilbao.
The meat may not be overcooked, but the restaurant is most definitely overrated.
xoxo
Paris Stilton
Bistrot Paul Bert
18 rue Paul-Bert 75011 Paris
Métro
: Faidherbe – Chaligny, Rue des Boulets & Charonne T
éléphone
: +33 1 43 72 24 01  
«
Restaurant Pierre Sang – Paris
|
Bodega – Sydney
»