After an indulgent week spent sipping hot chocolate, flirting over fondue, oh and of course skiing the slopes, in Courchevel, the deliciously dashing Leonardo DiCarpaccio and I arrived back in Paris on a snowy Saturday afternoon, with tired legs, hungry bellies and no restaurant reservation. To add to the quandary, Leonardo only wanted a degustation, and being a degustation virgin, he wanted his first time to be memorable. Where to go? L'Agapé Substance was booked, L'Astrance was booked, Vivant was booked, and Frenchie, unsurprisingly, just didn't pick up. Luckily Restaurant Pierre Sang, creation of French Top Chef 2011 finalist Pierre Sang Boyer, takes no reservations (and after reading the plethora of positive reviews, I certainly had no reservations either).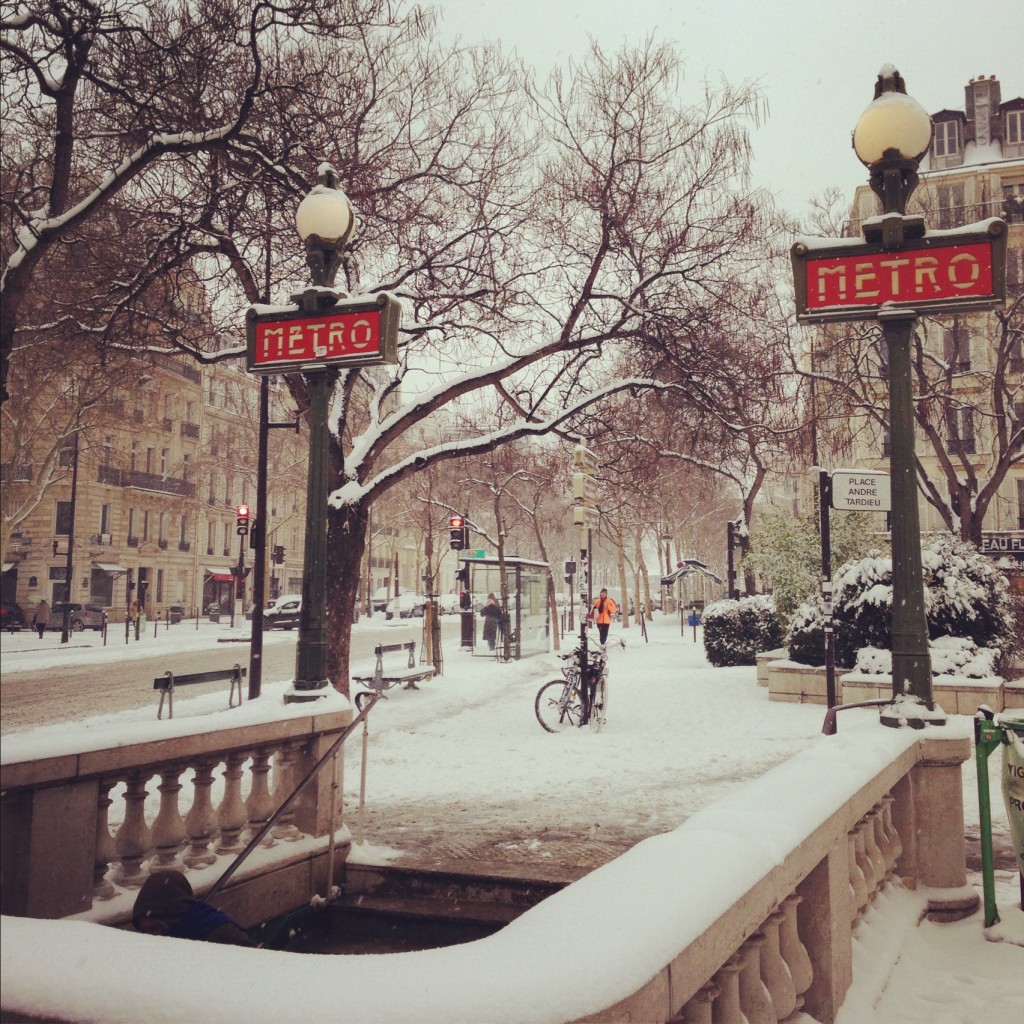 Covered head to toe in snow, we hesitantly pushed open the door of this trendy Oberkampf establishment, expecting to be joining a long queue of Saturday night punters – but to our surprise, after a bit of playful banter from the ever jovial waitstaff about 'being quite far off piste', we were led downstairs and instantly seated in a cosy corner table ensconced between walls of wine bottles.
The waiter briefly explained to us the principle behind the no choice, seasonal tasting menu, with optional wine flight (it would be rude to say no, non?), before sending out the first plate.  It looked good, nice white plate, bit of foam, a white dollop, a green leaf…but what was it? 'Wouldn't you like to know' (or the French equivalent)  said the jocund garcon, 'We will tell you when you're done, bon appetit!'
Having recently graduated from my year long masterclass at French cooking school Lenôtre, I should be a whizz at this game. But I am not.  In fact I am totally useless at it.  I would have failed the Masterchef taste tester challenges; I would have guessed cumin instead of coriander and been the girl that cried on national TV.
Luckily this one wasn't so hard.  "I guess oyster!!" I squealed. "Der" said DiCarpaccio "…it tastes like Fremantle."
For those of you who don't know Fremantle, the famous port town in Western Australia, this comment could mean that the oyster tasted like anything from an unwashed hippy to a happy Hare Krishna – although I think what he really meant was that it tasted an awful lot like sea salt. But though I don't particularly like oysters or eating sea salt, this little critter, served with a mouthful of cabbage, a foam of cucumber and a dollop of sake and radish cream, was really quite nice.
The next plate arrived, as did our next wine, a Côtes de Provence which was as light, sweet and merry as the over-zealous sommelier who spilt it all over our table mid-swirl.  Subtly smoked, meltingly soft, and barely cooked haddock with artichoke, tangy, sort-of-crunchy pickled carrots, herring roe and a creamy chive imbued mash – it was utterly mouthwatering and such a delight for the taste-buds after a week of melted cheese.  Leonardo DiCarpaccio was, thus far, a very happy chappy.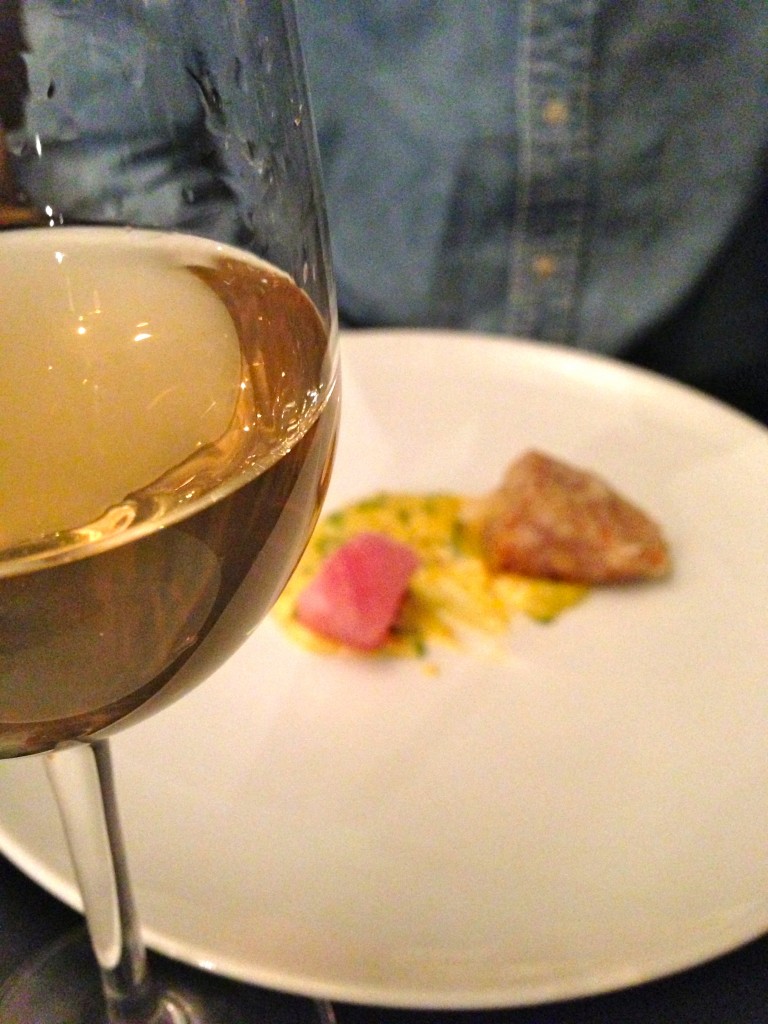 The plate that followed seemed a bit odd. A pink square, a beige triangle and a yellow circle – it felt like some abstract art installation that I didn't understand. So I ate it.  And it was good.  A little mouthful of tender tuna sashimi and a triangle of tempura'd something (maybe pork? I told myself it was pork…knowing all too well it could have been something more sinister) sitting on a deliciously creamy, rather spicy, parsley filled, modernist take on the classic béarnaise.  A truly divine mélange. 
That is until the waiter informed me that I had just eaten tempura'd andouillette. I like to think I am open to new food, but there are some foods I just don't do. Ever. And tripe is one of those foods.
Nevertheless as it is my job (and I use that term loosely) I will be partial and admit…I actually liked  the andouillette (a veal tripe sausage). In fact I liked the whole dish, a lot.
"You didn't trick us this time, we know all the ingredients" I said to the waiter as he took away the next plate. DiCarpaccio and I agreed that the slow cooked lamb ragu that we had just eaten, tucked in its caramelised onion shell, on top a bed of warm unctuous polenta with a light parmesan snow on top, was truly delicious.
"Euh non, zat was tung und cheek ragu"
Tongue-in-cheek I heard him say – he's having a laugh, making a joke. Cute.  Nope that's not what he said.  He said we had just eaten tongue and cheek ragu. And it was seriously amazing.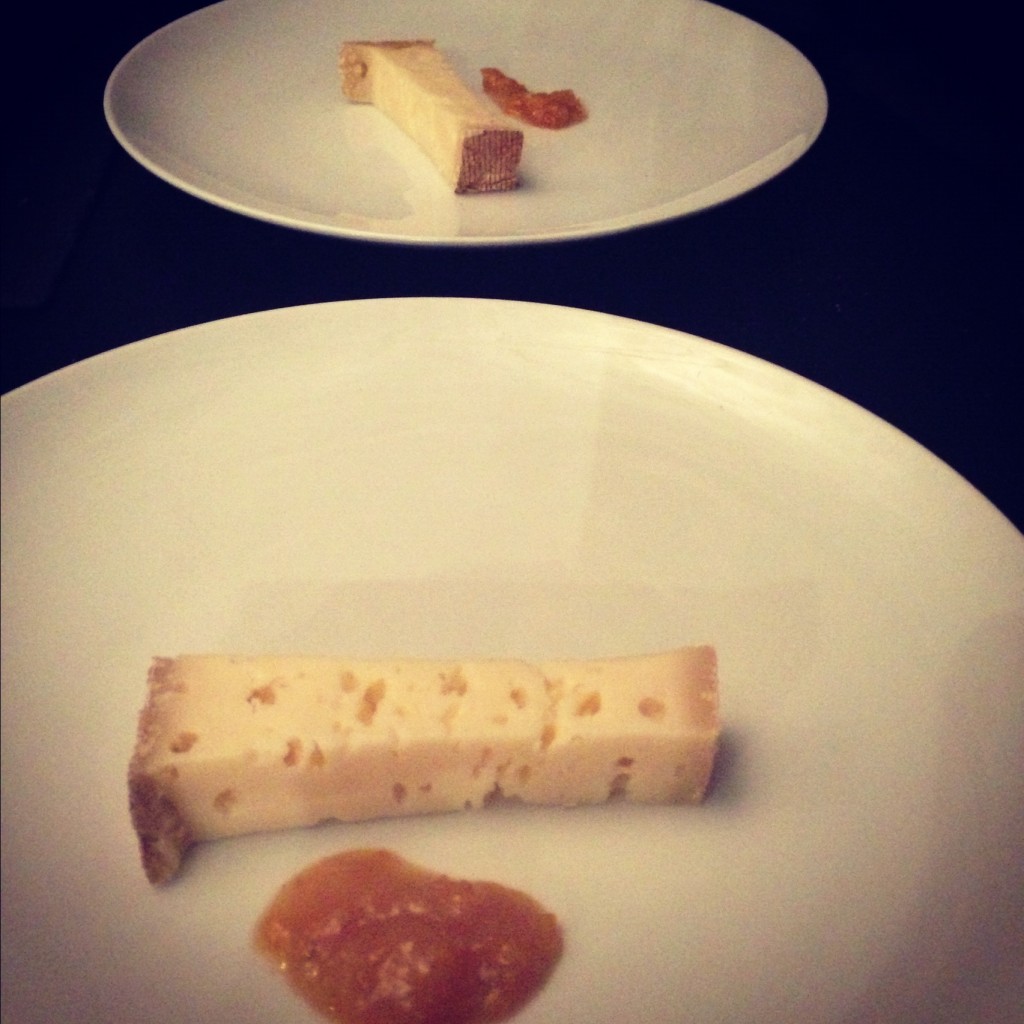 Then there was the cheese course – which was just a piece of cheese with a squirt of quince paste.  Not much to say there, the cheese was tasty, but a bit blah.  Without sounding rude, Pierre probably just could have cut the cheese.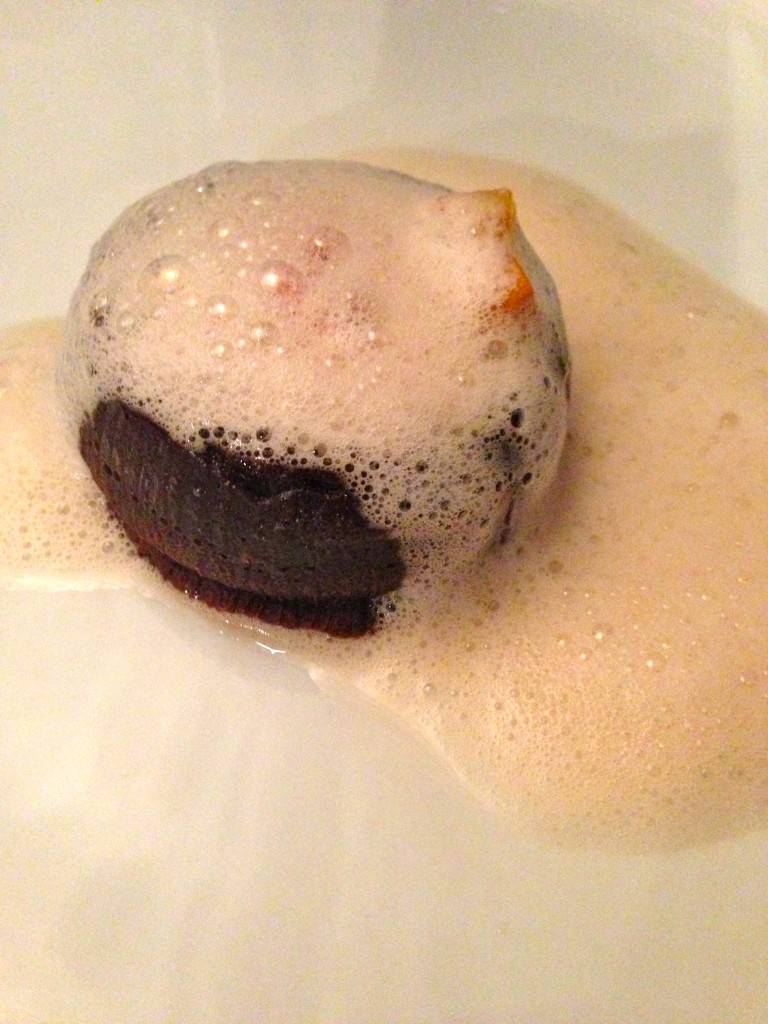 The chocolate fondant that followed, with its hints of rhubarb and dollop of cinnamon foam, topped off what was an incredible meal – and for Leonardo DiCarpaccio, definitely a first degustation to remember.
Restaurant Pierre Sang is a true Paris gem – the staff are good-humoured, the atmosphere is convivial, the menus are seriously well priced, and the food is offally tasty.
xoxo
Paris Stilton
Pierre Sang Boyer
55 Rue Oberkampf 75011 Paris 
Métro
: Oberkampf, Parmentier  
«
Comme à Lisbonne – Paris
|
Bistrot Paul Bert – Paris
»