I read a statistic recently that by 2048 there will be no seafood left to catch except jellyfish. The straits are indeed dire. There are literally no more fish in the sea.  This is a rather scary thought given what a bad fisherman I am; indeed I only seem capable of catching turbots and grunters, there've definitely been a couple in there that should have still been with the school, and I'm sure I've reeled in a prawn or two in my time.
Pray tell, how is one to find a decent sole amongst all the flounders?
Luckily chef Bertrand Grébaut is a much better fisherman than I.  After opening the wildly successful Septime (which came in at number 49 in the San Pellegrino World's 50 Best Restaurants 2013), followed by the equally popular wine bar Septime Cave, his latest venture with Théo Pourriat – oyster bar/seafood shack Clamato has already taken Paris by storm.
When I moseyed in at midday on a sunny spring Saturday with fabulous Swedish friend Grease Witherspoon, the uber trendy Rue de Charonne haunt was surprisingly quiet (the last time I came here we waited an hour for a table) and we happily propped ourselves up on the barstools, and popped open a bottle of cool, crispy Occhipinti…but with only seven tables, the exceedingly popular little joint was absolutely teeming with happy hipsters in no time.
Clamato's decor screams brut minimalism at its cosiest with its wooden chairs, reclaimed wood ceiling, mismatched coloured tables, flatteringly dim lighting and trendy school-camp tin crockery.  The name itself leaves a bit to be desired (I place this portmanteau in the same category as Cronut or Brangelina), and it seems a particularly odd choice given there is no clammed up tomato juice actually on the menu (although rumor has it a clammy Bloody Mary is set to make a cameo). But thankfully the bivalves make up in taste for what the name lacks in goût.
Along with the creamy, fresh oysters from Normandy, Utah Beach and Maldon (served with a spicy homemade Tabasco and a shallot vinaigrette), the kitchen dishes up an ever-changing selection of delectable delights including a mean veal tartare topped with homemade chips, a decidedly scrumptious Banka trout with raw cream and pickles, gigantic sea urchins from Brittany, deliciously moreish cod fritters with wankaina sauce, and an indulgent lobster with tarragon mayonnaise.
The seabream ceviche with radishes and coriander (dorade grise, radis cerise, coriandre) and the bonito with white grapefruit (bonite, pamplemousse blanc) both proved to be fabulously delicious, the former for that zesty ceviche tang, and the latter for a more subtle, complex flavour combination.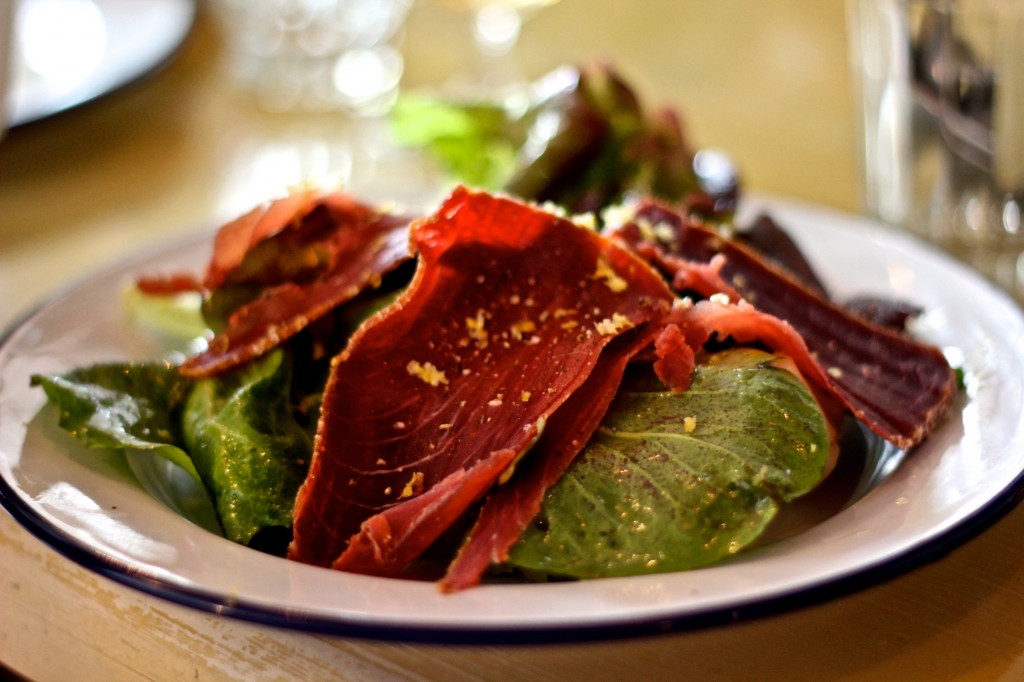 The garden salad with tuna bresaola and basil (salade du jardin, bresaola du thon, basilic) that came next was honestly unlike anything I have ever eaten.  The dried tuna bresaola was almost like a tender, malleable seafood jerky of sorts, the extreme saltiness of which turned out to marry perfectly with the bitter leaves of the salad. It was thoroughly, albeit rather surprisingly, enjoyable.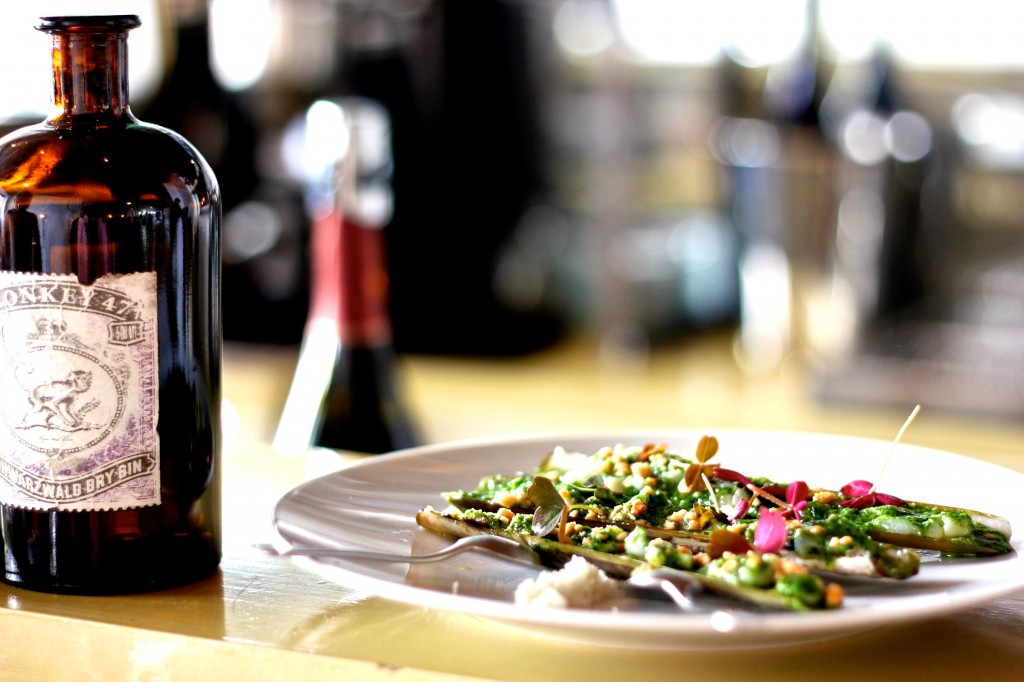 But the razor clams (couteaux, beurre d'herbes) were the irrefutable showstopper, in both presentation and taste. Deliciously tender, perfectly cooked clams, cut into bite size morsels and tossed in a luscious herb butter and topped with a sprinkling of almonds and micro herbs – this dish was utterly sensational.
The fish is most definitely the main game at Clamato, but you simply cannot leave without an order, or two (definitely two), of the maple syrup tart with Chantilly cream – it is indescribably, decadently mouthwatering. A truly simple, subtle, rustic pleasure.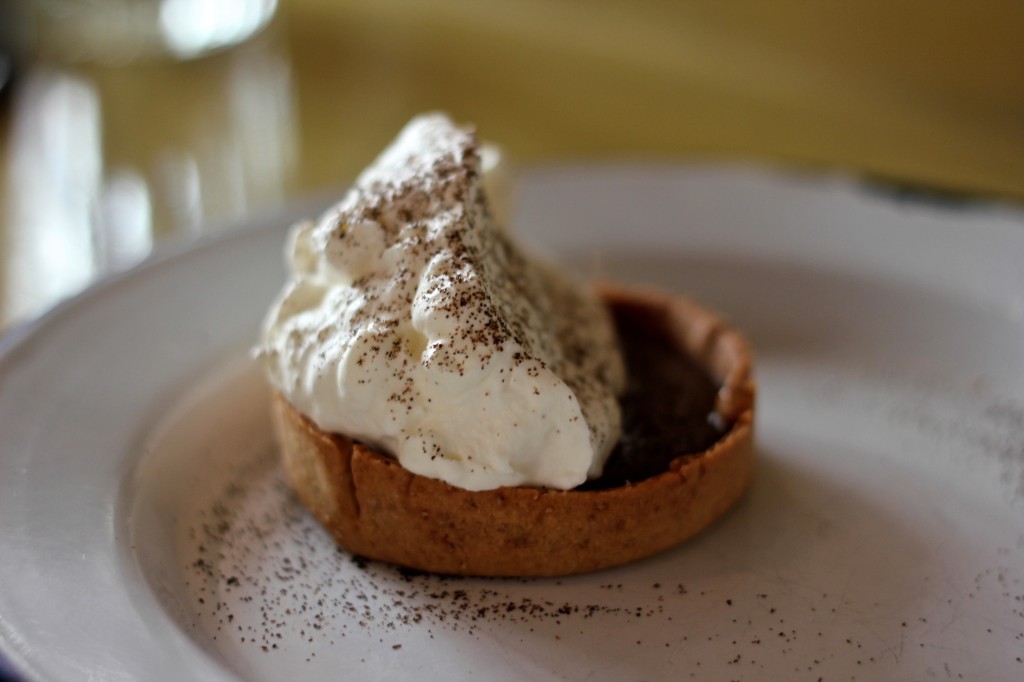 Clamato is a little Parisian gem; the service is friendly, professional and genuine; the wine list features a carefully picked selection of natural and biodynamic wines from around Europe; and the fare is honest, innovative and exceptionally executed.
The restaurant takes no reservations, and it is already extremely popular – so, for the love of cod, get in quick before all the good fish have been snapped up.
xoxo
Paris Stilton
Clamato 
80 rue de Charonne 75011 Paris
 Tel: +33 (0)1 43 72 74 53
 Métro: Charonne Open: 19h till 23h Wednesday to Sunday. Non-stop service from 12h till 23h Saturday and Sunday.
«
David Toutain – Paris
|
Brika – Perth
»