What to do when a vegan friend (I know I know, it sounds like an oxymoron) comes to visit you in Paris? After enquiring at a few of my favourite establishments whether they cater for 'végétaliens' and receiving a variety of responses all along the lines of "I dunt understund, she heats unly vegetables?!" I decided I was going to have to fill up Dolly Tatin on the only sauce I was certain contained no traces of animal.  So off we headed to Le Schmuck in St Germain, for a bottle (or two) of bubbly.
It was pretentious, it was expensive, it was full of, well…schmucks, but lets face it, it never claimed to be anything else.  And with comfortable floral chairs, a perfect position for perusing the Paris jet-set, and a waiter that looked like Ryan Gosling's long lost French frère, I certainly wasn't complaining.
Three hours and two bottles of champagne later, totally ruinée by the Ruinart, Dolly Tatin conceded to trying her luck at the little Basque bistro/tapas joint of sorts around the corner (and incidentally, probably my favourite place in Paris), L'Avant Comptoir.  There are a plethora of Parisian restaurants containing the word comptoir, which means counter or bar, but none are as deserving of the name as L'Avant Comptoir, the brain child of Yves Camdeborde, which is quite literally just a counter, with one chef on a tiny plancha servicing the neverending flow of clientele who cram through the door day and night, seven days a week.
The walls are decorated with customer's scribblings and pig memorabilia, there are slabs of butter, cornichons, mustard and hot bread for the taking, bottles of wine spill over the bucket onto the counter, and there is no real system for ordering; you squash up next to a trendy Parisian, you study the little pictured placard menus hanging above your head, you wait until the chef makes eye contact and then you go about reeling off every single tapas plate there is on offer, and times it by two. Yet somehow in amongst the chaos, mouthwatering miniature meals emerge.
Even more impressive, however, is the delectable delights the chef whipped up without meat and without fuss, for the darling Dolly Tatin. The luscious Lou Regalat morphed into an ambrosial bruschetta, the flavoursome fricassee de poulet became a succulent salad and the sandwichless chicken sandwich managed to lose all its fillings and still taste absolutely scrumptious.  Like Homer Simpson, I have always been of the view that you don't win friends with salad, and yet everyone in the bar was crowding around Dolly Tatin and her fabulous meatless sandwichless sandwich.  If this was a movie it would be called  When Harry Met Salad; suddenly everyone at L'Avant Comptoir wanted what she was having.
But lets not get carried away here, you don't go to L'Avant Comptoir for its tolerance of vegans. You go there for the incredible charcuterie boards, the sumptuous spicy sausage, the sweet, tender pork belly and the unforgettable foie gras, to name a few. The old faithful croquettes de jambon never cease to make me salivate.  A crunchy little shell encases a wonderland of oozing cheesy potato and jambon that I burn my palate on every single time. I have developed such a fondness of these little treats that the chef starts preparing two servings the minute I walk in the door.
Then there are the gauffres d'artichaut et jambon (waffles with artichoke and proscuitto). I am not sure what was done to the artichoke, but it was like a tapenade on testosterone. At once a slightly creamy, slightly salty, slightly sweet paste resting on a bed of soft airy waffle with thin morsels of jambon lounging on top. These were unbelievably good. Such was the look on my face when I bit into this inconceivably gratifying gauffre that Dolly Tatin could no longer take it. And in one fell swoop she ate one, and then another, and then a croquette, and then another, until she had sampled everything on the menu.
L'Avant Comptoir is one very cool place.  It is casual, inexpensive and friendly, the wine list is small but varied and the food is as consistently amazing as the line is long. I recommend this place to everyone who visits Paris, and no one ever leaves disappointed.
Heck, it was at this very comptoir that Dolly Tatin lost her veganity.
xoxo
Paris Stilton
L'Avant Comptoir
9, Carrefour de l'Odéon  75006 Paris +33 (0)1 44 27 07 97 Métro: Odéon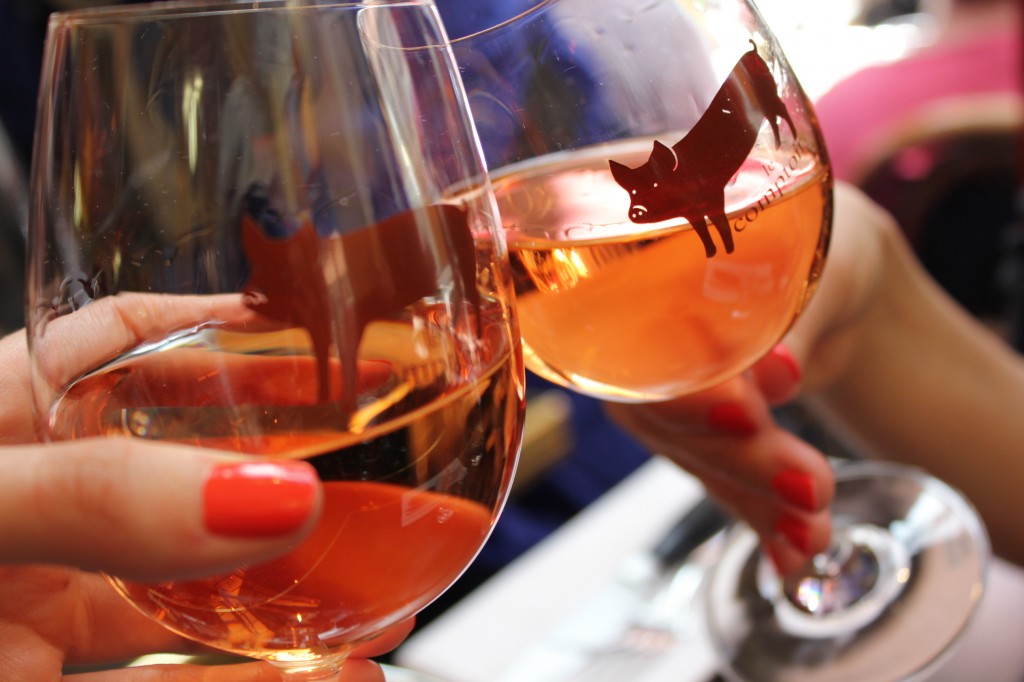 «
A La Sweet – Paris
|
Le Moustache – Paris
»