Looks-wise my sister Sienna Millet and I are like two peas in a pod, however when it comes to our eating habits, we are more like chalk and cheese (me, obviously, being the cheese).  Sienna writes an alternative health blog; I write a blog documenting my moveable feast through Europe; Sienna avoids eating sugar and dairy at all costs, I spend my days whipping beurre blanc and rolling puff pastry; Sienna has a soft spot for activated nuts, I have a soft spot for degustations with matching wines…well to be honest I now just have a lot of soft spots.
However when I went to pick Sienna up from Gare du Nord during her most recent trip to Paris she had a naughty twinkle in her eye, "I might even eat dairy" she said, with excitement in her voice… "as long as it is unpasteurised and organic, that is."
Our first night out on the town, Brad Pitta suggested we try a local favourite of his, Le Moustache, for dinner and managed to persuade the owners to squeeze us in to the very full restaurant with the promise that we would be out before the next table arrived at 9.30pm.
It didn't take us long to discover why this cosy little left bank establishment is so popular among the Parisians.  As soon as you enter Le Moustache, with its stripped brick feature wall, red felt laden chairs, and dimly lit, warm wood-clad interior, you immediately feel at home.  The staff are attentive and friendly, the atmosphere is convivial and inviting yet still smart, and the food, most importantly, is absolutely divine.
For starters we ordered the squid and tiger shrimp on zucchini carpaccio (calamars et crevettes tigre sur carpaccio de courgettes).  The impossibly tender, barely-cooked calamari and shrimp atop a bed of delicately spicy marinated raw zucchini was truly delicious.  The rather garish red plates and nonchalant plating didn't do the meal justice, but the flavours were fresh and simple and very well matched.
For mains the seared filet of Chateaubriand beef with tamarind sauce (lames de filet de bœuf façon lacrima) was unsurpassable. The meat was cooked (or in this case rather uncooked) to perfection; the tamarind sauce was sweet, spicy and refreshing and the bowl of wok sauteed vegetables and rice on the side was an apt, albeit quite un-French, accompaniment.  It was, quite possibly, one of the tastiest steaks I have ever eaten.
As we were bouff-ing our bouef , the chef took his time (having mastered the art of  creating a perfect dish without particularly cooking anything he had some time up his sleeve), to pop up into the dining room and do the rounds of each table to check that everything was ok.  It was very much more than ok, it was utterly ambrosial.
Having polished off the better part of bottle of bubbly, by this point Sienna and I were having a grand old time.  That is, until she went and put her head into a shot I was trying to take of the very generously filled champagne glass. Anyone who knows me well enough will know that I have a rather strange sense of humour, and am very susceptible to extreme cases of uncontrollable, long-lasting laughing fits…which is exactly what happened when I saw Sienna Millet's face encapsulated in my champagne glass.
So hard was I laughing that tears began streaming down my cheeks, carrying with them half a bottle of of non-waterproof mascara. Within the space of 30 seconds, I had mascara literally all over my face; not just post-late night panda eyes – my face was entirely black, like  zoolander-just-emerging-from-the mines.
Ten minutes later, when the couple whose table we had stolen arrived, the highly inappropriate laughing fit was still continuing, and the usually pristinely white napkin and tablecoth had too fallen victim to the mascara massacre.  "Oh la la, oo is at our tuble? Why eez it ull black?" I could hear them sneering.
With nothing more than a friendly, you've-been-a-naughty-girl sort of glare in my direction by the waitress, the couple were ushered off to a makeshift table and Sienna and I were left to indulge in a velvety Valrhona chocolate mousse and a digestif.
It appeared the laughing fit was just a precursor for the way the rest of the night was to pan out. After a rather eventful night packed with black russian vodka shots, a rowdy 80's inspired Kong dance-floor and a 'misplaced' blackberry, the next morning I woke up to find Sienna still fully clothed (heels and all) in corpse position on my bed.  "Wake up Sienna, you fell asleep in your jeans" I gently prodded…
"What??!! Did you say I reek of cheese?? Oh my god it must have been a big night."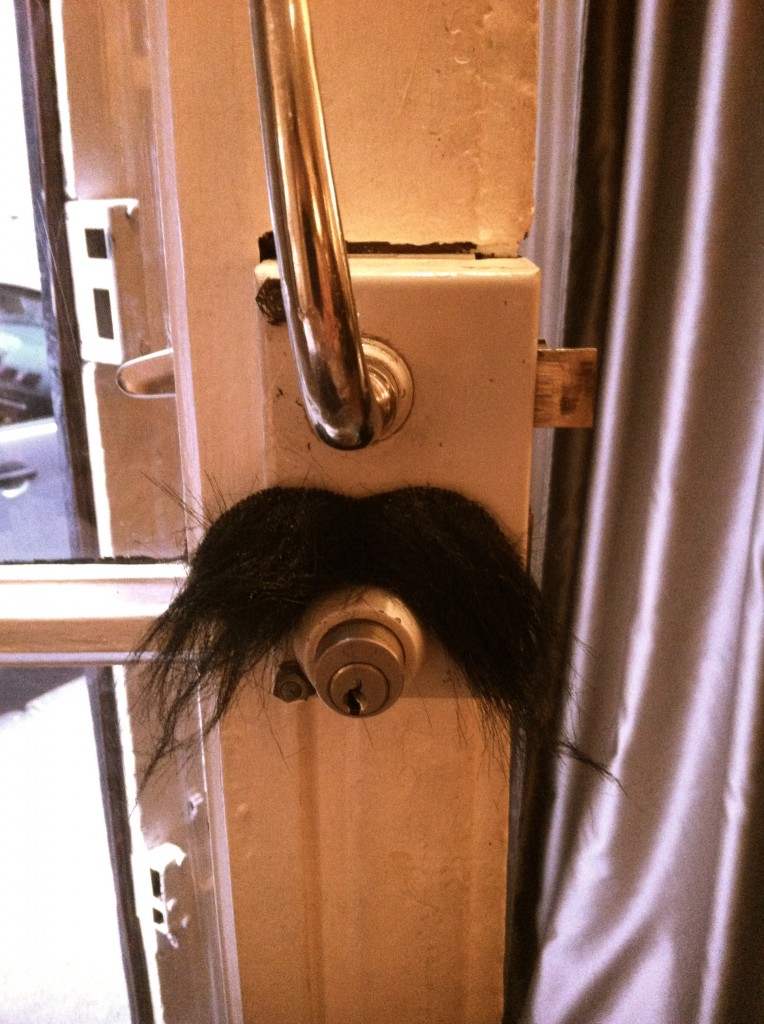 Le Moustache…a great night to be had by all.
xoxo
Paris Stilton
Le Moustache
3 Rue Sainte-Beuve   75006 Paris Métro: Notre-Dame des Champs
+33 1 42 22 56 65
«
L'Avant Comptoir – Paris
|
The Taming of the Choux – Paris
»