I can safely say that my fondness for wine and cheese was inherited from my papa Bruce String-bean. Growing up, every Thursday night dad and his three besties would gather at our house for the weekly bridge night – which was essentially a wine and cheese degustation under the guise of a card game. Each bridge player would bring a masked bottle of wine and the group would have to guess the grape, origin, and year of the wine. And so naturally, every Thursday night they would find me milling around the living room, eagerly awaiting my glass of Grange and chunk of cheddar.
So when Bruce String-bean and his partner Helen Mirin came to town, Restaurant Il Vino – Enrico Bernado's Michelin star restaurant where wine comes first – was an obvious choice. Upon arrival at the very chic little right bank dwelling (where Brad purportedly took Angelina for her 38th birthday dinner), we were greeted by Enrico Bernado himself, the charming, and very humble owner (and youngest-ever winner of the Worlds Best Sommelier award). Wine is the protagonist at Il Vino and everything, from the waitstaff (who are all world class sommeliers), to the menu (from which food is distinctly absent), to the interior design (which is based on earthy terroir tones) is decidedly oeno-centric.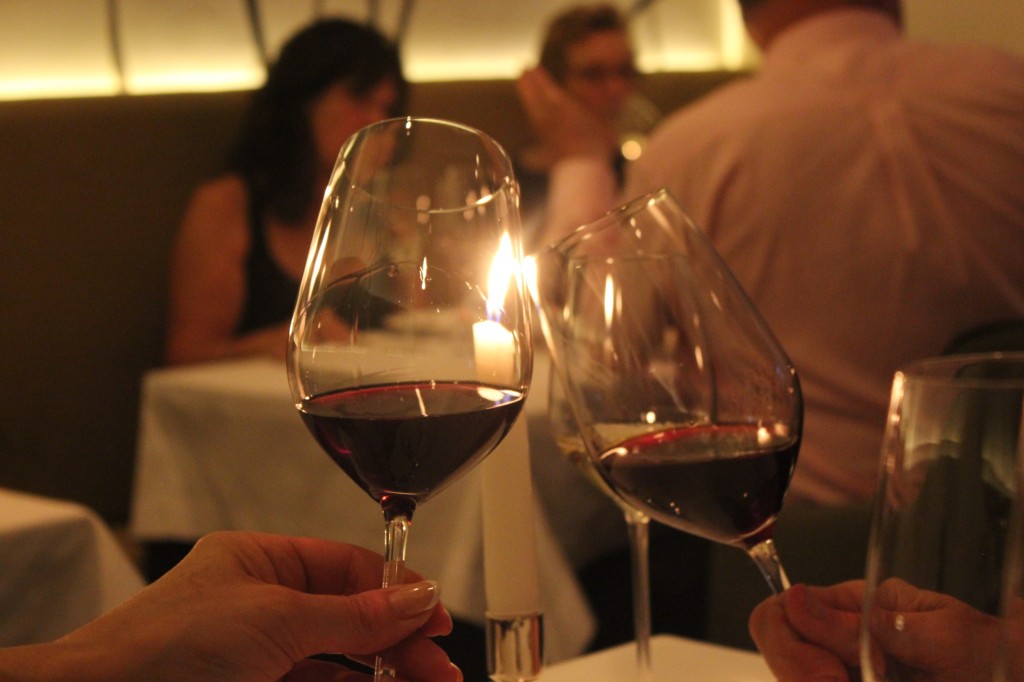 In a rather novel concept, there is no choice of food whatsoever, you simply choose the wine and the chefs bring food to match. The degustation menu consisted of three options; Sur les Routes du Monde – (wines from the world) 75 euros, Sur les Routes de France et Italie – (wines from France and Italy) 95 euros, and Supplement Grands Crus – (optional addition of Grands Crus wines) 35 euros, from which we chose the latter.
And so the wine flight began….with a delicious glass of Bruno Roulot a La Chapelle-Monthodon champagne served with homemade seaweed crisps and parmesan straws.  A lovely plump ball of burrata sitting on an incredibly flavoursome tomato gelée dotted with what appeared to be anchovy stuffed blueberries (or it could have been something else entirely) followed suite –  making a perfect marriage with the crisp, nosey and interestingly mineral Vermentino 2013 Bolgheri . 
Sticking with the Vermentino,  next up was a very tender and oddly tasty square of marinated salmon covered in shredded coconut –  basically a salmon lamington –  and a tad too-chewy pastry puff filled with a divinely unctuous parmesan cream.
Continuing dad's much-loved tradition of wine guessing, for the next leg of the flight the sommelier gave us a black wine glass and made us guess the contents.  Despite tasting undeniably like a red, I, thinking there must be a trick, guessed it was one of those orange wines that seem to be making cameos in trendy Parisian wine bars of late. I was completely and utterly (and embarrassingly) off the mark. Papa Bruce String-bean was, of course, right on the money with his guess of a Nero D'Avola. It was indeed a very full bodied glass of rich Il Passo Nerello Mascalese which was served, surprisingly with a fish course – a most toothsome tuna tataki, with perfect seared edges, and a fuchsia pink middle, peppered with deliciously tangy fruits of the forest. This was hands down one of the best dishes of the night.
The peppery turbot that was served next, although delicious, left the spot-light on the entirely moreish glass of Les Heritiers du Comte Lafon from Burgundy. The beautifully complex biodynamic white produced by renowned French winemaker Dominique Lafon was one of my favourite wines of the evening.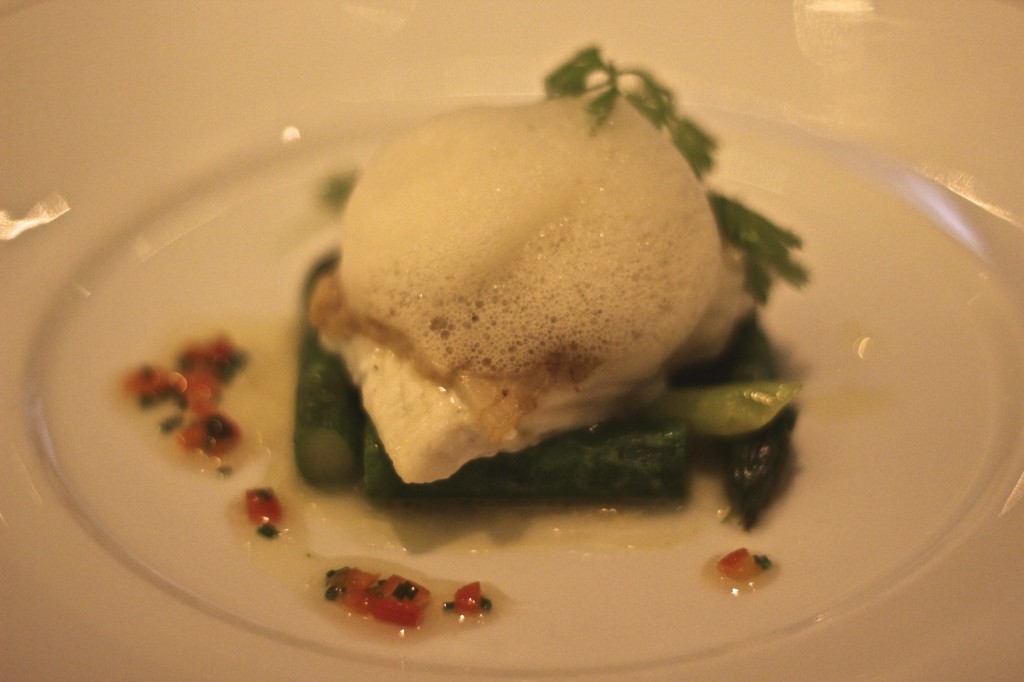 Moving onto meats and big reds – up next was what could only be described as an (absolutely delicious) chicken sausage roll, which was lolling about in an intense (again, delicious) jus and served with a heavenly glass of 2004 Giorgio Pelissero Nubiola, Barbaresco DOCG, Italy – swiftly followed by showstopper 2004 Château Canon 1er Grand Cru Classé de Saint-Emilion with a sumptuous rack of lamb to match.
After our little tour of France and Italy, by the time the wine flight landed in Languedoc, I was excessively full, and demonstrably tipsy and when the enormous chunk of parmesan was carved out of the wheel and placed on my slate, as partner to the Chateau Daurion Syrah/Grenache 2011, I simply couldn't fit it in.  And so, much to Helen Mirin's horror, I wrapped up the cheese in a napkin and placed it in my bag for later.
No, it wasn't very chic, but hey, que syrah syrah. 
A moreish little praline choux pastry and an endless parade of mignardises, matched with a Moscato D'Asti 2013, ended what was a fabulous, innovative and memorable experience. Bernado's passion for wine is evident in every aspect of his restaurant, from his dedicated, friendly and knowledgable team, to his ridiculously stellar cellar.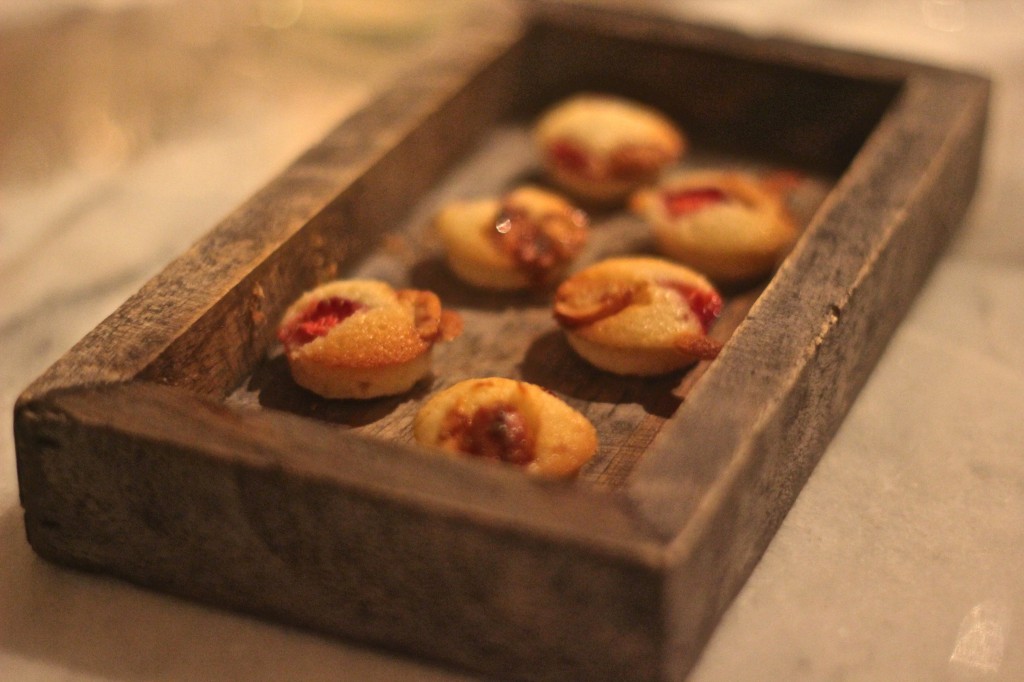 After kissing Bruce String-bean and Helen Mirin bonne nuit, my night (somewhat inevitably) continued with a very late night boogie in Oberkampkf (red wine lips and sweating parmesan in tow) with Olivia-Crouton John and Kanye Wurst and ended (again somewhat inevitably) in me sending a series of unsolicited texts to my spring fling Peas Brosnan at 5am telling him that I was eating peanut butter with a spoon and missed him.
I guess you could say it was an old case of in (Il) Vino veritas.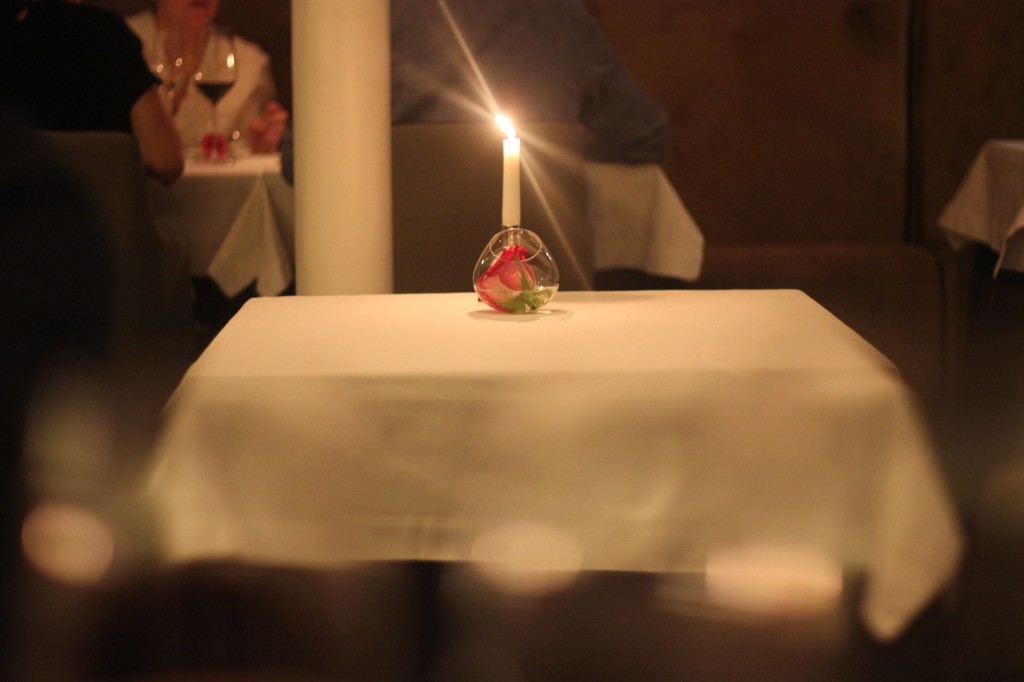 Yours sancerrely
xoxo
Paris Stilton
Il Vino
3 Boulevard de la Tour Maubourg 75007 
Paris
  Tel: 01 44 11 72 00 Metro: Invalides  Website: http://www.enricobernardo.com/WEB/index.php/ilvinobyenricobernardohome
«
Pirouette – Paris
|
Ellsworth – Paris
»