Back in Paris after my recent stint in London, I was recounting my adventures to Brad Pitta:
Paris Stilton – Chéri you should have sampled these divine pork buns at Eat Street…and you really missed out on the moutwatering maki at Yashin, oh and of course the scrumptious selection of sweets at Ottolenghi were to die for…
Brad Pitta - Oh la la, deed you do anysing but eet?
Paris Stilton – Yes, thank you very much…I drunk some very, very nice wine too.
And indeed I did.  On an unusually balmy summer's night I was lucky enough to attend a barbecue at Burnt Enz in London Fields to celebrate the launch of Tutto Wines, a wine supply company started by old friend Alex Whyte and his business partner Damiano Fiamma.  The London based duo source and distribute predominantly organic wines from small growers in Italy that 'have a respect for the grape, the land and the winemaking traditions of that place.' Alex, a self taught wine prodigy, is a wealth of knowledge on anything oenological, such that he even had the sommelier at Monvínic stammering, and the boys are truly passionate about the wines they drink and distribute.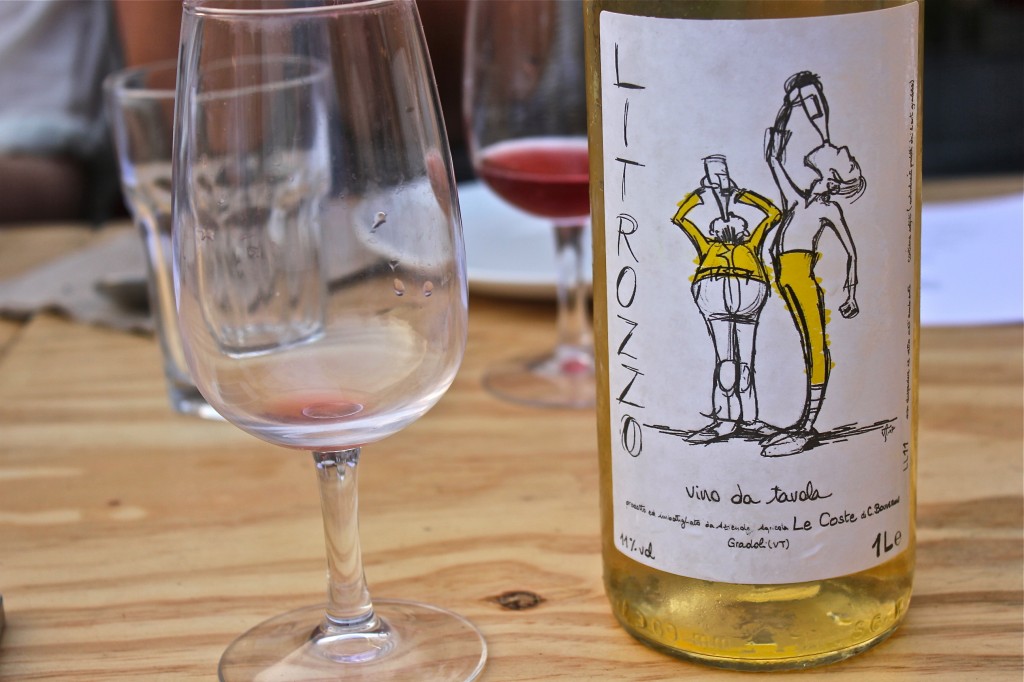 Alex and Damiano specifically choose wines that do not demand food, however they could not possibly have found better cuisine to compliment their stellar wine selection. Our chef for the evening, Dave Pynt, who has worked at the likes of Noma and Asador Etxebarri, certainly knows a thing or two about a barbecue.  Using just the custom-made barbecue and grill which he has set up at the Climpson's Roastery for the summer, Dave produced plate after plate of amazingly simple, yet exceptionally tasty grub.
No foams, no emulsions, no jus – just incredibly fresh produce cooked incredibly well.  Food as it should be.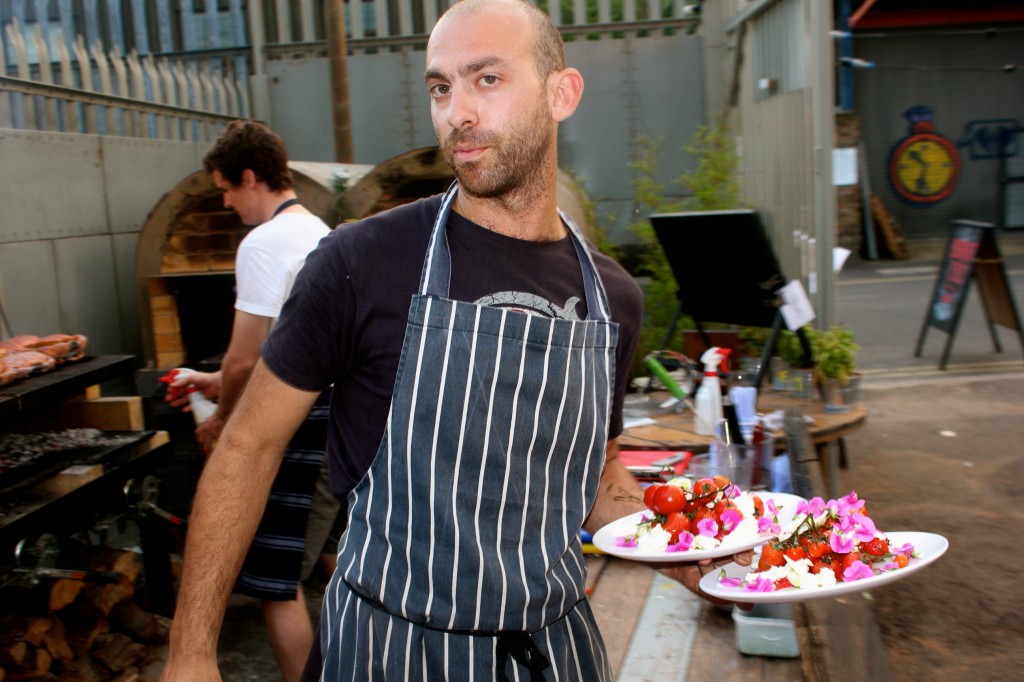 The fresh oysters and lime that were awaiting us on arrival were a sublime accompaniment to the glass of crisp Quarticello Malvasia Despina + Lambrusco Salamino Rosato Ferrando from Reggio Emilia served up by the boys at Tutto Wines.  Both slipped down the hatch a little too easily, such that I was forced to have seconds to just to be sure…yep still amazing.
Next up was the kaleidoscopically colourful plates of burrata, tomatoes, basil and snow pea flowers, served with a glass of Le Coste Litrozzo Bianco from Gradoli, Lazio. The tomatoes actually tasted like tomatoes which is rare in this day and age where tomatoes tend to taste like soggy vaguely tomato flavoured potatoes. The snow pea flowers added a sweet crunch and the little fresh tomato paste hiding under the vine was unbelievably moreish. Mopped up with warm homemade bread, this simple salad was truly divine.
The brown crab and aioli, served with a bottle of Cantina Giardino Fiano Gaia from Ariano Irpino, Campania, that followed suit was most probably the highlight of the night.  Of all the incredible home-cooked meals we were spoilt with growing up, crab was never one of them. Yummy Mummy has a thing against eating it as, being a Cancerian, the crab is her astrological symbol (being a Gemini I try stay away from eating twins too) and it wasn't until recently that I truly appreciated this succulent shellfish. Simply smoked on the barbecue and served with a creamy aioli this was rustic eating at its height.
Indeed it was a very uniting experience; 30 well dressed strangers at a cacophonous banquet breaking off crab claws with their hands and poking around into the crevices to pull out the tender meat – crab parts were flying everywhere, hands were soiled, faces were grubby and everyone was truly content.
The perfectly cooked steelhead trout, served with a bottle of Nino Barraco Zibibbocame from Marsala, Sicily, arrived on an enormous plate under mounds of of fresh clams, fennel and caperberries – each layer bringing a new taste sensation.
For the last of the savouries, it was the onglet with bone marrow and pickled walnut served with a favourite wine of mine, the Ar Pe Pe Rosso di Valtellina from Valtellina, Lombardia. The little known onglet, or hanger steak, is the cut taken from the diaphragm of the steer or heifer, which was apparently formerly known as the 'butchers' cut' as the butchers would take it home with them at night rather than selling it. I think they were onto something – this was truly a cut above the rest.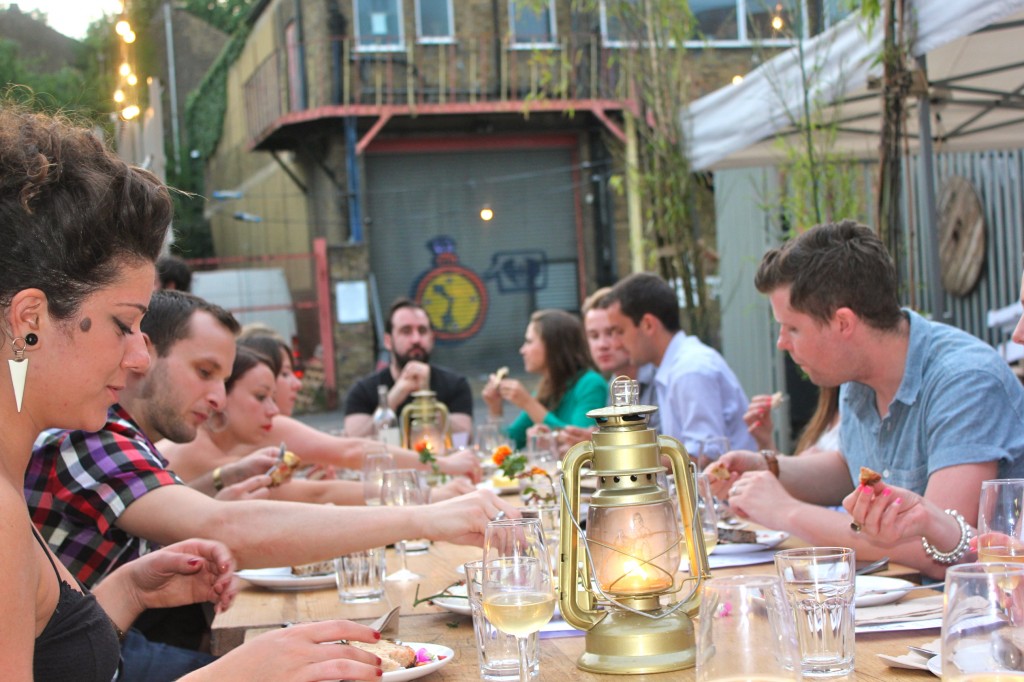 The dessert was a delicious Eton Mess of sorts with fresh mint-topped summer berries and cream tumbling out of a delicately sweet cocoa-dusted meringue with a glass of Le Coste Litrozzo Rosso from Gradoli, Lazio to match.
Slabs of yummy smelly Italian cheese and few glasses of Cristiano Guttarolo Primitivo Anfora from Gioia Del Colle finished off an incredibly memorable night. If you are in London this summer, Dave Pynt's barbecue at Burnt Enz is an absolute must.
All I can say is TUTTO bene!!
xoxo
Paris Stilton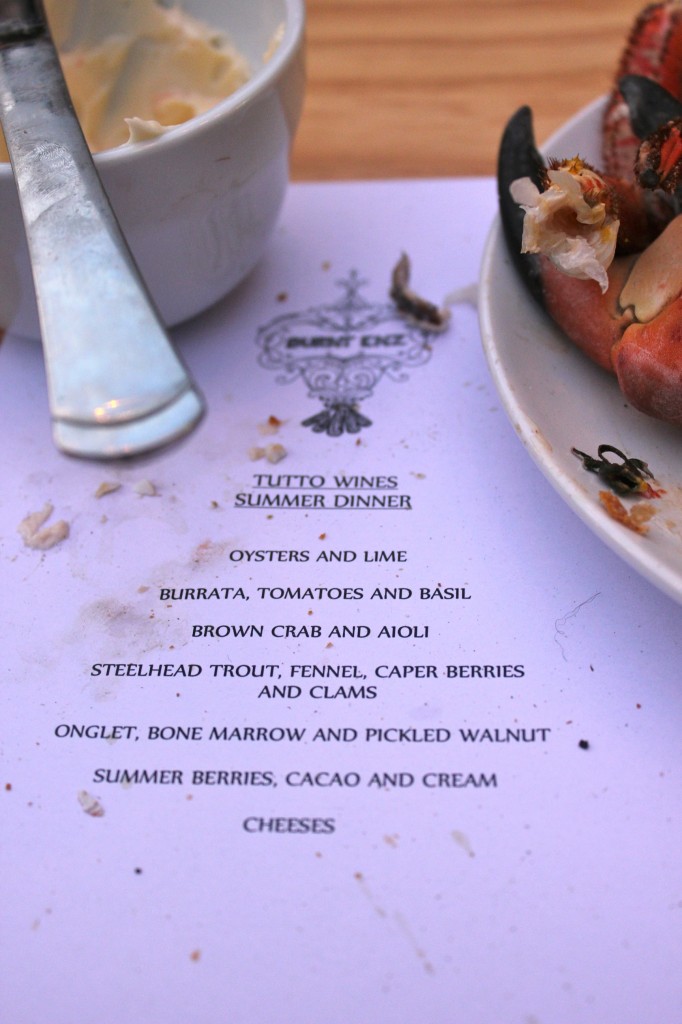 Tutto Wines
For more information on Tutto Wines visit www.tuttowines.com or email the boys at info@tuttowines.com
The Climpson Roastery at Burnt Enz
Arch 374
Helmsley Place
London E8 3SB
Open Thursday nights and weekends from 2pm-midnight
«
Eat Street – London
|
L'Atelier de Joël Robuchon – Paris
»