I had dinner with Paul Bocuse and Alain Ducasse last week.
Well, pretty much.
Half way through an exquisite dinner with my Dad, lets call him Papadum, at L'Auberge du Pont de Collonges (aka Restaurant Paul Bocuse) in Lyon, who should sit down at the table next to us but Paul Bocuse himself – the father of classic French cuisine,  Chevalier de la Légion d'Honneur, Meilleur Ouvrier de France, "Chef of the Century", namesake of the prestigious culinary award La Bocuse D'Or and owner of the restaurant with the longest held three Michelin stars in history (48 years) – dining with three time three Michelin star holder Alain Ducasse.
I was, needless to say, star struck – I swooned, I tweeted, I instagrammed, and in one fell swoop, I broke at least 3 of the 10 signs that you're a foodie douchebag. At one point Ducasse, assuming I could not speak French, even leaned over to Bocuse and chuckled, 'haha I believe you have a huge fan in that American girl over there'. Oh dear.
So what were they discussing, in their hushed tête-à-tête as they tucked into their veal chop and kidneys à la bourgeoise? Rumour has it that, in the absence of interest from Bocuse's chef son and pâtissière daughter, Ducasse is set to take over the reigns of the famous restaurant that has been in the Bocuse family since the 1700's.
But enough of rumours – on to the food, which was as classic and saucy as a Mills and Boon novel. But who doesn't love well developed characters, a comfortably predictable plot, delicious passion, and a happy ending? The meal was seamless from start to finish, the service impeccable, and the food, phenomenal.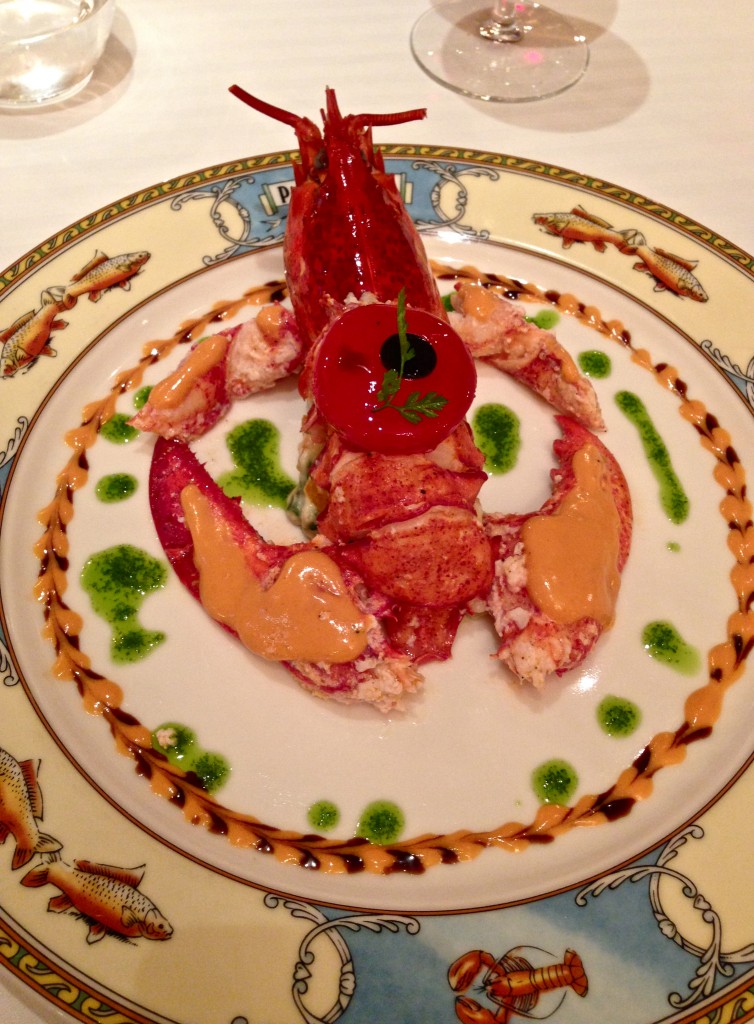 After a deliciously cheesy gougère washed down with a glass of Billecart-Salmon Brut Rosé and an amuse-bouche of the most incredible chilled tomato soup I have ever tasted, the first plate on the 6 course degustation Menu Bourgeois was the Maine Lobster Salad.  Splayed like a psychedelic swimming turtle over a mound of a Russian pea, carrot and potato salad, the lobster was exquisitely sweet and tender, not to mention generous in size.  Aside from the tasteless gelée tomato on its back, the dish was faultless.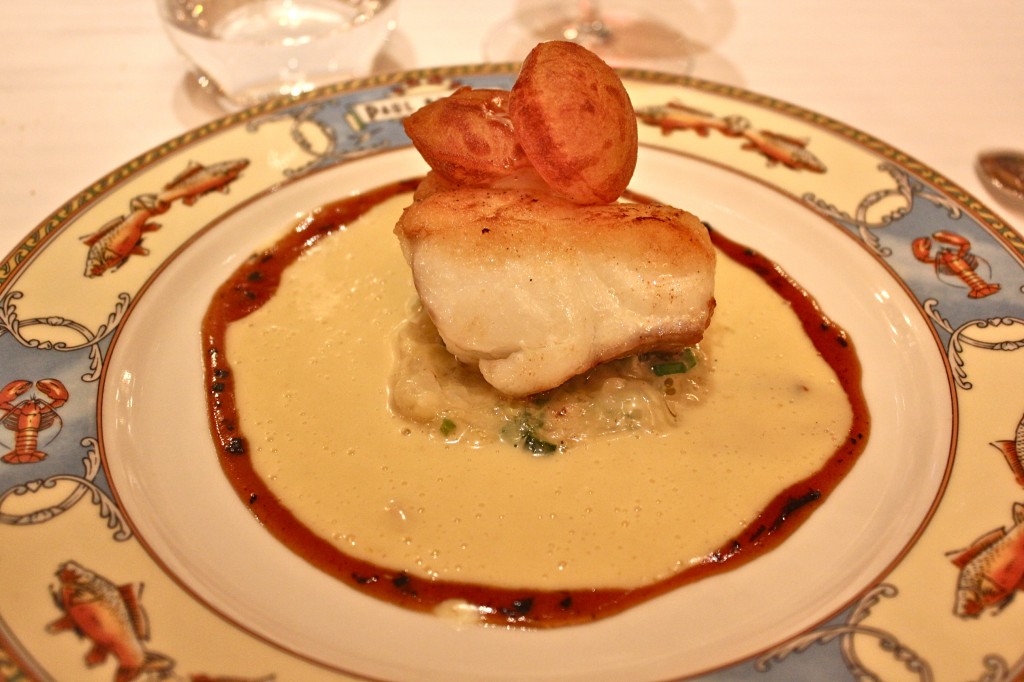 For second course I chose the Turbot in Champagne Sauce, against the recommendation of the waiter who suggested the Red Mullet in Crispy Potato Scales which is a speciality of the restaurant. The dish was beautifully executed – the turbot was firm but came away in large buttery flakes, mopped up with confit leek and crispy puffed potatoes.  The champagne sauce, a favourite french classic of mine – which is made simply by reducing champagne over low heat, adding an egg yolk and cream and whipping frantically – was light, creamy and divine, with the perfect lingering tang of champagne.
Papadum ordered the Mullet with Crispy Potato Scales, another stalwart of French gastronomy, which again was exquisite in both taste and presentation.
After the rather punchy palate cleansing Beaujolais Sorbet, I opted for the Pigeon in Puff Pastry with Young Cabbage. There was a time when I was appalled at the thought of eating squab, but after a year of plucking, gutting, filleting and cooking this bird at Lenôtre, I have become quite partial to the odd pigeon. And this one – tender juicy pink meat, a flakey puff pastry shell and a divine girolle sauce – was truly superb.
The portions at Bocuse are nothing if not generous and by the time France's Mr Bean wheeled out the ridiculously large cheese trolley, I was all but bursting my seams.  But I soldiered on – through a hard hitting roquefort, a creamy fresh chevre and a nicely aged comté to arrive at a moist, raspberry soaked chocolate cake heaven.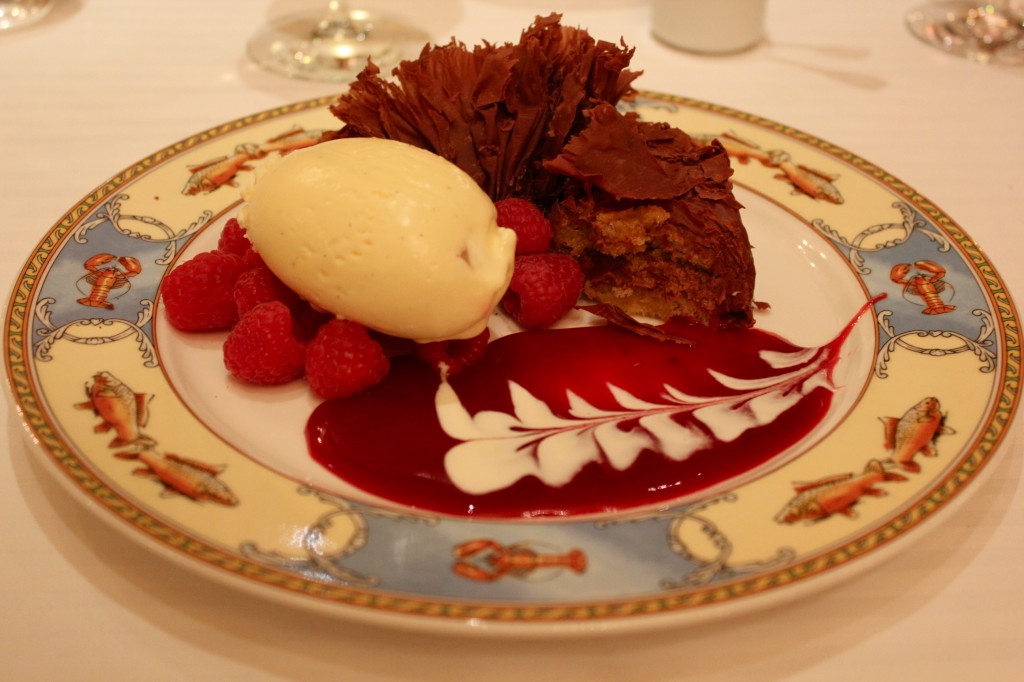 Paul Bocuse has received a fair share of criticism over the years for his staunchly traditional style of cuisine. It is true that the restaurant has been serving the same food since before man landed on the moon (seriously). It is true that the black doorman dressed in a comical bell boy's outfit playing happy birthday on the organ grinder isn't vaguely au fait. It is true that the food is more 'airs and graces' than airs and foams.  You wont find live crustaceans or beetroot smears to be washed down by a glass of Fanny Sarbre, you will find butter and chives and 1988 bottles of Chateau Haut Brion.
Paul is the cashmere twinset of the culinary world.  So what? Since when did 'classic' become a derogatory term? And, in a time when confit de canard is usually plucked straight from can, and steak haché is actually haché horse, we should be privileged that someone is still doing classic french cuisine with some dignity. 
From start to finish our meal was executed with meticulous precision and immense skill – honest, simple, and quintessentially French.
I for one, am a huge fan.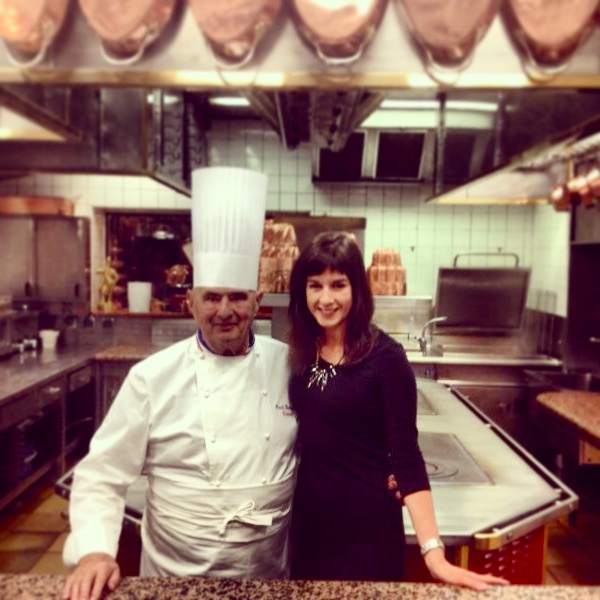 Paul Bocuse – the coeur de Lyon.
xoxo
Paris Stilton
«
Le Mary Celeste – Paris
|
L'Ourcine – Paris
»