I have truly turned Parisian.  For the past 7 months I complained incessantly about the never-ending winter. "Oh la la c'est pas vrai, comme il fait froid" was the standard war cry I sung to my butcher, my baker (my candle-stick maker). I wore the same thick woollen coat and mittens from October to June s'il te plait.
And then all of a sudden the heat came and Paris went into meltdown (actually quite literally, there was a veritable cheese melt at my local supermarket when the cheese fridge broke down due to over-heating). France simply can't take the heat – the heatwave of 2003, during which the average temperature was 30°C, actually killed 15,000 people. There was even an ad campaign reminding people to 'check on your granny this summer.'  To an Australian that seems utterly ridiculous but I can assure you, in Paris 25°C is the new 40°C. My weekly home yoga sessions have turned accidentally into bikram, my plants have all died,  I have been going to bed with wet towelettes covering my body and I actually shed a few tears after lugging my shopping down my street and up my stairs in the scorching midday heat.
But enough of that, lets get onto some dining with our whining. It was on a sweltering Parisian night that I made my way over to L'Ourcine, a quaint, much talked about bistro in the 13th to meet the infamous Dolly Tatin, and gorgeous couple Jean-Claude Van Ham and Almond Schwarzenegger. I was as sticky as a bottle of port but that didn't cull my appetite, and I had heard only good things about the Basque fare at this rather hidden and very rustic downtown haunt.
For an amuse bouche we quickly downed a delicious little verrine of extra tasty celeriac emulsion, while laughing about Jean-Claude Van Ham and Almond Schwarzenegger's dinner the previous night at Restaurant Pierre Sang.  It was there that I had one of my favourite dinners since my time in Paris, but unfortunately for Almond Schwarzenegger the guessing game concept that the restaurant adheres to wasn't so fun with a severe seafood allergy, and a stubborn waiter who wanted him to guess the name of the pink slither on his plate which bore a striking resemblance to tuna (it was tuna).
Here thankfully there was no guessing game, just the imminent threat of a bad translation (I learned the hard way that rognon de veau does not mean veal cutlet and ris de veau does not mean veal with rice).
The poached chicken ravioli with an emulsion of chanterelles and tarragon (ravioles de poule pochée à l'émulsion de girolles et estragon) that Almond Schwarzenegger and I chose for entree was totally divine. Perfectly seasoned, light but creamy and served with tiny hidden croutons that gave an unexpected but welcoming crunch.  Dolly Tatin's cold watercress soup was apparently absolutely delicious, although I am personally slightly wary of cold soups.  Jean-Claude Van Ham was a tad sad about his foie gras, and decided he should have gone with the ravioli.
Il était une foie a boy with food envy.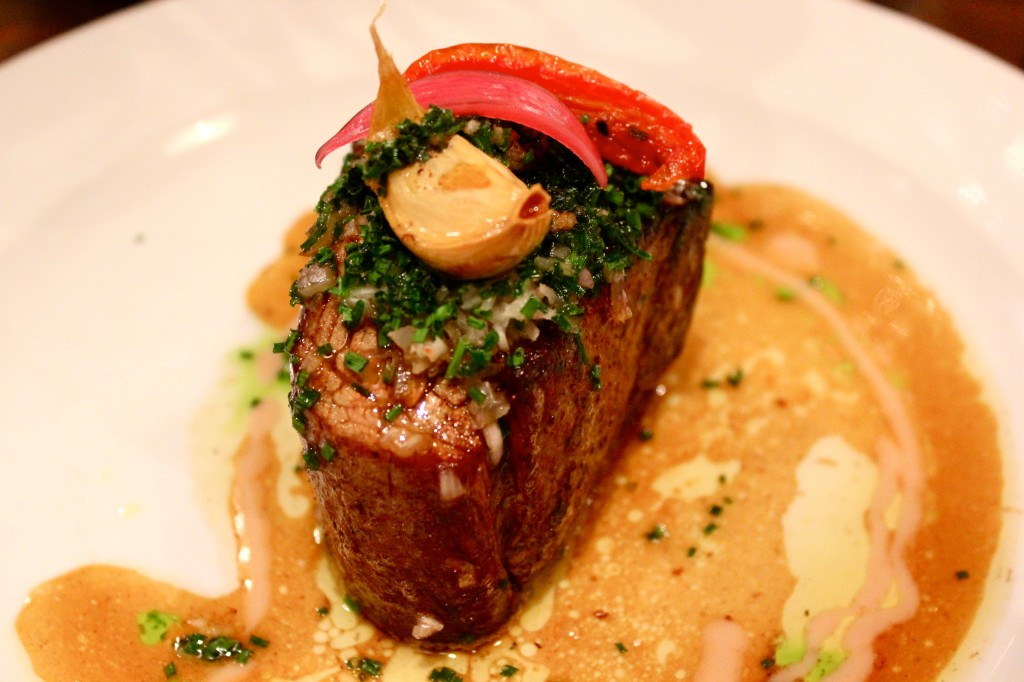 For mains I had the perfect rump steak. It was pink, tender and topped with a subtle gremolata, a roasted garlic clove, a random but appreciated piece of capsicum and a light jus. The rest went for the popular slow cooked beef cheek in a tomato (noix de joue de boeuf braisée au vin rouge, servie dans sa tomate facon l'Ourcine). The jack-in-the-box looking tomato felt like a flashback to a  70's meal I never had, but boy was it good.
The meal was washed down with a bottle of very drinkable pinot noir (the less watery out of the two 'watery wines' the waiter suggested – lost in translation?) and topped off with a lot of laughs with the very animated waitress.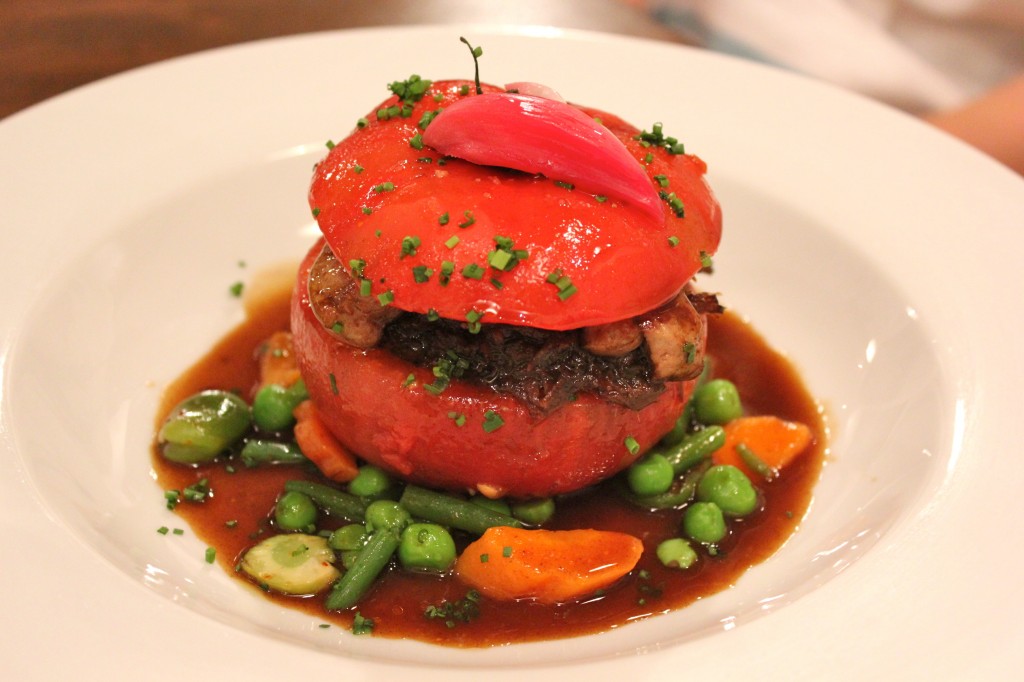 For desserts the chocolate ganache with praline crunch was the clear winner, although Jean-Claude Van Ham's crunchy bonbons with confit fennel, sweet spices and a sorbet of fromage blanc was a very tasty, albeit bizarre, option.

All in all, a fabulous night was had by all – great company and delicious food in a charmingly rustic french setting.
So if you can't stand the heat, get out of the kitchen…and go to L'Ourcine. I cant guarantee you it will be any cooler, but you'll be tremendously happy nonetheless.
xoxo
Paris Stilton
L'Ourcine 
92 rue Broca  75013 Paris
Métro
: Les Gobelins T
éléphone
: +33 1 47 07 13 65
«
Paul Bocuse – Lyon
|
Glass – Paris
»