Napoleon Bonaparte once famously commented that "impossible n'est pas français" ("impossible is not a French word").
Since arriving in France, I have come to discover that this statement contains about as much truth as George W. Bush's unforgettable "the French have no word for entrepreneur."  Not only is the word 'impossible' actually etymologically French, but moreover it appears to be one of the most bandied-about words in the whole French language.  Anything that does not suit a French person at any given time is, in fact, 'impossible'.
Having my new kitchen aid delivered to my door: 'impossible'. Getting a lift to Gare du Nord from the free taxi driver waiting at the taxi rank: 'impossible'. Ordering a turkey from the butcher: 'impossible'. Reserving a forward-facing seat on the Eurostar: 'impossible'.
It is not surprising then that every time I have called exceedingly popular Pigalle bistro Le Pantruche over the last 18 months to make a reservation the response has been 'impossible'.  But I am not one to take 'no' for an answer, and so after 45 desperate calls, I finally found myself squeezed onto a corner table at 9.30pm on a chilly Tuesday night in November with the stalwart Dolly Tatin, the globetrotter Nicolas Sage and the effervescent cheese lover Fontina Turner.
Having already polished off one too many mulled wines at the Champs-Élysées Christmas markets before arriving, we asked the very charming waiter to pick us a lighter bottle of red. He came back with a non-descript pinot which he described as "an easy red to be drunk on the balcony in the sun with old friends". And so four newish friends, on a freezing cold night in the corner of a packed, dimly lit Parisian bistro, tucked into the bottle whilst perusing the chalk-scrawled blackboard.
For entrée, Dolly Tatin and Nicolas Sage chose the pumpkin soup with fresh goats cheese and pine nuts. The very well-built Nicolas Sage looked completely depleted when all that came out on his plate was a tiny dollop of cheese and a scaly looking piece of greenery, but he quickly perked up when the piping hot, sweet, fresh pumpkin soup was poured over the top.  The soup was totally scrumptious – hearty, homely and mopped up in a flash with warm, crusty, country bread.
Fontina Turner and I went for the parmesan risotto with lemon confit and cockles from Brittany which was much more pleasing on the palate than the eye (this non-waning foam trend does wonders for making dishes look regurgitated). The risotto was cooked to al dente perfection, the confit lemon was present but not overpowering and the paprika peppered foam added a little je ne sais quoi to this delicious entrée. My only complaint is that I was left wanting much more.
The cider braised veal cheek that Dolly Tatin and Nicolas Sage picked for mains was melt-in-your-mouth tender, and married perfectly with it's buttery mound of green cabbage. Fontina Turner and I went for the herb confit pork belly, onions, chips and devil sauce (better the devil sauce you know than the devil sauce you don't, I say). It was the ideal comfort food for a cold winter's night.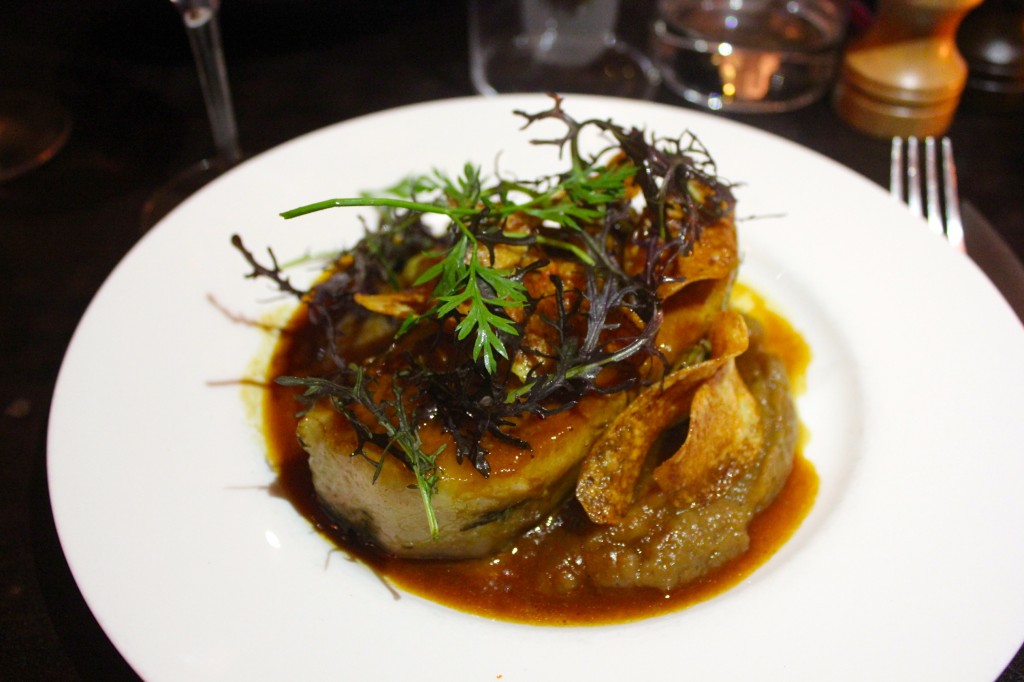 For desserts Nicolas Sage ordered a perfect looking Grand Marnier souffle, which screamed 80's dinner party, but tasted lovely, and Fontina Turner, true to her name, went for the standard looking French cheese plate. I ordered the poached pear with chestnut ice-cream and a chestnut and whisky sauce. Although I love a good tipple every (night) now and then, I am not generally fond of alcohol in desserts – I like to keep my vices separate.  But this dish was truly sublime: I guess whisky and chestnuts make the perfect pear.
It is fair to say that Le Pantruche has become my new favourite bistro. Maybe next time I'll even get a non-corner seat at a reasonable hour on a reasonable night.  Hey, in Paris anything's possible…
xoxo
Paris Stilton
Le Pantruche 
3 rue Victor Massé Paris 75009 Telephone: +33 (0) 1 48 78 55 60
Metro: Pigalle
Hours: Closed Saturday and Sunday
«
The Attendant – London
|
Steaking – Paris
»