Question: What was the name of the mysterious 'ghost ship' found in the Atlantic Ocean unmanned and under full sail heading towards the Strait of Gibraltar in 1872?
Answer: The Mary Celeste. 
I am a big fan of Trivial Pursuit, particularly in that great moment of coincidence when you get an obscure question that you happen to have been asked before. As luck would have it,  throughout my long 80's edition Trivial Pursuit career, I have been asked the Mary Celeste question at least 40 times. So upon entering the hyper hip oyster bar, Le Mary Celeste, I was certain that if the molluscs weren't all they were cracked up to be, I would at least be able to dazzle my comrades with etymology.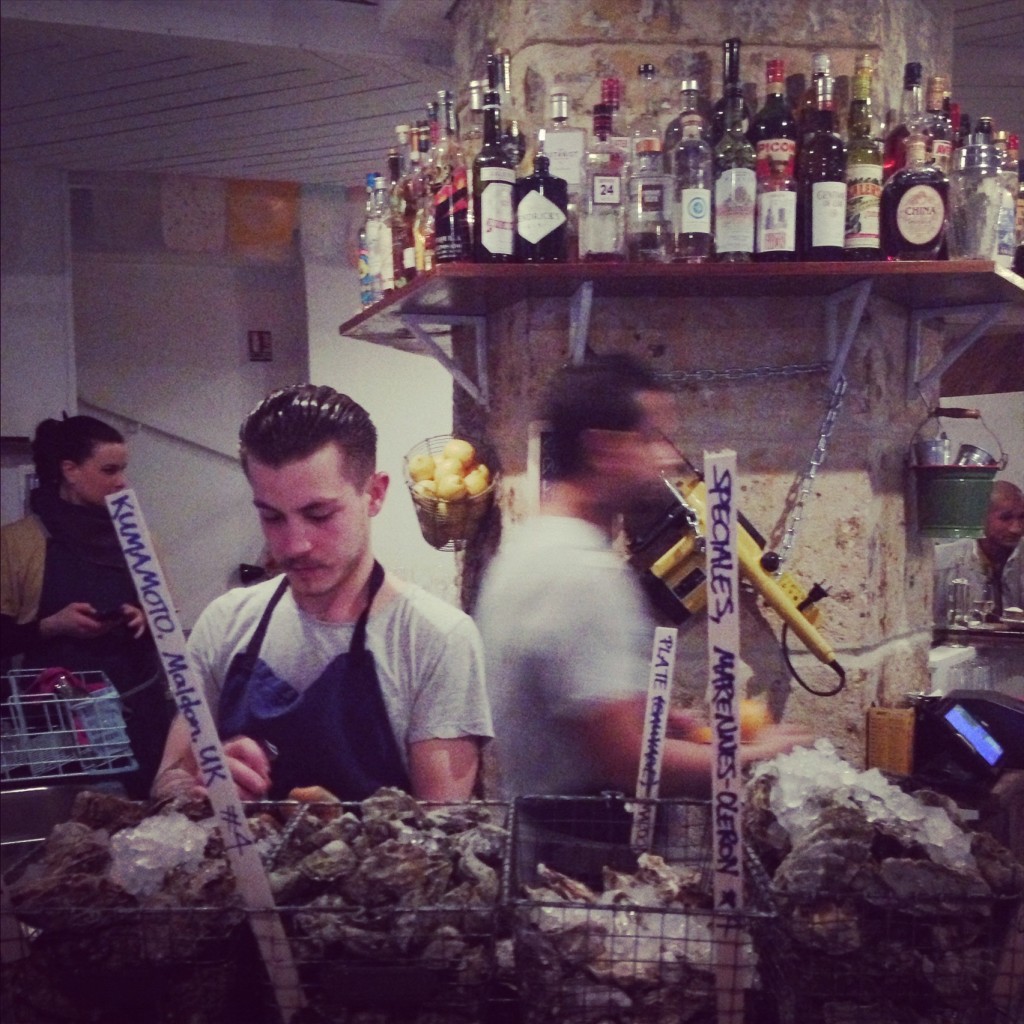 Le Mary Celeste is the latest locale by the cool kids behind the cacophonous-corridor of a taqueria/ speakeasy Candelaria (where one can definitely not speak easily), and Glass, the hidden hot dog parlour next to a sex shop in Pigalle. It was destined to be a success.
Like its siblings, Le Mary Celeste has Brooklyn lager, and unfairly stylish clientele, on tap. However unlike Candelaria and Glass, the bar is light and (for about half an hour at 6pm) spacious, serves a stellar selection of natural wine and has bar snacks of a quality rarely seen in Paris.
Moreover, during 5-7pm happy hour the bar serves up oysters, freshly shucked before your eyes by a slick moustached hipster in an apron for 1€ a pop – pure genius. The first time I came to Le Mary Celeste it was for a pre-dinner aperitif with francophile and fellow foodie Edith Pilaf. Although both not particularly partial to oysters, we thought we would try one each to go with our glass of bubbly – it would be rude not to.
We rocked up at our dinner reservation 1 hour, 1 bottle of bubbly and 16 oysters later. They are that good.
Nevertheless, oysters weren't in season (they'll be back in September) when I made a cameo last week with my ex-boss now room-mate, Dolly Tatin, so we decided to see what other treats would compliment our peachy crisp bottle of white (the name of which I cannot remember – momentary blanc blank).
For a somewhat leaner, and I daresay tastier, version of the butter-salt-radish ensemble that the French adore, the radishes with chilli oil and spring onions were ridiculously moreish.
The oeuf that followed suite was also totally ouf. A modern take on the old 90's childhood picnic favourite, the devilled egg with puffed black rice, ginger, soy sauce and chives was so deliciously nostalgic that we ordered seconds.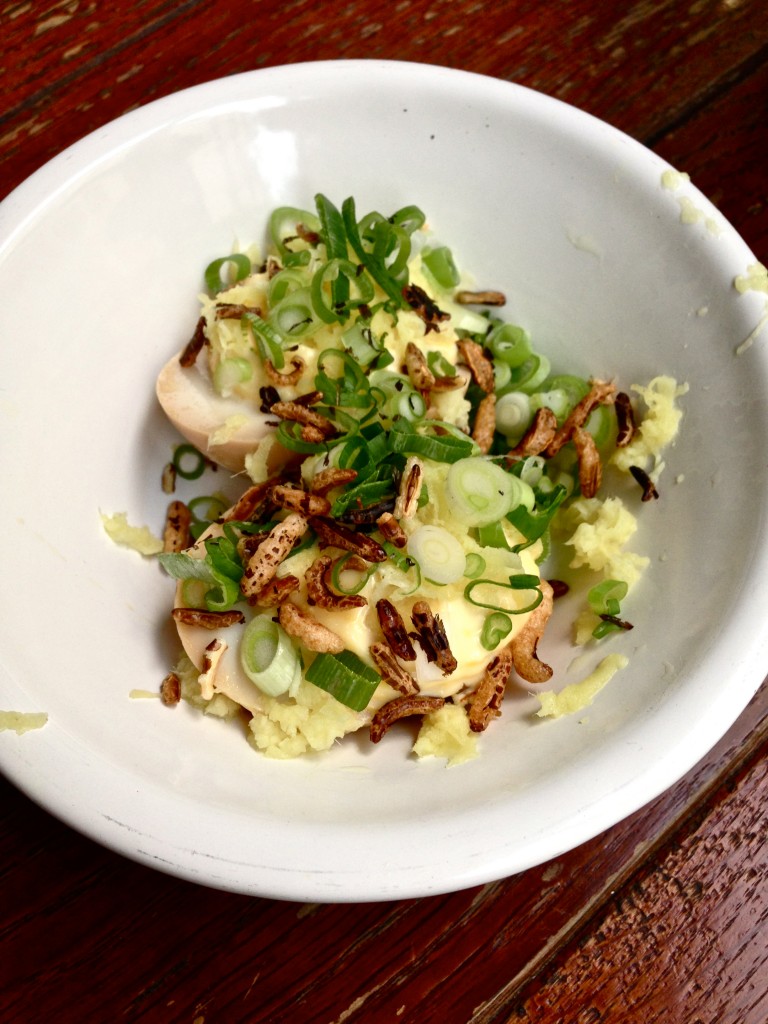 For part-time vegan, full time anaphylactic seafood allergic Dolly Tatin, the team whipped up a sardine crostini sans sardines which was much tastier than it sounds, although clearly nothing on my kitchen sink sardine crostini with its smear (forgive me) of yoghurt, piles of deliciously oily sardines, slices of radish and fresh garden herbs.
The food is the type of simple, tasty, no frills affair that, thanks to establishments like this, Parisians (and particularly it seems, the very good looking, well heeled ones) are finally starting to embrace.
There is a lot in a name, and naming a bar after a ghost ship could well have been risky (a few years ago, a holistic vet informed Yummy Mummy that our rather portly family pug and bulldog never stood a chance of being svelte given their names were Gnocchi and Brick).
But judging by the crowds, this bar isn't in danger of being found abandoned any time soon.
xoxo
Paris Stilton
Le Mary Celeste
1 rue Commines  75003 Paris
Métro
: Filles du Calvaire & Saint-Sébastien-Froissart T
éléphone
: +33 1 45 67 89
www.lemaryceleste.com
«
Bodega – Sydney
|
Paul Bocuse – Lyon
»