Spring has sprung in Paris, the sun is out, the blossoms are in bloom, women are sunbaking by the Seine and Dolly Tatin, the fair-weather vegetarian, has returned after a brief sojourn in the United States for another stopover before heading home.
So what better place to celebrate the change of seasons than a meal at Restaurant Spring, led by chef Daniel Rose…or so we thought.
Since Dolly Tatin's last visit I had been on the waiting list for the American chef's much acclaimed second and apparently more 'grown up' restaurant in the 1st arrondissement, so needless to say I was very excited to receive a call to inform us that a table for two had become available that night.  "Are there any allergies we should know about, or anything that either you or your friend cannot eat?" the girl asked when I confirmed the reservation. "Well actually sorry to be a pain but my friend is highly allergic to seafood products. She is also a part time vegetarian, but she is desperate to come to Spring and is very happy to eat meat for the night." There was a deafening silence and then…"I am sorry, there must be a misunderstanding, we only cater for people who actually appreciate food."  Touché.
Twenty minutes and an enormous international phone bill later, I finally convinced the maître d'hôtel, the chef and a waiter to whom the phone had been passed in an attempt to persuade us not to come, to allow Dolly Tatin and I to eat at Spring that night.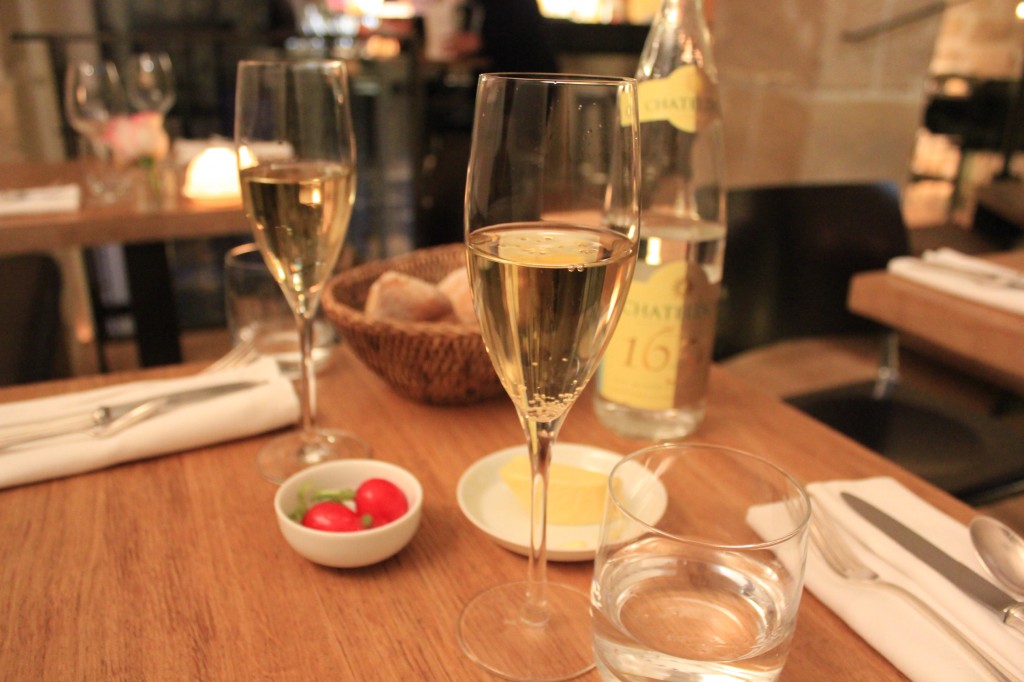 Having been warned during our pre-dinner anti-allergy, anti-vegetarian tirade that we would have to be out of the restaurant by 9.30pm, we arrived 10 minutes early and apprehensively rung the doorbell like two naughty school girls waiting at outside the principals office. "I'm scared, they hate me already!" said Dolly Tatin. "Don't be ridiculous" I huffed, "we are about to spend a fortune, they are hardly going to be rude to us".  And at that moment, a young, very well dressed and very aloof maître d, who we will call Haughty Couture, opened the door, "I guess you are the party with the vegetarian who is allergic to fish and the self confessed foodie who eats EVERYTHING?" he sneered and ushered us through the empty restaurant, down the stairs and to an unmade table in the corner of the basement wine bar. "You mean this one?" I said, pointing to the table next to it which was appropriately decked out with cutlery, a pretty flower and a candle, "No no, that one there, we will make it up in a minute (sans pretty flower and candle I might add)."
On that note, seeing as we were early and table was unmade, we thought we would pop up to the bar and join the old French couple having an aperitif…or not; Haughty Couture was back in a flash, "No no no, you cannot have a drink, like I said we are very pressed for time with your reservation, if you would like a drink you can have it at the table with your food."
And so the meal commenced.
First up for the gourmande was an array of small plates including a freshly shucked oyster with mint sorbet and a morsel of 'gravlax' trout.  The oyster was deliciously fresh and the peppery mint sorbet was a perfectly subtle and refreshing accompaniment.
The trout on the other hand was rather lacking.  Correct me if I am wrong but I have always been under the impression that 'gravlax' indicates that the fish has been cured in salt, sugar and dill.  However this little slither appeared to have left the house without dressing –  like the discerning child in The Emperor's New Clothes, I wanted to shout, "but he isn't wearing anything at all!"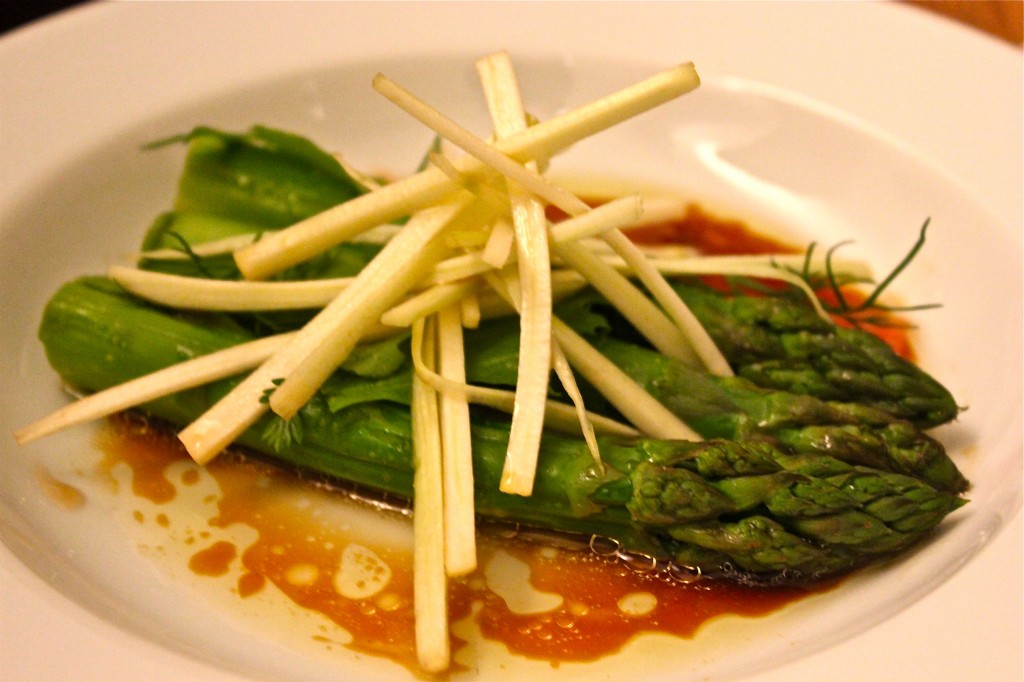 For the demanding Dolly Tatin, the chef had very kindly prepared a vegetarian menu which started with two asparagus courses;  soft white asparagus stems served with a traditional drawn butter and parsley sauce, followed by crispy fresh green asparagus stems topped with rocket, dill and parsley and served with a balsamic reduction to match my second course of cripsy red mullet with an interesting side of sea urchin.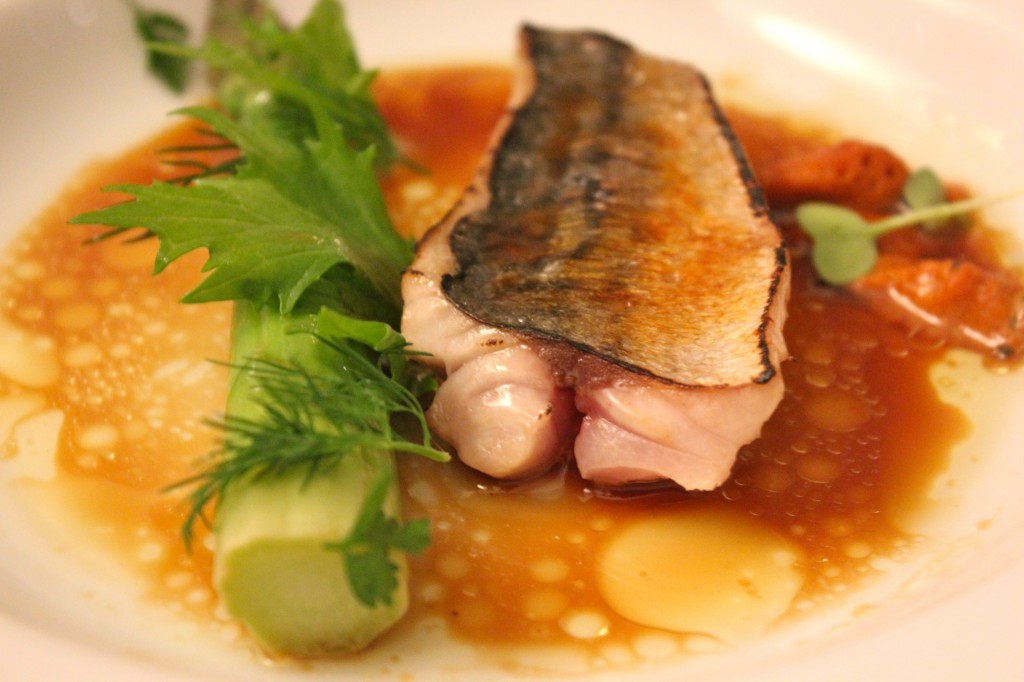 Unlike the lucky NY Times writer whose review I had excitedly read before going to Spring, from our basement corner we were unable to view the open kitchen which permits Mr. Rose to "charm guests with his menschy bonhomie".  Ah well, at least the "rock and roll crowd" that supposedly frequents the den was present; I have no doubt the long table of 70 year old American ladies who were our soul companions for the evening definitely would have been rocking around the clock in the 1950s…
My third course consisted of a portion of a crisp skinned rosy pink (as it should be) magret de canard (duck) with a decent sized dollop of tasty foie gras and little white chive topped radishes. However the plate could have done without the supplementary fatty cut of canard which was grisly and tough. Quite frankly by that point I wasn't really in the mood to chew the fat.
Meanwhile Dolly Tatin indulged in an artichoke soup enveloping morsels of fresh artichoke, a dollop of pesto, a spattering of crunchy croutons and topped with a handful of jeunes pousses.
The fare thus far had been innovative (unpredictable?) so I was interested (apprehensive?) to see what tricks Rose had next up his sleeve…
Hmmm what to feed someone who arrogantly claims they eat everything? After an oyster, a piece of trout, a side of sea urchin, a topping of fish roe, a seignant duck and a touch of foie gras, I guess it was a no brainer…
So like Hannibal Lecter with his victim's liver, I started on my fourth course, a plate of brains with some fava beans and a nice chianti, although unlike Hannibal Lecter the foam at my mouth was slightly more molecularly gastronomic.
Meanwhile Dolly Tatin was tucking into her girolles, with fava beans and a nice chianti.  It was almost quite cute, as though they had chosen the vegetarian item that most resembled brain so I didn't feel left out.  Yet I did.  Even worse, I was green like a fava bean with envy.
As soon as I had finished picking my brains, the deserts arrived…all 6 of them.
I won't lie, these deserts were good, but, hard as it is to believe, even I find it hard to consume 6 deserts at one time – as we were tucking into the ganache filled chocolate balls, the two serves of goats cheese sorbet were suffering the effects of climate change, while the mini Eton Mess was turning into an Eton Sprawl.
The little sablé biscuits would have been the perfect accompaniment to a mint tea, but alas as Haughty Couture reminded us 3 times throughout the meal, we were on a very tight schedule.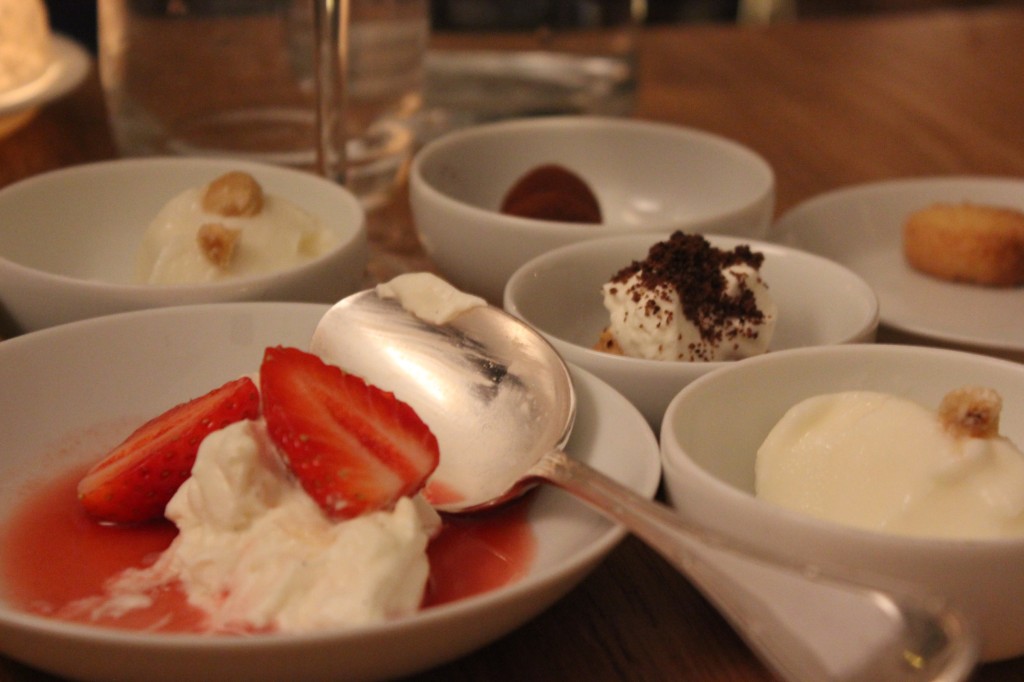 As we were paying the bill, Haughty Couture sauntered over and informed us that, by the way, the reservation after us had been cancelled (I am assuming the same went for the two tables next to us as well) and that we could stay as long as we wanted.  Unsurprisingly, we decided to call it a night.
It might have been Spring, but this restaurant was as cold as ice.
xoxo
Paris Stilton
«
The Taming of the Choux – Paris
|
Le Baratin – Paris
»