I have arrived in Paris, my new home for the next four months, and have spent the last week sipping Sancerre in St Germain, perusing the paintings at Le Petit Palais, studying Stendhal by the Seine and marvelling at the meticulously dressed men in the Marais (who unfortunately were also marvelling at the meticulously dressed men in the Marais).
So in the spirit of clichés, it was about time I dined at a good old fashioned bistro. And with my food and wine obsessed friend, lets call him Foodie Dostoevsky, coming to Paris this weekend for his birthday, it was the perfect opportunity.  First stop on his list was lunch at Chez L'ami Jean, a Basque bistro headed by chef Stéphane Jégo, who spent twelve years working beside Yves Camdeborde at La Régalade before opening Chez L'ami Jean in 2003.
Stepping inside the rustic, wooden clad, vintage memorabilia adorned room on a small street in the 7th with glimpses of the Eiffel Tower, you immediately smile; it is loud and crowded, the servings are enormous, the male waiters are half gruff and half flirtatious, the food is simple, yet incredibly fresh and exceptionally tasty, and the wine and conversation flow with ease.  It is just what you want from a French bistro.
There are three menus, the cours du jours, an old fashioned handwritten market list of sorts which is updated every day with a variety of the freshest, most seasonal produce, a prix fixe chefs menu which changes regularly, and another menu with a variety of permanent dishes.
For starters we felt we couldn't go past the tradtional charcuterie en panier, which consisted of a massive basket of assorted saucisson, a massive bowl of cornichons and to-die-for pickled mushrooms, a massive slab of terrine that was quite possibly the best terrine I have ever eaten, a never-ending basket of warm homemade bread and a normal sized plate of jamón that we wished was massive. Definitely worth getting if you have three or four carnivorous companions.
For mains I ordered the langoustines 'vivant' en vapeur tout simplement ('live' scampi simply steamed).  The scampi were about as cooked as a carpaccio and it may have been questionable whether they were in fact still 'vivant' but lets not digress, these scampi were incredible. The flavours were subtle yet distinct and the texture was as tender as scallop sashimi. The freshness (if Chez L'ami Jean's Facebook status update is anything to go by, the scampi had been caught that morning by chaps called David and Thomas) and flavours would have been camouflaged by anything more than a simple steam.
To finish, we had no choice but to order the legendary riz au lait (rice pudding). People come from far and wide just to taste Jégo's riz au lait.  Personally I have always been distrustful of this dish, it seemed like one of those token porridge-like deserts that gluten intolerant people order when they actually want the chocolate fondant. But goodness how wrong I was. The riz au lait came in a large white porcelain bowl with a big wooden spoon stuck in the middle, and surrounded by tasty treats, like salted caramel butter, honey toasted granola and little crumbly macarons to tip on top. It was creamy yet crunchy, soft without being stodgy, sweet yet salty; a million different taste sensations all at once, and all amazing. But really, words do not do it justice.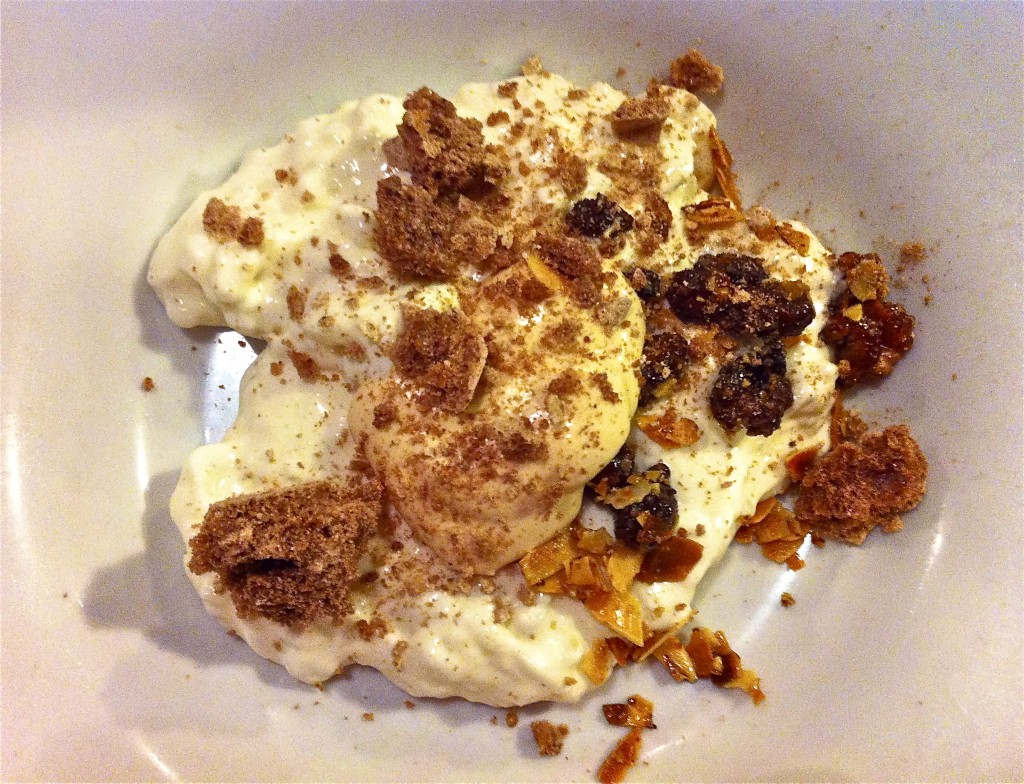 As we were reflecting on our riz au lait over a petit café, Jégo, who had been cooking up a storm with his team in the open kitchen throughout the meal, came over to our table to say hello, shake our hands and check that everything was ok with the meal.  Chez L'ami Jean certainly lives up to its name; as you happily trot out the door, you feel like you have indeed made a new friend. And this is one friend that I plan on seeing a lot of over the next four months.
Chez L'ami Jean was only the first of many French bistros we dined at over the course of the weekend, but definitely the most memorable (not just due to excessive alcohol consumption).  Foodie Dostoyesvksy, not wanting to waste a moment of his limited time, booked 5 restaurants and 7 wine bars for 10 people in the space of  72 hours. I feared it was going to be like La Grande Bouffe without the orgy and we would all wind up dead from gluttony on Sunday. But here I am, about as alive as a langoustine at Chez L'ami Jean, and definitely more in touch with my chenin side.
As Julia Child said, 'everything in moderation, including moderation.'
xoxo
Paris Stilton
«
The Ledbury – London
|
A La Sweet – Paris
»