Virginia Woolf once claimed that 'one cannot think well, love well, sleep well, if one has not dined well' and after a few sleepless night's in old London town, I decided what I needed was a good degustation.
So with sister Sienna Millet and her local London beau, lets call him The Eton Mess, in tow I trotted off to Brett Graham's two Michelin star adorned establishment in Notting Hill, The Ledbury for the 9 (but it was really 11) course tasting menu and matching wine flight.  The Ledbury offers an à la carte menu as well, but for a special occasion (or, as in our case, to titillate a tiresome Tuesday), going the full monty is definitely worth every penny.
The journey began with a glass of bubbly and mouthwatering complimentary "pre-amuse bouche" of mini tarts topped with foie gras, goats cheese and cumquat jam.  A very memorable ménage à foie indeed.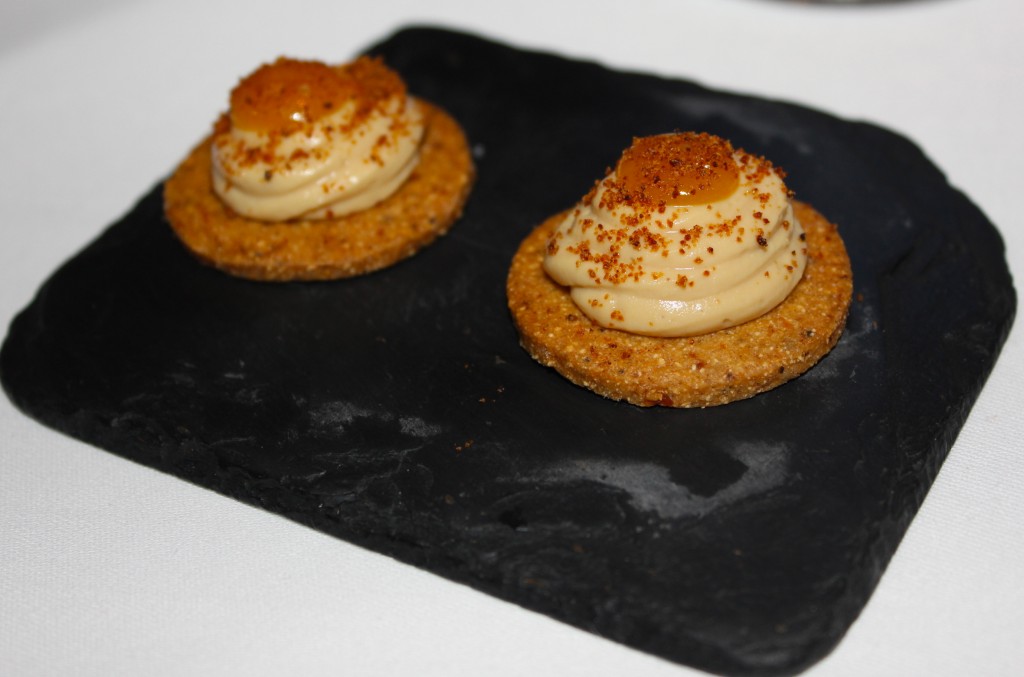 These were swiftly followed by an amaze-bouche consisting of a miniature perfectly soft-boiled quail's egg wrapped in a crunchy nest, topped with shaved truffle and resting on a purée of Jerusalem artichoke.
Next up was the Cornish oyster chantilly and tartare with icy shaved horseradish and dill, along with its batter-half, the tempura oyster in shell with seaweed crisps, which were paired with a 2010 Lagar de Costa Albariño, from Rias Baixas, Spain. Ever since an incident in a French market where an overzealous fish vendor coerced me to try my first oyster at 9am on a hungover Sunday the smell of oysters has made me clam-up, so to speak.  However this little mélange was magical. The soft peachy aromas of the light Albariño perfectly complemented the richness of the chantilly and allowed the subtle flavours of the tartare to shine through.
The first fish course, a flame grilled mackerel with smoked eel, celtic mustard and shiso served with a crisp 2010 Grüner Veltliner, Gebling, Sepp Moser, from Kremstal, Austria was a team favourite.  The smoked eel and cucumber roll, a moreish mix of smoked eel, crispy shallots, crème fraîche and a hint of horseradish housed in a delicate transparent cucumber sheet, was the perfect accompaniment to the mouthwatering mackerel.
Heavenly hand rolled macaroni stuffed with rabbit and celery basking in a velouté of toasted hay and truffle and matched with a 2008 Vin de Pays des Côtes Catalanes, Le Soula, Gérard Gauby et Associés from France was a welcome interlude to the two sumptuous seafood courses. The flavours were quirky and complex without being confused, and rich without being overbearing.  If this macaroni were a man I think I would want to date him.
Next up was came the fillet of sea bass with fennel, bergamot, liquorice and oat crusted mussels (which The Eton Mess claimed tasted like "the best little crunchy non-chicken chicken nuggets ever").  Unsurprisingly the fillet itself was amazing, but the wine it was paired with, a bottle of 2008 A.A. Badenhorst Family Wines, from South Africa was the show-stopper. A blend of Chenin Blanc, Roussanne, Greanche Blanc, Viognier, Verdehlo and Chardonnay, it was like a seasonal stone fruit salad, at once sweet and punchy, and as refreshing and colourful as its label. A perfect finale to the whites.
With the wine flights taking us from Austria to Australia, and from Spain to South Africa, with a French and Italian stopover ahead, by the time the meat courses came (Berkshire Muntjac served two ways), we were certainly a table of happy travellers; The Eton Mess was making witty quips in Latin, while our dinner companion was describing how his Iranian mother claims that they can cook everything better in Iran ("I think she would even try to claim that they do a better smoked eel stuffed transparent cucumber sheet, or a more moreish Muntjac").  Well certainly a more Moorish one anyway.
The first morsel of Muntjac was the incredibly tender slow cooked shoulder with parsley root, pear and a sweet juniper jus served with a 2005 Côtes du Rhône, lieu-dit-Clavin, Domaine de la Vieille Julienne from France.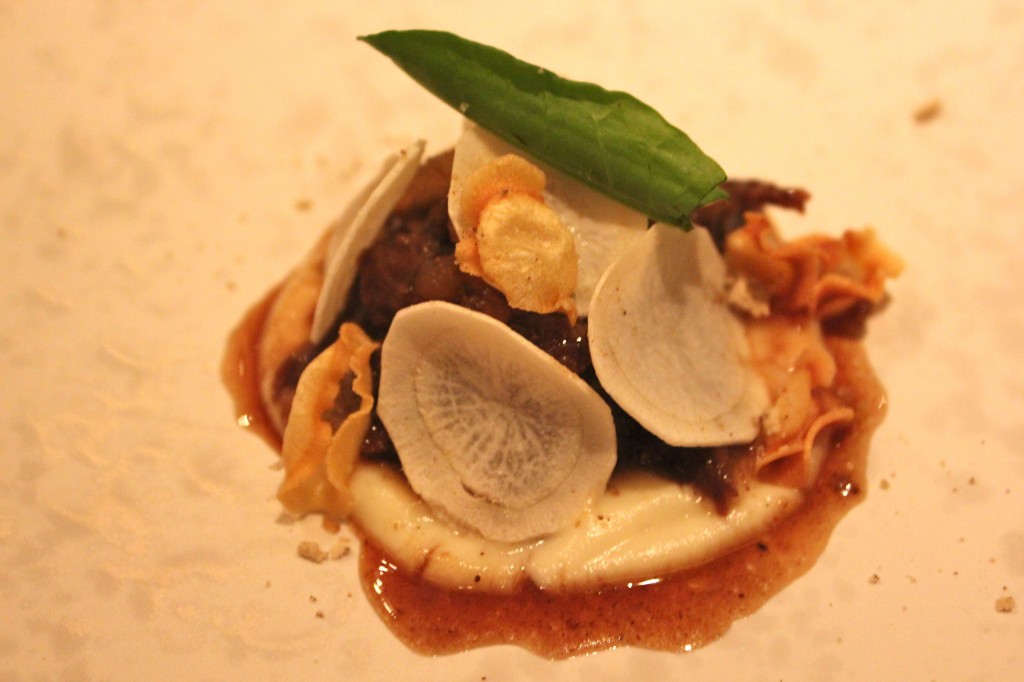 Then came the second serving of Muntjac. "Whats this one again" I asked? "The face of Deer I think" said The Eton Mess, as if Dior had branched off into animal wear and the Muntjac was the postergirl for this season's campaign. It was actually the loin, roasted to perfection in douglas fir. And with friends liked earthy white beetroot, red wine leeks and crispy smoked bone marrow, it couldn't go wrong.
In a sacrilegious act, we declined the cheese platter, which incidentally smelt horrendously good and moved straight to the caramelised banana galette with salted caramel and a peanut oil parfait served with a 2008 Recioto di Soave, Le Colombare, Pieropan, from Veneto, Italy. YUM.
An array of petit fours and a coffee finished off what was an exceptional and memorable evening.
I happily stumbled up the staircase, blaming my tight shoes ("I'm sure they swelled up on the wine flight") for the four falls along the way ("sure sure blame the shoes not the booze", quipped Sienna Millet) and fell, smiling, into a satiated slumber.
xoxo
Paris Stilton
The Ledbury
127, Ledbury Road Notting Hill, London +44 (0) 20 7792 9090 W11 2AQ  
«
This Little Piggy Went to Market – London
|
Chez L'ami Jean- Paris
»