Imagine; a (wallpapered) leafy street tucked away in an urban jungle, lined with quaint colourful caravans proffering an assortment of delicious deletable delights.  A magical land accessible only by a ladder at the top of an enchanted tree? Nope, this is Eat Street, London, where the eyes widen and the waistband expands.
Nestled in Kings Boulevard in the heart of Kings Cross, there is certainly never a monotonous moment at Eat Street; the fare changes daily as wheeled vendors tour the London market circuit, and new vans are constantly popping up (although an application must be made to, and approved by, the Eat Street team).
When I arrived, with sister Sienna Millet and little brother Burrata Obama on a steaming hot, lazy Thursday afternoon, only a handful of the peripatetic purveyors remained due to a migration southward for the Olympics. But Eat Street made up in quality what it lacked in quantity, and our stomachs were not disappointed.
For a little(ish) bite to whet the appetite, the steamed pork bun from Yum Bun was nothing if not sensational.  The hot soft slow roasted free range Blythburgh pork belly nestling against the cool, crisp cucumber melted into the doughy bun, and generous squirts of hoisin and chilli sauce ran down my smiling face.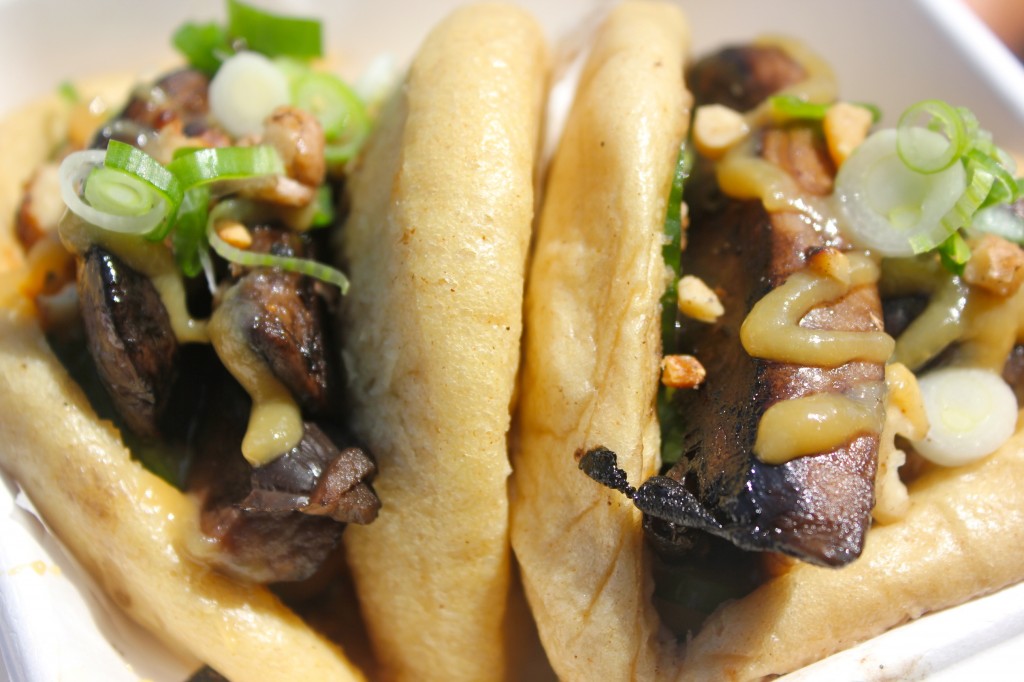 One would think the vegetarian counterpart that health-writing herbivore Sienna Millet insisted we get would pale in comparison, but pale it did not. Juicy meaty Portabello mushrooms topped with a sweet miso sauce and crunchy roasted walnuts left me wanting more.
But there were other treats to be sampled.
The Indian spiced burger stall, Bhangra Burger, run by jolly jokester Alec Owen was mine and Burrata Obama's pick for mains. Spicy, juicy lamb patties with a multitude of hot homemade chutneys, pickles and slaws wrapped up in pitta, with a creamy mango lassi to soothe the tastebuds – nom nom nom.
While dishing up our Crazy Lamb Jalfrezi, Mr Owen, who goes by the stage name Simple Jackson, informed us that he is also releasing his debut rap album today.
Rad wrapper by day, mad rapper by night. What a dude.
I just hope his beats are as hot as his pickles.
For desserts it was a wholly unnecessary but awesomely flavoursome and refreshing watermelon sorbet from the Sorbitium Ices team.
Belt in hand, top button undone, I fell into a smiling slumber on Sienna Millets shoulder in the cab home.
Eat Street is my sort of address.
xoxo
Paris Stilton
«
L'Autre Pied – London
|
Tutto Wines Summer Dinner – London
»