There are lots of things the French are very good at – baguettes, wine, cheese, not getting fat off baguettes wine & cheese, affairs, well behaved dogs and going on strike, to name a few – but it is clear to say that making coffee is not one of them.  If coffee is indeed a language in itself, as Jackie Chan eloquently put it, then it appears to have been seriously lost in translation.
And you can all but forget about ordering your coffee 'to go'.  One morning when little brother Burrata Obama and girlfriend Linguine Lohan were in town, I popped down to my local café and ordered three coffees à emporter to take to the weary travellers. I emerged 10 minutes later with three miniature disposable plastic cups (the kind you get at the dentist) with no lid, swerving about on a porcelain plate.  Yes, you heard it, the waiter had lent me a porcelain plate to transport the coffees on.  Needless to say I had laughed so hard on the journey that by the time I arrived all I could offer Burrata and Linguine was a plate of coffee.
But little by little, smart little cafés, focused on good coffee, with baristas who live and breathe their boulot, are starting to pop up around Paris.
Here are my favourite finds for my daily grind.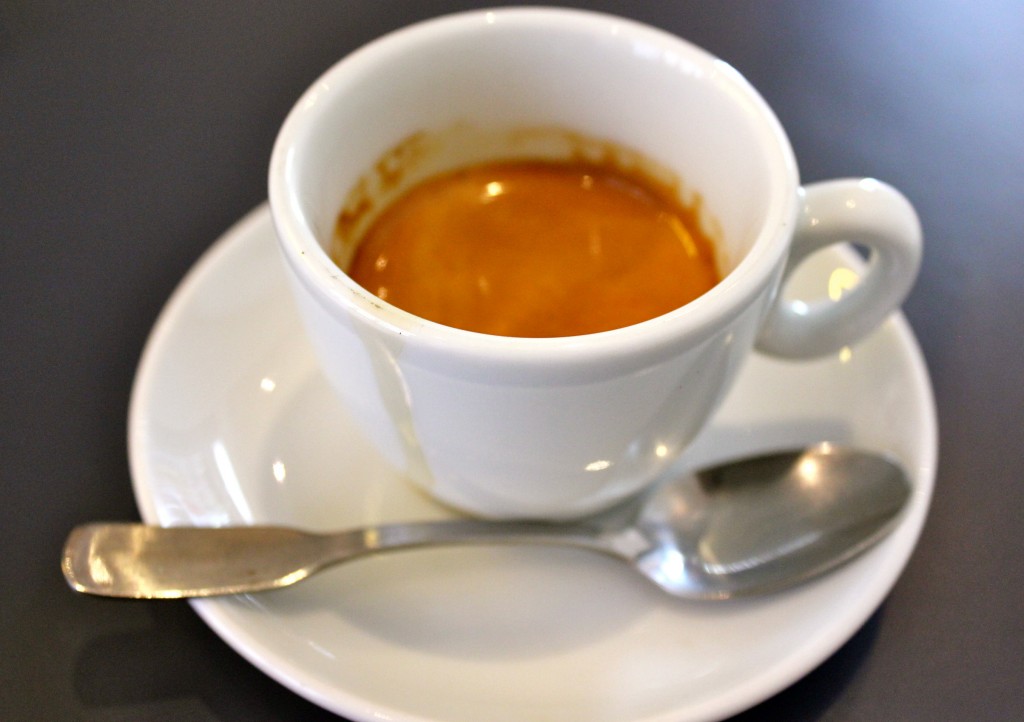 I don't know how it took me so long to stumble across this amazing café, which I can practically see from my bedroom window, as the smell of freshly roasted coffee beans oozing out the door permeates the entire street.  The café is decked out rather randomly with three salons – my favourite being the bright carpeted room overlooking the Seine with comfy vintage armchairs and its host of diverse characters, including the local music composer who waves his non-existent conductor's baton in the air while sipping his espresso, or the young boho artist who idly sketches unwitting customers.
I have tried most of the coffees on the menu, with beans from Colombia to Guatemala and Ethiopia, including a coffee degustation (you know I can't resist) but I most often go to La Caféothèque for the V60 filtered coffees, which are, incidentally, rather strong.  So much so that the young friendly barista told me in his first week working there he drunk half a litre before collapsing and being taken off in an ambulance (not that it seemed to deter him, when I arrived at 9am he was on his third for the morning).
 La Caféothèque 52 Rue de l'Hôtel de ville 75004 Paris
Métro
: Pont Marie Tel: +331 53 01 83 84
This tiny little café in the 1st arondissement with its retro bike parked out the front, its old wooden beamed roof, and cosy wood-clad interior consists literally of a kitchen bench, a coffee machine and 4 two person tables. You pull up a chair, tap your feet in time with the rad background music and smile into your cup of smooth and intensely aromatic coffee as the owner, Nicolas, a friendly Frenchman, chats happily with his regulars over the counter. A fashion photographer for years, Nicolas decided one day (after a shoot involving coffee) to give it all up and travel the world learning the art of coffee making before opening Télescope in March.  And his efforts have paid off, the coffee is divine.
The ambience of this quaint little French café was as warm and inviting as my delicious filtered brew.  Needless to say, I will be back, again and again.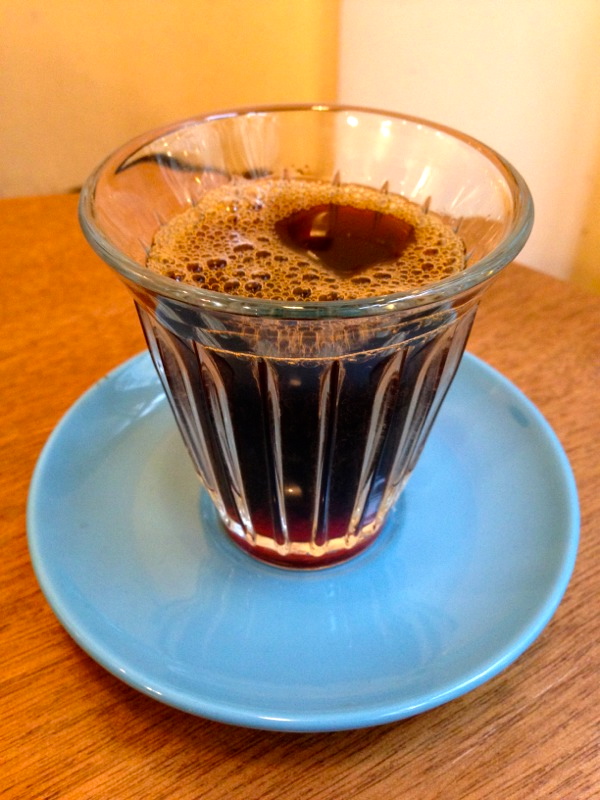 Télescope
  5 Rue Villedo  75001 Paris
Métro: Pyramides
Tel: +33 1 42 61 33 14
Following in the theme of trendy hole in the wall cafés, Ten Belles is the epitome of minimalist cool with its polished concrete floors, demountable ply wood furniture and sparse but chaleureux fit-out.  The coffee machines are manned by two dashing young lads, a Frenchman (the owner Thomas Lehoux) and an Australian (Chris, who emphasised that he was merely 'the lackey'), with good taste in music and even better taste in coffee. The boys have been dishing up beautifully sweet, richly flavored brews (using beans roasted in Paris by Télescope), from around the world since the café opened in September last year.
I sampled the café filtre and an espresso, a deliciously intense and succulently smooth 50% Guatemalan 50% Honduran blend (as well as a cute homely 'brown paper wrapped school lunch' style soft boiled egg, mayo and cress sandwich).
Ten Belles, two beaux and a lot of seriously great coffee – what more could a gal want.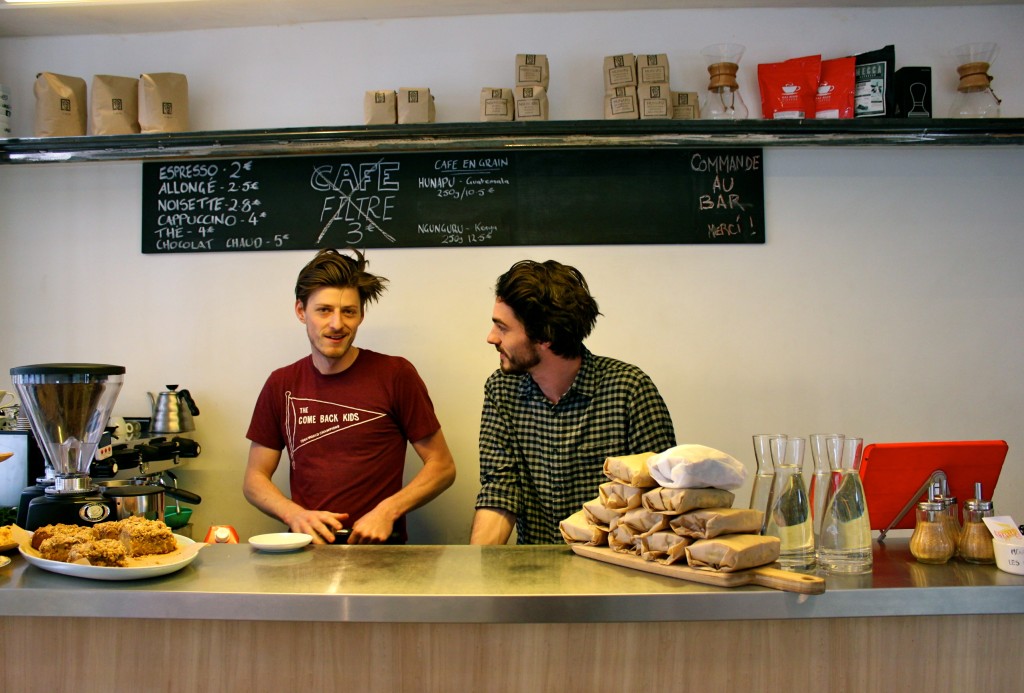 Ten Belles  10 Rue de la Grange aux Belles 75010 Paris
Métro
: Goncourt, Jacques Bonsergent
Tel: +33 1 42 40 90 78
And then there is Coutume Café, whose coffee is out of this world good, but that's another story for another day…
Don't get me wrong, I don't profess be an expert on the subject of coffee – indeed I have measured out my life more in wine glasses than coffee spoons, but I'd like to think I know a thing or two about a good brew. And these three cafés certainly offer that.
xoxo
Paris Stilton
«
Restaurant Akrame – Paris
|
Comme à Lisbonne – Paris
»