A year making pastries and reviewing restaurants was never going to be conducive to weight loss, but I feel that greater forces are against me in my quest to stay svelte.  When I first arrived in Paris I took out a membership at a swimming pool in my area and started doing laps after class. But in typical French style the packed pool had only two lanes to practice in – one exclusively for breast stroke and one exclusively for back stroke (as well as one big lane which seemed to be exclusively for the 'post-strokes'), and 6 laps an hour wasn't exactly enough to sweat out the tartiflette.  The aerobic sessions that ensued at my gym in nearby China Town inevitably ended in dim sum (before just ending); I gave up on waterbiking when my ipod got lost in the water-pod; and my stint with Gurmukh's "shaking" DVD I bought for use at home went by the wayside when I realised I looked like I was participating in Fat Boy Slim's 'Praise You' film clip and may find a video of myself on youtube.
And then there was the bikram yoga phase.  On the way home from my first intensely sweaty bikram yoga class with 30 budgie-smuggler wearing men in the Marais one Saturday morning,  I stumbled across Victor Silveira selling his indescribably mouthwatering warm little pastéis de nata (Portugese custard tarts).  Needless to say, the pastéis de nata phase has lasted…sadly the bikram phase did not. My short shorts sit in my wardrobe gathering dust along with my swimming cap and broken ipod, but Victor and I have become the best of friends.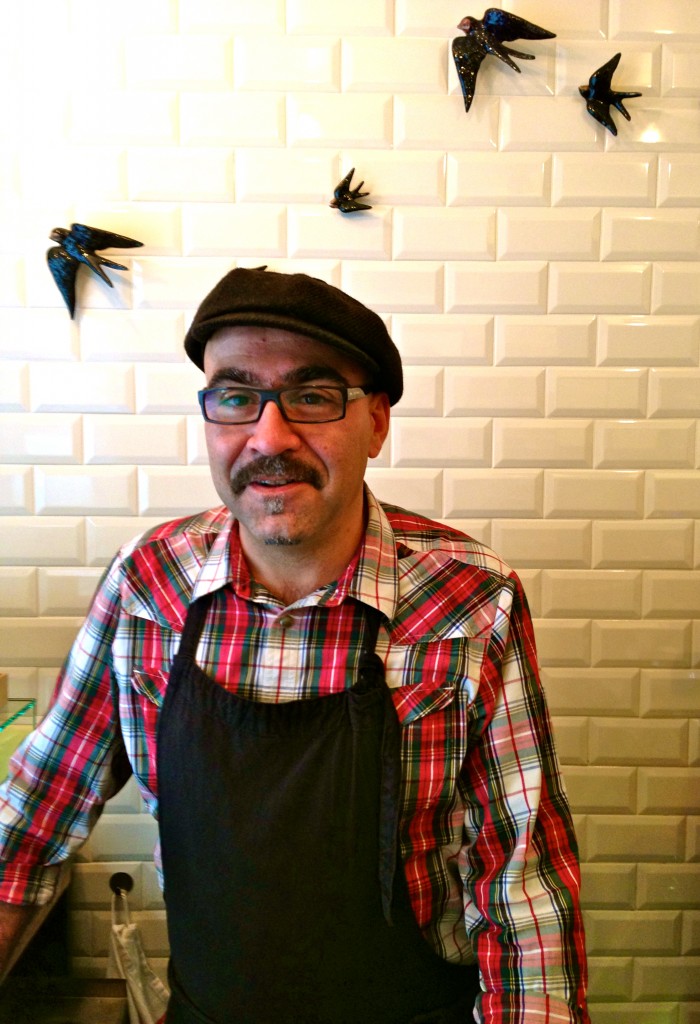 Victor's intimate little corner store Comme à Lisbonne ('Like in Lisbon') is the perfect place to rest tired feet after a hard day shopping in gay Marais – a little marble counter, a phenomenal custard tart, a suave Portugese man in a grandpa hat and a damn good espresso to boot.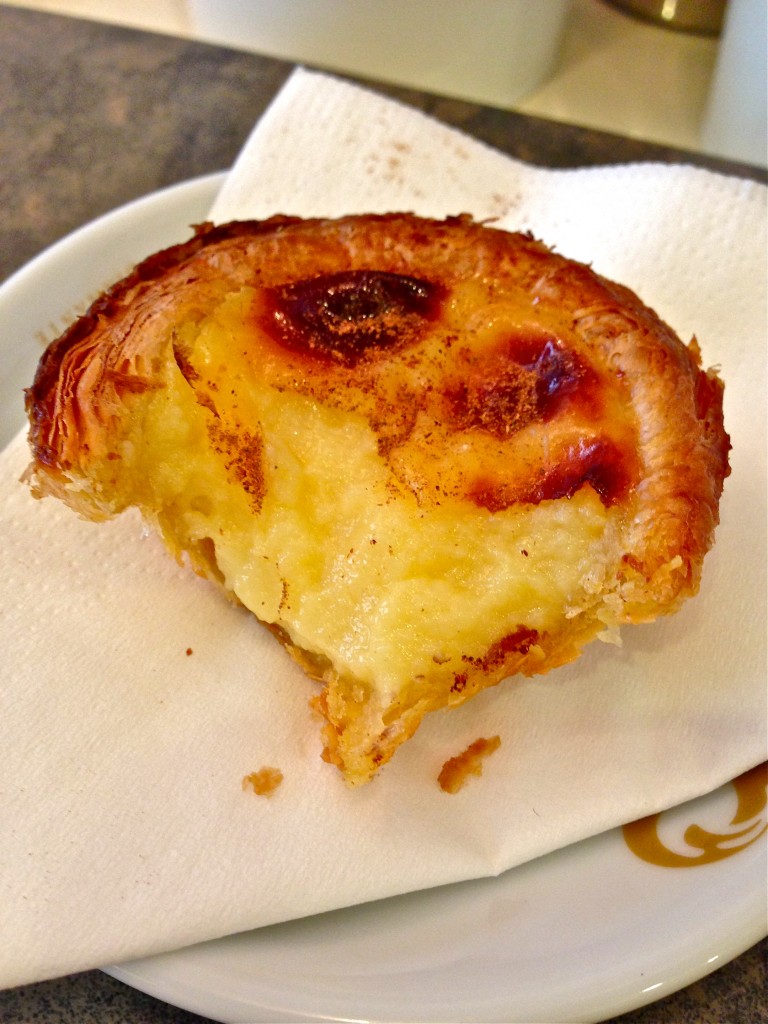 The tart was phenomenal, ethereal, ambrosial et al – warm unctuous custard, decadently viscous and caramelised to perfection, in a light buttery flakey shell that left crumbs all over my lap – there was certainly nothing vanilla about this tart.  And then there's the optional cinnamon that Victor sprinkles on top with a knowing smile – make sure you get it, it adds that extra je ne sais quoi t0 this already luscious little treat.  I went to Lisbon a few years ago, I had a sangria (or four) on the way up to Castelo de Sao Jorge, I scoured the Avenida da Liberdade for the perfect peri-peri chicken (I found it at Nandos) and I sampled my fair share of pastéis de nata (and we all know that I would have sampled enough to make an informed comparison) and I'm going to put it out there, these are the best I've had. Anywhere. Ever.
Victor has also stocked up on other Portugese delicacies including the organic Salmarim salt from Castro Marim, teas from Gorreana – the only existing tea plantation in Europe, a selection of honey, jam and olive oil, and, most importantly, parcels upon parcels of Tricana conserved fish straight out of the Conserveira de Lisboa.  When in Lisbon I made the pilgrimage to the famous Conserveira de Lisboa, a veritable Lisbon institution since 1933, where a nonna still sits all day long wrapping each colourful tin of high quality conserved fish by hand.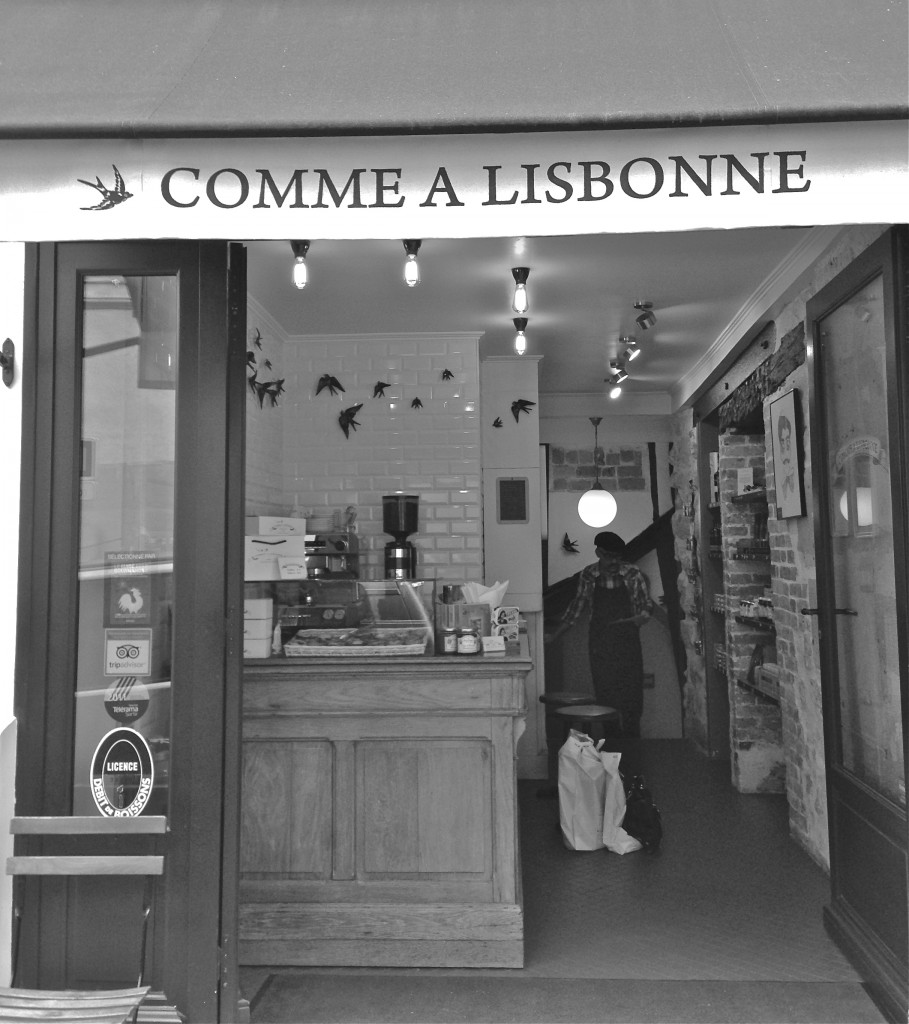 The ever-smiling Victor is proud to bring a slice of Portugal to Paris, and so he should be, its not Comme à Lisbonne – it's much, much better.
xoxo
Paris Stilton
Comme à Lisbonne 
37 Rue du Roi de Sicile  75004 Paris  Métro: Saint-Paul
Tel: +33 7 61 23 42 30
«
Café au lait, s'il vous plaît – Paris
|
Restaurant Pierre Sang – Paris
»